Miami Heat Celebrate at Club LIV: The 5 Best Moments
June 22, 2012

The Miami Heat hit the town to celebrate their second championship in franchise history, and the first for LeBron James. Hilarity and frivolity ensued. 
The Miami Heat started the party from the opening tip as they alley-ooped and hit nylon early and often in their 121-106 victory over the Oklahoma City Thunder. 
The goodwill turned into an awesome celebration. We take you behind the scenes, well past Chris Bosh's love affair, with a shower of champagne. 
The pictures below come from World Red Eye, and their report issues that the Heat stars were late to arrive at the proceedings. 
The first traipsed into LIV at 3 a.m., not that it hindered their partying. Here are the best moments of a crazy night. 
1. Chris Bosh Gets Love: 
It's always fun to make light of the lanky Chris Bosh. It should be a sport, because anyone can play along. 
This brief story tells of a lonely Bosh who really just wants to be loved. "Look at me King, please."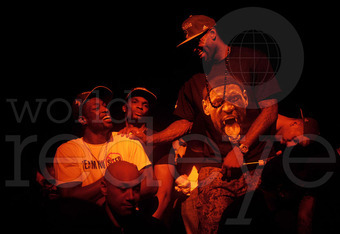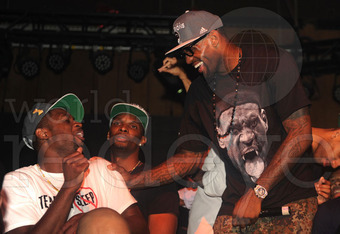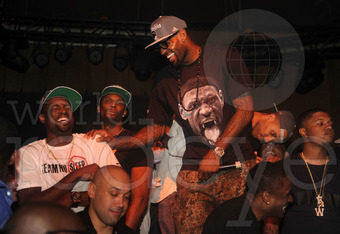 Yay!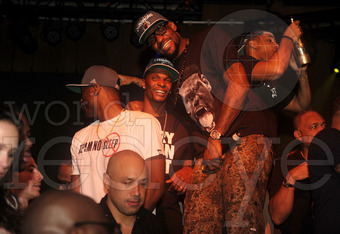 2. OMGOMGOMG: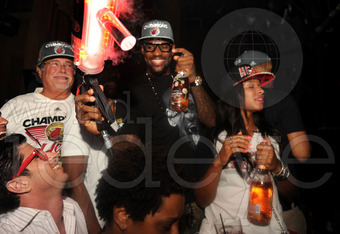 There may be photos of a happier man, but not many. LeBron James is rocking a smoke gun, booze and is proudly wearing a t-shirt of himself. 
It's like the basketball gods pooped the greatest moment in the history of celebrations and made this one brief brilliant second. 
3. And The Crowd. Goes. WILD: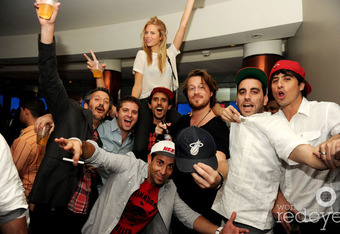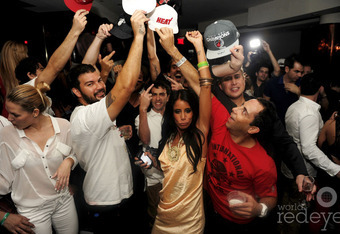 Here are some pics of the party people enjoying the Heat win. The second is the better of the two as it features some chick going full duck face and a man flipping off the camera, for no reason. 
Oh, Miami. You are just too much. 
4. Juwan Howard: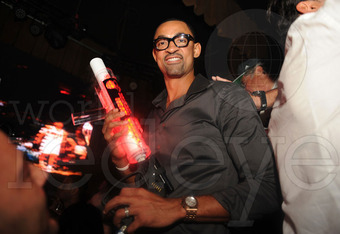 Hey, who let grandpa in? Oh, snap. That's former fab-fiver and current Mario Chalmers' handler Juwan Howard. 
5. Swag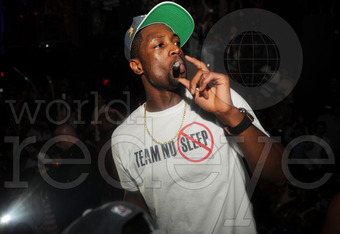 Sit back and take in the coolest cat in any county. The man was a champion before the night began, and left with two rings. Oh, and he is dating Gabrielle Union. 
Follow me on Twitter and make your day.