Why Tiger Woods Has Less Time Than You Might Think to Catch Jack Nicklaus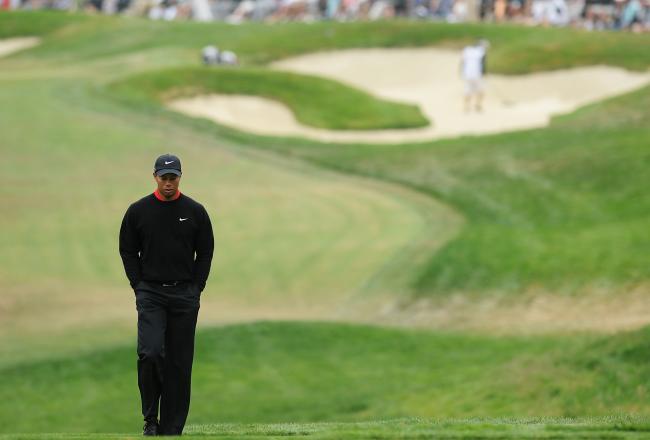 Stuart Franklin/Getty Images
Will Tiger Woods ever break Jack Nicklaus' record of 18 major championships?
It's a question that's been front and center on the minds of every golf fan and analyst since Woods' dominant victory at the 1997 Masters.
Between 1997 and 2008, most thought they knew the answer to that question; but four years, a reconstructive ACL surgery, a divorce and an embarrassing sex scandal later, and we really have no idea whether or not Woods will be able to scale Mt. Nicklaus before father time moves in and takes control of the situation.
Jack won the 1986 Masters at the age of 46, but that was considered a modern golf miracle at the time because, well, he was 46 years old. Even into the mid-1990s, professional golfers were all but finished by the time they turned 40. In 1986, Nicklaus hadn't won a major in five years and he hadn't even won a PGA Tour event in two years.
After 1986, Nicklaus never won another PGA Tour event or major, which would obviously make his win at the 1986 Masters more of an anomaly than anything else.
Those who believe Woods will win 19 or more majors often point to the fact that fitness and modern day equipment have allowed players to win well into their 40s, while that wasn't the case during Nicklaus' era. The 19-major-believers will point to Vijay Singh's 22 wins after the age of 40, or Tom Watson nearly winning the Open Championship at the age of 59 to support their argument.
It's true that players are winning well into their 40s these days.
However, winning PGA Tour events and winning majors after the age of 40 are two completely separate matters.
Vijay Singh has won 22 events after the age of 40, but his only major win since turning 40 came at the 2004 PGA Championship.
In fact, over the past 12 years, only two men—Singh and Darren Clarke—have won majors after the age of 40.
Only two of the last 10 majors winners have even been over the age of 35.
So, those who believe that Woods will have another decade and 40 majors to break Nicklaus' record are probably off by at least five years and 20 majors in their estimate.
Add in all of Woods' injuries and the fact that he's already had to deal with more scrutiny and pressure than any other golfer in history, and even another five years to win five majors might be a bit of a stretch.
The fact of the matter is that Woods will turn 37 in January, and he hasn't won a major in four years.
Granted, Woods has spent the past four years struggling with injuries and personal matters, but if Woods were to somehow come back and win five majors in the next five years—which he will likely need to do if he wants to surpass Nicklaus—it would be the greatest career turnaround since Gene Sarazen went eight years without winning a major and then won four majors over the next four years.
For Woods to win five majors before the age of 42, he'd have to turn his 0 percent winning percentage at the majors since 2008 into a 25 percent winning percentage at the majors between now and 2017.
Woods has, of course, been shocking us throughout his entire career, so winning five majors over the next five years would just be one more draw-dropping accomplishment on a list that would stretch from Augusta to Pebble Beach.
That being said, if you are betting on Woods winning another five majors, you are essentially betting on one of if not the greatest career comeback in golf history—and possibly one of the greatest comebacks in the history of sports.
And don't think for a moment that time is still on his side. If Woods doesn't get the job done over the next five years, history says that it's unlikely to ever happen.
Woods—who knows as much about golf history as any player out there right now—is undoubtedly well aware of that fact, which is why it's been no surprise to see him pushing harder than ever at the recent majors.
There's a sense of urgency that is starting to overtake Woods, and his biggest challenge over the next five years will be trying to remain patient while also knowing that if he doesn't win five out of the next 20 majors, his life-long goal of reaching the summit of Mt. Nicklaus will become all but unattainable.
For more golf news, insight and analysis, check out The Tour Report.
This article is
What is the duplicate article?
Why is this article offensive?
Where is this article plagiarized from?
Why is this article poorly edited?