Thunder vs. Heat: Why This Will Be LeBron James' First and Last Title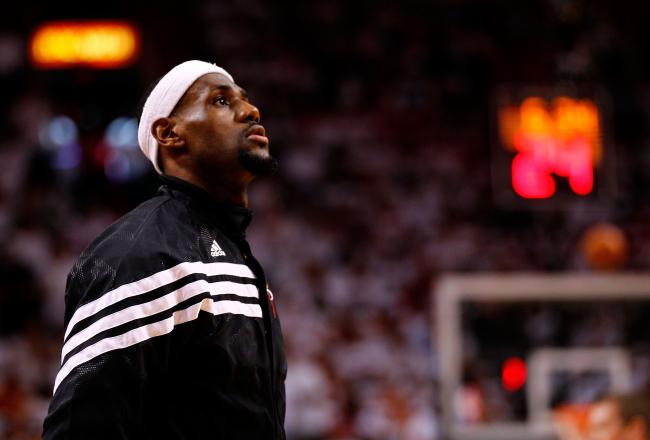 Mike Ehrmann/Getty Images
Those who spin mere NBA greatness into legends of mythical stature would like you to believe that this will be the first of many titles for LeBron James.
LeBron himself would like you to believe this will be the first of at least seven, and apparently he really believes that.
A power vacuum has haunted the ranks of the NBA elite since Michael Jordan called it quits—and then called it quits again. Who will take his place? How will this league continue to produce moments you'll remember well into old age?
But, there's a sobering reality James' fans must face. So too must his growing chorus of suddenly open-minded bandwagon admirers.
LeBron's cramps are not a modern-day version of "The Flu Game."
For one thing, the true heir apparent to Jordan's heroics is Dirk Nowitzki, who helped the Dallas Mavericks tie the 2011 NBA Finals against the Heat with 21 points, 11 rebounds and a 102-degree fever. Dirk may be a notoriously soft defender, but there was nothing soft about his determination to extricate his Mavs from the brink of defeat.
For another, LeBron forfeited the right to stage his own injured moment in history when he and Dwyane Wade mocked Dirk's flu symptoms, as if to suggest his sickness were either faked or less serious than met the eye.
You won't find Kevin Durant and Russell Westbrook feigning leg cramps, though—no matter how embittered they become.
They know there's a dynasty in their future, that at just 23 years old, this is the first of many opportunities to show this league how the West was won and bring a title back to Oklahoma City.
James has no such reassurance.
His best opportunity is to beat these Thunder before they get any better, before Kobe was one last hurrah or before the Spurs figure out a way to win 30 in a row. And, his work won't become any easier as Dwyane Wade loses another step and Chris Bosh loses interest in remaining a third wheel no one appreciates.
Whereas Jordan's six titles were aided by a younger Scottie Pippen extending his career, James will make due with a sidekick headed for decline with a psyche to match.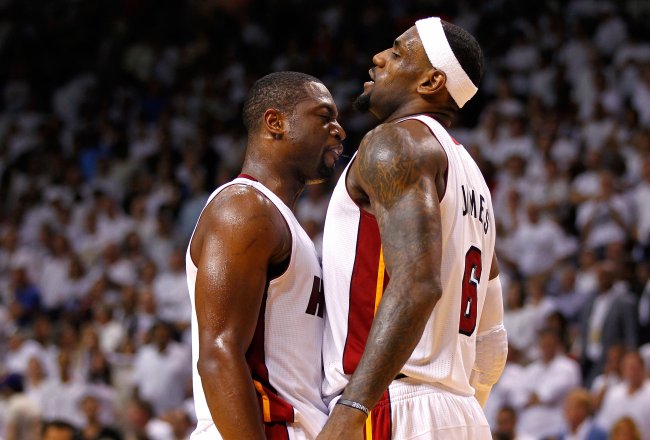 Mike Ehrmann/Getty Images
One title won't silence the detractors. It will simply make them wonder what's gone wrong when next year isn't so kind, when the free-throw line isn't offered as a birthright and when the fragile chemistry holding this collection of mercenaries together descends into frustration and turmoil.
We've seen flashes of it unraveling already this year, a shocking statement given that this club now finds itself within one win of a championship.
If Dwyane Wade can lose his cool when things are going well, one shudders to imagine how he'll handle things as Miami fades into a history of disappointment.
Call it hating, denial, bitterness or good ol' fashioned sour grapes.
The rest of us will call it realism.
LeBron will get his ring, but he won't get seven of them—even if he does really believe that.
This article is
What is the duplicate article?
Why is this article offensive?
Where is this article plagiarized from?
Why is this article poorly edited?

Miami Heat: Like this team?