Toyota/Save Mart 350: 5 Hot Picks to Win at Sonoma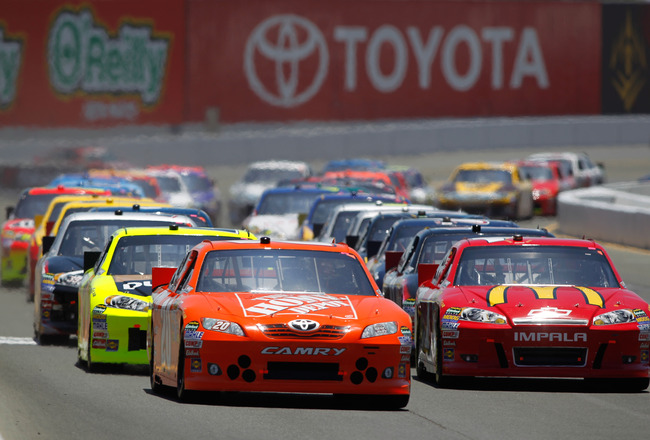 Todd Warshaw/Getty Images
The game changes when the boys of NASCAR's premier series take to the 1.99-mile road course in the wine country of California. Pack racing can take on a new meaning when cars are on two wheels.
Some drivers just naturally take to driving the right and left turns of the twisting course, while others just hope to survive the race with their car intact.
Points are very critical, especially with the Chase only 11 races away. Drivers who must win and finish well to keep Chase hopes alive could easily become a victim of the crashes that are inevitable.
The Toyota/Save Mart 350 is the first of two road-course races during the summer stretch of racing in the Cup series.
These are the five drivers who will likely be the hottest contenders to win at Sonoma.
Jeff Gordon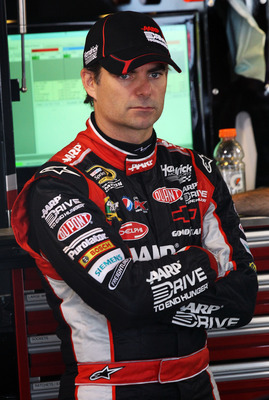 Tom Whitmore/Getty Images
Jeff Gordon's dark cloud has been tracking him closely through much of the 2012 season, resulting in him being winless and 20th in the standings—190 points out of the lead.
The driver of the No. 24 Chevrolet has recorded two top-10 finishes out of the last four events, but it does not matter. This driver has to win a race or two to have a shot at the wild-card slots for the Chase.
Gordon is a proven road-course racer. He has five wins, 12 top-five and 15 top-10 finishes at Sonoma with an average finish of 8.7. He has nine total road-course wins with 24 top-10 finishes.
Gordon last won at Sonoma in 2006, but he was runner-up in 2011. He has finished in the top 10 during the last six races. It just may be, he will finally make his way to Victory Lane in Sonoma.
Marcos Ambrose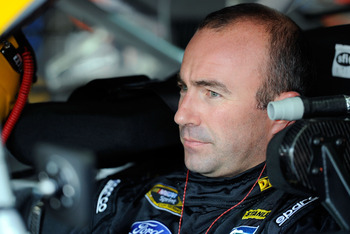 John Harrelson/Getty Images
Marcos Ambrose, driver of the No. 9 Ford for Richard Petty Motorsports, seems to have some mojo working for him, and now, he heads to his favorite type of racing on a road course.
This driver is 17th in the standings, 177 markers out of the lead. He has two top-five and three top-10 finishes in the past three races at Sonoma with an average finish of 14.0.
His only career win came at another road course—Watkins Glen. Ambrose has an average finish on the tracks with left and right turns of 8.1.
Look for this driver to contend for a win in the Toyota/Save Mart 350.
Tony Stewart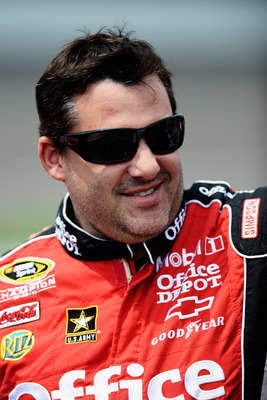 Jared C. Tilton/Getty Images
NASCAR Sprint Cup champion,Tony Stewart, wheels the No. 10 Office Depot/Mobil 1 Chevrolet. He's coming off a third-place finish at Pocono two weeks ago and second place last week at Michigan.
Stewart has two wins this season and is eighth in the point standings.
This driver has a bit of a take-no-prisoners attitude, especially when he takes the turns on a road course where seven of his 46 career wins have come. His average finish on this style track is 9.3.
Stewart has two wins, four top-five and eight top-10 finishes at Sonoma. This is a driver who won't hesitate to move a driver out of his way on the turns, and he should contend for a win.
Kyle Busch
Jared C. Tilton/Getty Images
Kyle Busch is the wheelman for the No. 18 M&M's Toyota out of Joe Gibbs Racing. Though he has one win this season, he's a man on a mission after three consecutive engine failures.
Ranking 12th in the standings, he may throw caution to the wind and plow his way to the front in his effort to win a second race at Sonoma.
Busch has a road-course record of two wins, four top-five and eight top-10 finishes. His last win at Sonoma was in 2008. That year, he started 30th to make his way to Victory Lane.
Juan Pablo Montoya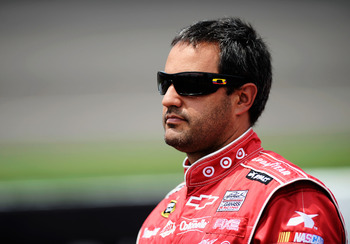 Jared C. Tilton/Getty Images
Juan Montoya, driver of the No. 42 Target Chevrolet, has had a less-than-stellar season since he crashed into the jet dryer at Daytona. He's 19th in points—188 markers out of the lead with two top-10 finishes.
Montoya has nothing to lose and everything to gain if he can be the first to take the checkered flag at Sonoma. He will have to keep his temper in check at a track that can trigger racing incidents.
This driver won at Sonoma in 2007 then finished in the top 10 for the next three years. His average finish at the California track is 9.0.
Montoya has two road-course wins with three top-five and eight top-10 finishes for an average of 10.2 Look for the No. 42 to run in the lead pack if he can stay out of trouble.
Keep Reading