Randy Moss: Will He Be a Positive Influence on A.J. Jenkins, Michael Crabtree?
June 20, 2012

Even if the 35-year-old Randy Moss isn't back in the Bay Area for long, he comes with an opportunity to make a positive impact on a few of his teammates.
Many 49ers—members of both the offense and defense—have already taken notice of the future Hall of Fame wide receiver and the freakish skill set he's always possessed. 
But it's the corps of receivers Moss now joins—most importantly 2012 first-round pick A.J. Jenkins and Michael Crabtree—who should be the ones taking the most interest.
These two—potentially highest-regarded wideouts as far as the 49ers' long-term plans are concerned—should be busy sucking up as much as possible of the All-Pro football knowledge Moss has accumulated over his extremely successful career.
Crabtree—a former first-round pick himself—is already an integral part of this 49er offense, and Jenkins soon hopes to be as well.
Healthy for the first time in a long time, Crabtree has finally been an active participant in the Niners' offseason activities. And it's looking as though the fourth-year pro has already gotten close with Moss.
At least 49ers' starting safety Donte Whitner believes that to be the case:
They have a great relationship. Whenever you're doing something where you need a partner, they're always together.
Despite once again failing to put up numbers worthy of his 10th overall selection in the 2009 draft (lofty expectations, mind you), Crabs did show at least some form of improvement in each phase of his game a year ago.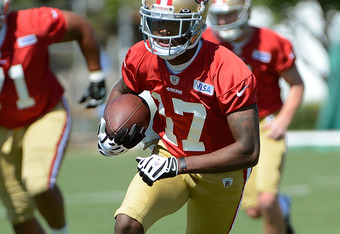 Thearon W. Henderson/Getty Images
Can the tutelage of a focused Moss help get the most out of Crabtree?
Fellow 49ers Featured Columnist Joe Levitt certainly believes so, and I find it difficult to disagree. 
Since joining the Niners four years ago, Crabtree has always been the most talented wideout on the 49ers' roster—and has been expected to perform as such.
While he didn't exactly help his cause with a rookie season holdout and a couple of other lapses along the way, Crabtree hasn't been put in the greatest position to reach his potential, either.
Of course, the arrival of Jim Harbaugh in 2011 made life easier on Crabtree and all of the 49ers. A clean bill of health and full offseason to maximize chemistry and trust with Alex Smith should also help Crabtree's cause.
So yes, all things considered, a full season of guidance from an All-Pro receiver who's "been there, done that" may be just enough to propel Crabs to the level we've all been waiting for him to play at on a consistent basis.
Perhaps, the in-game tips will be the most beneficial, being that the seasoned Moss can use not just his physical traits, but also his extremely high football IQ to manipulate defenses in a near-effortless fashion.
As for Jenkins, the one wideout who didn't fare so well in 49ers OTAs, what kind of influence can Moss have on the young Illinois product?
Forty-niners' Hall of Famer, and greatest receiver of all time, Jerry Rice has already reached out and offered a helping hand, but it's Moss who will be around Jenkins the most, able to offer that invaluable veteran guidance similar to what former Vikings' great Cris Carter was able to offer upon Moss' arrival to the NFL in 1998.
In my opinion—and many others as well—the early struggles of Jenkins are a bit premature and overblown.
It's June—not August or September. Heck, Crabtree wasn't even around in his rookie season until mid-October.
Anyway, the fact is—as B/R writer (and former teammate of Moss in Oakland) Ryan Riddle summed it up beautifully in a recent must-read article—Randy Moss' tendencies usually end up making a bad situation worse and a good situation better.
As it stands, Moss is in as good a situation in San Francisco, and arguably even better, than he's been in since first playing with Tom Brady and the Patriots.
And as long as it stays that way, the 49ers will likely be even better for it during the time Moss is suiting up in Red and Gold.
Provided he remains fully engaged as the 49ers embark on defending their NFC West title and chase a sixth Lombardi Trophy, there's an unlimited amount of valuable insight to be shared among those inside 49er land who are willing to soak it up.
Because, when it's all said and done, legends have a knack for making those around them better—long after they've taken their final snap in the NFL.
Yes, even Randy Moss.