New York Yankees: 9 Keys to the 180-Degree Rotation Turnaround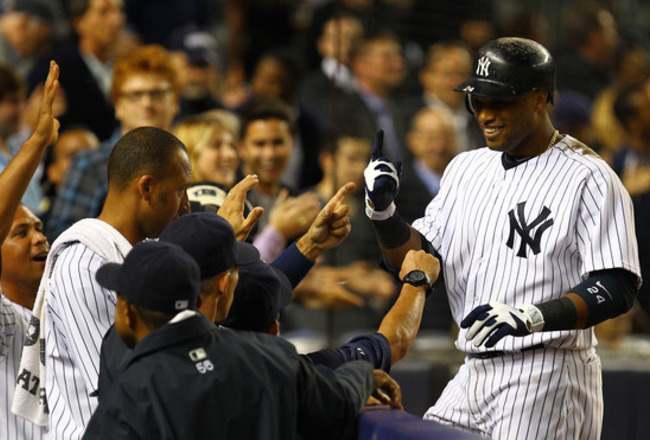 Just a few weeks ago the New York Yankees had been written off for dead by many. Under performing, over the hill, and simply no longer the driving machine they once were. Oh, the old gray mare ain't what she used to be.
Fast forward to the middle of June.
The same team that was once cohabiting the basement of the AL East with the Boston Red Sox is now running neck and neck with the Los Angeles Mattinglys for the best record in the majors.
There were no blockbuster trades, boisterous rants from the owner (that doesn't happen anymore), or managerial changes. The new-found success is an example of, in the eloquent words of Lester Freamon from The Wire, the fact that "All the pieces matter."
The Rebirth of Raul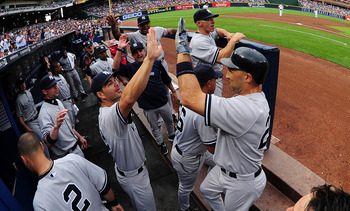 Scott Cunningham/Getty Images
No one is perfect. Not even Curt Henning. Everyone knows general manager Brian Cashman has signed some highlighted abominations over the years. Carl Pavano, Kevin Brown, and an endless menu of rotten eggs have stolen Yankee money and have barely contributed.
But, when Cashman went against the grain and passed on former fan favorites Johnny Damon and Hideki Matsui, he found a cost effective goldmine in the form of Raul Ibanez.
The 40-year-old outfielder is only batting .237, but he is making his presence known in what was once a struggling Yankee lineup. His 10 home runs (which are tied with the likes of sluggers Albert Pujols and Prince Fielder) and .506 slugging percentage have made all of his $1.1 million paycheck worth his services.
Home Runs Aren't Fair!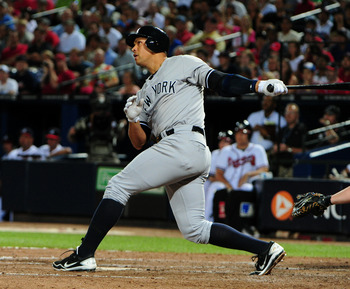 Scott Cunningham/Getty Images
Oh no. They're "doing it" again.
Yes, it appears the Yankees are hitting all those pesky home runs again, in fact more than any other team…again. With 101 dingers, the team leads the majors and for whatever reason it annoys a lot of baseball pundits.
Ever since Ross Barnes of the Chicago White Stockings launched the first home run in 1876, the round tripper has counted in baseball rules. So, why the hate parade?
That's like saying it's not fair LeBron James scores so many points because he's too good. Sounds ridiculous, doesn't it?
Obviously, the Bombers are more than reliant on the long ball; in fact, they won their first game without a home run just four days ago.
But, hey if it ain't broke don't fix it.
Oh, You're Awake?
Al Bello/Getty Images
Critics of Mark Teixeira are always quick to point out his playoff stagnation. So, when his annual slump extended to the month of May, there was plenty of blood in the water for the sharks.
After playing a big part (3-6, 2 HR, 6 RBI) in New York's epic 15-9 win against Boston in late April, Tex sunk into a quagmire that dangled just above the Mendoza line.
In fact, his low water mark arrived on May 10th, when he was batting just .212 with an unforgivable on-base percentage of .269. Not indicative of your normal $22.5 million a year ballplayer.
Since then he has slowly improved his offensive numbers to .252 BA and .331 OBS. Still not great stats, but opponents now recognize there is a living breathing soul in the heart of the Yankee lineup, instead of a decaying cadaver.
MisRemember Me?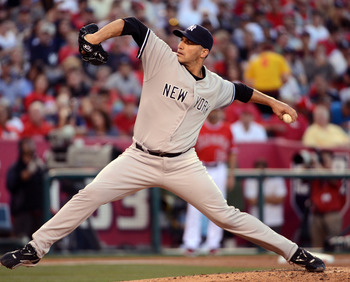 Harry How/Getty Images
Everyone knows that "Andy Pettitte is a starting pitcher!", but who knew (certainly not me) that he would be a starting pitcher that would be quite this effective?
Coming out of the lazy days of retirement at the age of 40, no one seriously knew what to expect out of the Yankee veteran. Even though minor league starts are usually about conditioning and pitch count, it was hard to ignore the subpar numbers that Pettitte recorded on the farm.
However, he has returned to his prime even while being over the hill. In seven games this year, Pettitte has a 3-2 record with an ERA of 2.77, which is well under his career average of 3.86. (Yes, I know it's June.)
Even more surprising is his rapid rate of K's. Through 48.2 innings, Dandy Andy has already mowed down 46 opponents.
Who knew the Yanks would be adding a starting pitcher for $2.5 million who would be striking out almost a batter an inning?
Injuries? We Dont Need No Stinkin' Injuries!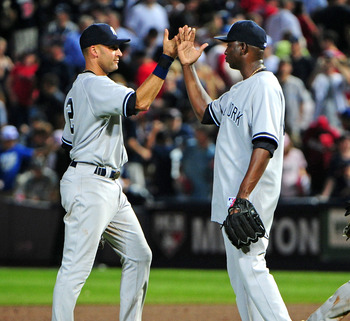 Scott Cunningham/Getty Images
In the span of the last two and half months, the roster in the Bronx has changed quite drastically. Injuries to the pitching staff and an integral slice of their running game put the Yankees in a hole that looked inescapable.
Like bowling pins in front of Ishmael Boorg, they fell by the wayside. Michael Pineda's season ended before it started and Mariano Rivera's freak injury put the Yankees bullpen in an unfamiliar bind. Not to be outdone in abnormal injuries, Joba Chamberlain's gruesome ankle setback put his season in peril, while Brett Gardner's pesky and annoying elbow has kept him on the shelf since mid-April.
With all that being said, other guys stepped up big time.
In the midst of the Pineda year long absence, every starter has stepped up. Regardless if they began inconsistently (Hughes and Kuroda), all five of the starters have embraced their roles.
After last year's flop and some early season jitters, Rafael Soriano has done his best to slip into the big shoes of Mo.
Let's also not forget the craftiness of two veterans in the outfield to fill in for the missing Gardner. Raul Ibanez and Andruw Jones might not be 18 anymore, but they have served a more than formidable role in a suddenly dangerous lineup.
Tale of Two Seasons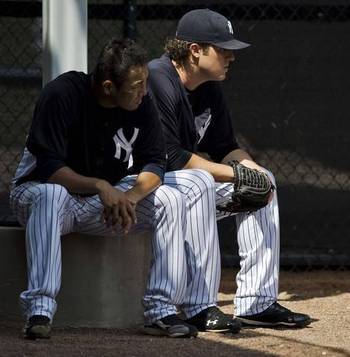 After their first two months in 2012, no one knew what to think of Phil Hughes and Hiroki Kuroda. Defining inconsistency to the highest power, both right-handers had fluttered through the bulk of their young season not knowing where their A game had gone.
Yet, their last three starts for Hughes and Kuroda have yielded a total of eight runs in a combined 42 innings before Tuesday night's game.
Instead of resembling a pinstriped albatross, both men have now become solid pitchers that the team can count on every fifth day on the mound.
Curtis, You're Someting Sort of Grandish!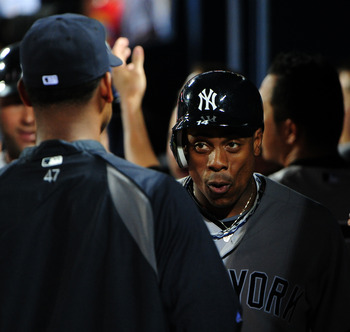 Scott Cunningham/Getty Images
Lost amidst Josh Hamilton's fledgling assault at the Triple Crown are the power numbers being posted by center fielder Curtis Granderson.
Sure, he remains mired in his customary below par .250 BA, but his slugging marks are once again at the head of the class.
Currently, the Grandyman lies in the third place for American League home run leaders with 21. Not to mention, he's also in the top 10 slugging percentage and on-base percentage.
With his quiet demeanor, it's sometimes easy to overlook the slick fielding speedster. (Even though the sabermetricians say he's the worst center fielder in the league. Whatever, Bill James.)
If he keeps recording numbers like that, it would be impossible to look the other way.
Can We Play Every Day?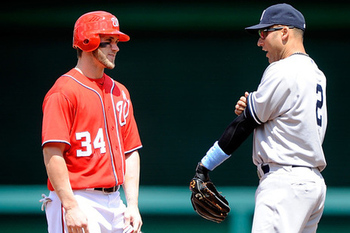 Probably a mere coincidence, but it would be irresponsible for me not to mention the recent torrid winning streak has occurred against all National League teams.
Is it by chance the team has risen like a Phoenix due to the friendship of the Senior circuit?
Honestly, if you're a Yankee fan, who cares? But, maybe some of the pinstriped interleague detractors might be changing their minds right about now.
I Ain't Going out Like That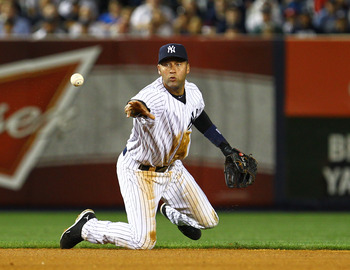 Al Bello/Getty Images
Last year at this time, Derek Jeter was on the disabled list with a .260 BA, 2 HR, and 66 hits. Many had predicted that the less than stellar numbers were the crumbling body of work that once was the Captain.
Contrary to critic's declarations, 2012 would be the beginning of the Jeterarian Renaissance. Exploding out of the gate to begin the year, the 37-year-old shortstop batted as high as .404 in mid-May.
Since then, the Captain has come back down to reality, but is still managing to sport a .317 batting average along with 89 hits.
Once hailed as a fading relic, No. 2 still leads off with professional consistency for one of the most feared lineups in baseball.
Keep Reading

New York Yankees: Like this team?