Euro 2012, England vs. Ukraine: 10 Things We Learned from Thrilling Clash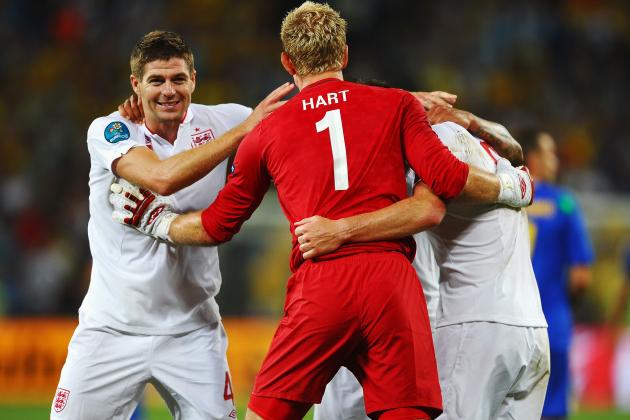 Laurence Griffiths/Getty Images

The final two group stage matches of Euro 2012 did not disappoint us at all, as Sweden improbably beat France and England triumphed over Ukraine in a very nervy performance.
For the English, a win or draw would have sufficed. After Wayne Rooney's goal in the 48th minute, Roy Hodgson's side defended valiantly to the final whistle against a spirited Ukraine team that would not give up in its search for the win that it needed to advance.
Few expected much from the Ukrainians, but they gave one of the better national teams in the world a run for their money with an admirable undying attitude and the backing of a passionate group of supporters.
England, with a little help from the referees, was too much in the end.
More on that in a bit as we look at 10 things we learned from the matchup.
Begin Slideshow

»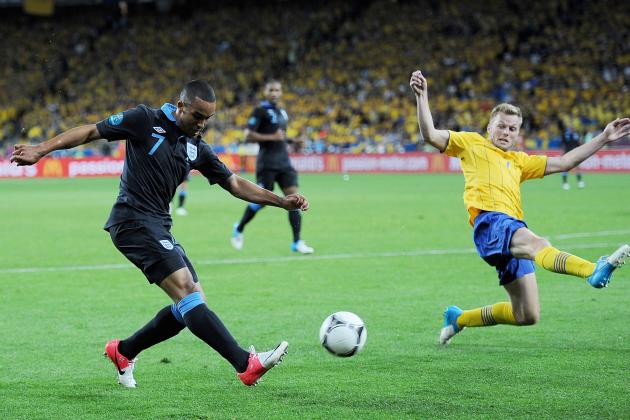 Christopher Lee/Getty Images

After a dynamic performance against Sweden in England's last game, Theo Walcott would have started the Ukraine fixture if he had not picked up an unfortunate knock to his hamstring against the Swedes.
James Milner, who started in his place—and has done so for every one of England's games—once again showed to be an unspectacular player.
He merely does his job on the right side and does not provide much else to the team.
When Walcott regains his fitness after a brief cameo appearance versus Ukraine, he would terrorize defenders on his flank the way Ashley Young does on his.
Speaking of which: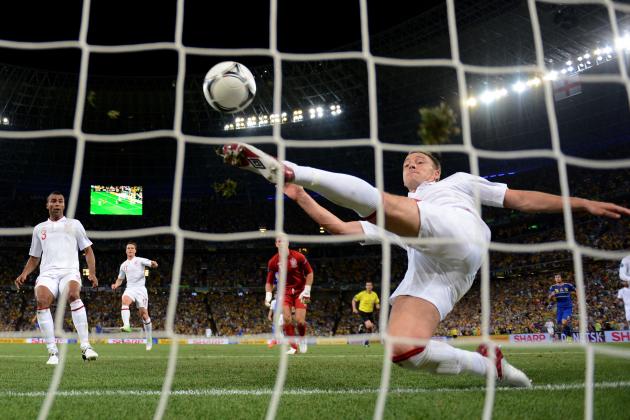 Laurence Griffiths/Getty Images

Steven Gerrard is a great leader and talismanic midfielder. Wayne Rooney is obviously one of the best players in the world—more talented than John Terry, too.
Terry, forever embroiled in controversy, produced a herculean performance at the back to keep out a Ukraine side that was always pressing and looking for the goals to guarantee its passage into the quarterfinals.
His biggest contribution to his side's victory was obviously the heroic goal line "clearance" that prevented the equalizer, even if the ball did cross the line in reality.
If England's controversial defender remains in fine form, he might be able to push the side to a couple more wins.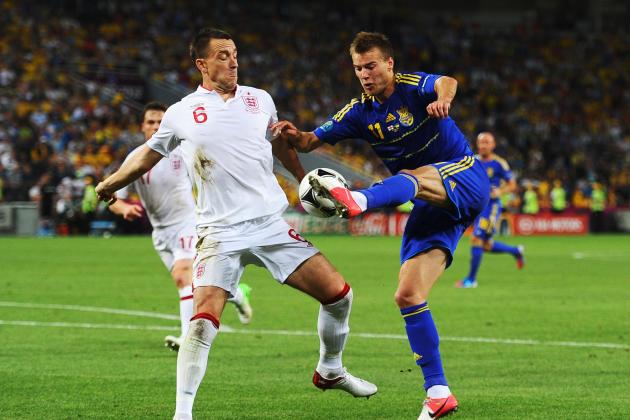 Laurence Griffiths/Getty Images

In their fairly comprehensive analysis of Euro 2012 and all of its teams before the tournament began, here is everything that James Tyler and David Hirshey had to say about Ukraine:
"Bye-bye and thanks for co-hosting."
While they might have waved farewell to the Euros at the first hurdle, the Ukrainians certainly did not deserve the disrespect many gave them before they started.
Needing a win to progress, which already was more than many expected, they were clearly the more dominant side against one of the best, if over-hyped, in the world.
They then took the game to the Three Lions.
With an admirable spirit, Ukraine can hold their heads high.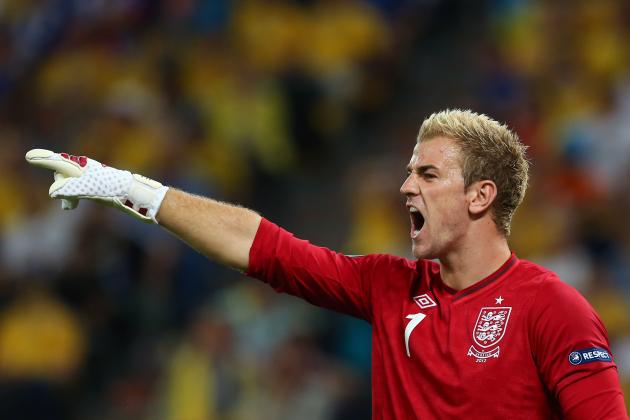 Martin Rose/Getty Images

After years of enduring very dodgy goalkeeping, England have finally found their No. 1 in Joe Hart.
They are seeing exactly what a goalie of his stature can do for a team.
In a game that saw his goal constantly being threatened, and facing a Ukraine side that is obviously very happy to have a go from long range, Hart did extremely well to keep a clean sheet.
He made a few swerving, dipping shots look relatively easy to deal with.
If he did not get a touch to Marko Devic's late shot, John Terry would not have been able to make his clearance look even halfway believable.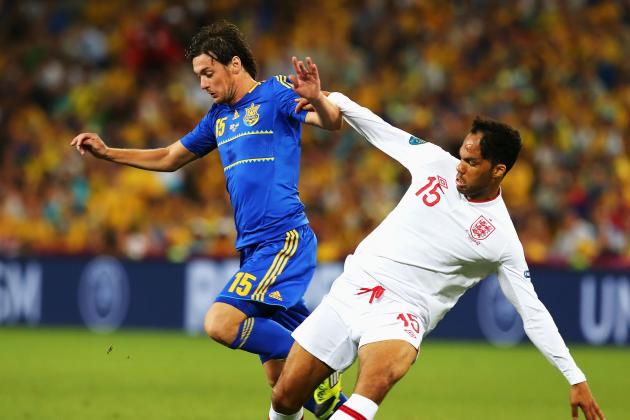 Martin Rose/Getty Images

Were it not for a pre-tournament injury to Gary Cahill, Joleon Lescott would be warming the bench instead of marshaling the center of defence with John Terry.
Cahill's injury has proven to be a bit of good fortune for England, as Lescott has been massive at the back. His marking skills have played a large parts in both of the Three Lions' victories.
Time and time again, Lescott was there to make a late block or tackle when it appeared that Ukraine was through on goal or they were about to get a shot off— probably saving a goal in the process.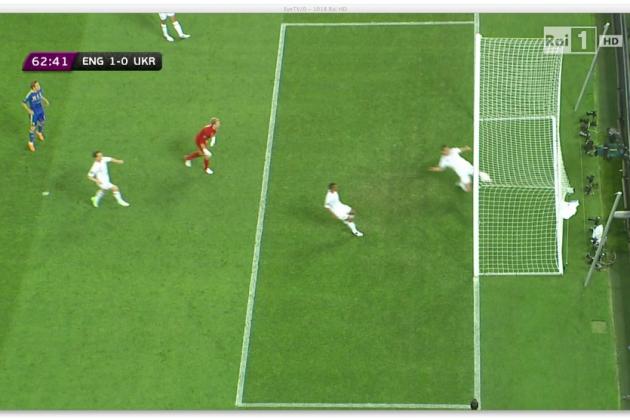 Those few green pixels between the ball and the goalpost may have been the difference between Ukraine being eliminated or qualifying.
And in turning the group upside down.
UEFA president Michel Platini's inexplicable refusal to get calls right cost the co-hosts dearly, as an equalizer would have turned the tide of the match and gotten the fans in Donetsk into full voice.
What the Frenchman said would not happen with the use of a fifth official came to pass, and we have to contemplate yet another scenario of "what-ifs" and "maybes."
It's hard to imagine someone being more resistant to change than Sepp Blatter, but Platini somehow has managed to be.
Unless Blatter implements goal line technology before Platini can stop it, the game will continue to be mocked.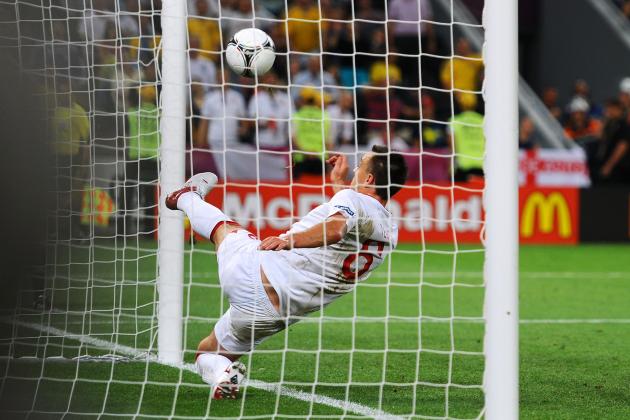 Laurence Griffiths/Getty Images

Yes, the "ghost goal" that should have been Ukraine's was not given, but two acts of terrible officiating effectively canceled themselves out to keep a 1-0 win on the books for England.
That, and another move that led to a threatening shot on goal, were both advanced from offside positions.
If the line-judge, who had a horrid game, had gotten the calls right, we would not even be talking about goal line clearances.
From England's point of view, the goal not given is karma for Frank Lampard's even more obvious goal against Germany in the last World Cup.
Perhaps they will have some well-deserved luck this time around.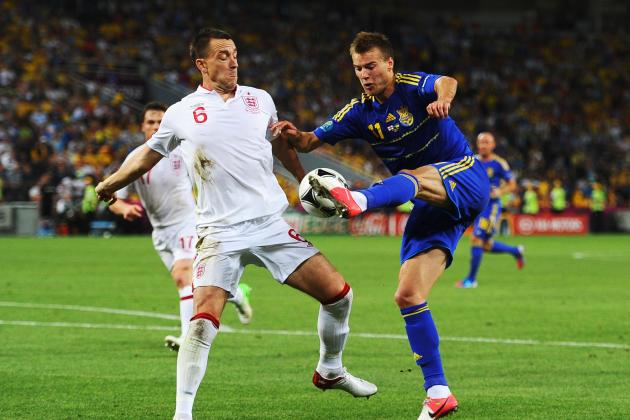 Laurence Griffiths/Getty Images

Any accusations leveled at Ukraine of being dependent on legendary striker Andriy Shevchenko were thoroughly dispelled against England.
The Ukrainians showed they have talent in other attacking areas. They were forced to do so because their star man and captain was out with an injury, and only made a relatively late appearance off the bench.
Marko Devic and Artem Milevskiy were impressive in Shevchenko's place, but Andriy Yarmolenko, in particular, was very impressive throughout the match. He constantly cutting in on his right foot and troubling the England defence.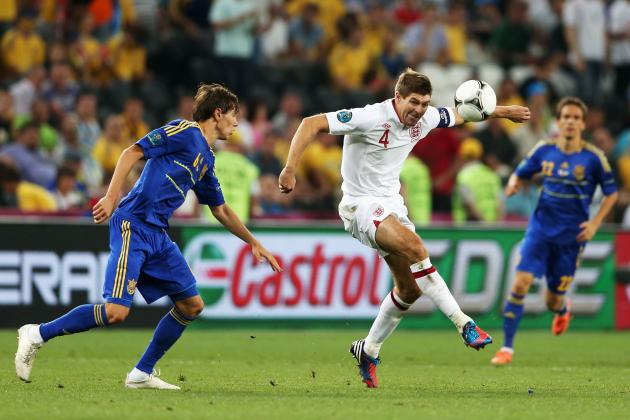 Scott Heavey/Getty Images

England fans will have to get used to more of what they saw against Ukraine. It seems that the Three Lions are set up to win games in the sort of heart-pounding way that takes a toll on your fingernails.
Rather than playing the flowing football of Portugal or Spain, the English seem willing to use their typical grit and organization to hold firm when given a lead by one of their more creative players—in this case, Wayne Rooney.
When they settle in and prepare to absorb wave after wave of pressure, England can be among the most difficult sides in the world to break down.
This is especially with the experienced mountains of John Terry and Joleon Lescott in the center of defence.
As long as it gets the team wins, English fans will not care how their boys play.
Alex Livesey/Getty Images

Greece may have done it in 2004 with a weaker team, but it is extremely difficult to string enough wins together to win a major tournament while playing defensive football and operating on fine margins.
Depending on a couple star performers is a dangerous game.
Ashley Young and Steven Gerrard can provide a couple moments of inspiration, and Wayne Rooney is obviously himself.
But, it is hard to see, based on their display against Ukraine, how this England side can get past Germany or Spain.
Things will certainly not get any easier against Italy in the quarterfinals. If England get stuck in a bit of a defending rut, they will not have an easy time advancing.
Roy Hodgson needs to put more emphasis on attack from here on in.