Wimbledon 2012: Underdog Contenders That Will Steal the Championships' Spotlight
June 19, 2012

Clive Brunskill/Getty Images
Aside from Rafael Nadal and Novak Djokovic, everyone else competing in the 2012 Wimbledon Championships is a big underdog.
Roger Federer hasn't made it past the quarterfinals since 2009 and the next wave of contenders is on the rise—most notably Jo-Wilfred Tsonga of France. The Frenchman had Djokovic at four match points at Roland-Garros and has great confidence to steal the Wimbledon spotlight.
Jo-Wilfred is also not the only contender that can take the show on the grassy grand slam. Here, let's check out a few others and then analyze Tsonga later on.
Andy Murray, Great Britain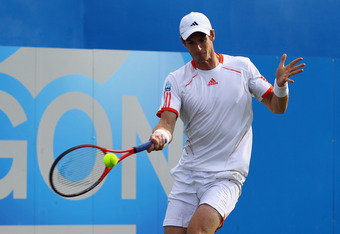 Matthew Lewis/Getty Images
Despite not having won a grand slam tournament, Andy Murray has been on the brink of doing so in recent years. Wimbledon has been one his most consistent tournaments—he has three straight semifinals appearances from 2009-11.
The Australian Open has been Murray's other strong grand slam with two finals and a semifinal appearance the past three years.
At Wimbledon 2012, we'll see Murray put on one of his best performances and because of his improved play on clay and his defensive consistency, the grass court will favor his style. In turn, Murray will be more efficient and quickly build momentum in the early rounds.
Tomas Berdych, Czech Republic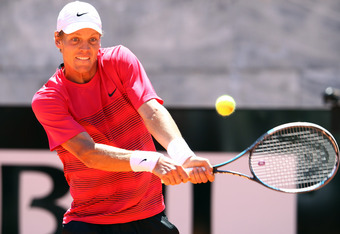 Julian Finney/Getty Images
Certainly a longer shot than Murray, Tomas Berdych is quietly having a respectable season in 2012.
After making it to the quarterfinals in Australia, Berdych had his second-best French Open performance by making it to Round 4—he made the semifinals in 2010. At smaller tournaments, he has made the semis in Monte Carlo, the quarters in Rome and the finals in Madrid.
As for grand slams, Wimbledon is by far his best with a finals appearance in 2010 and at least Round 3 of the tournament every year since 2005—with a quarterfinals appearance in 2007. In 2009 and 2011, Berdych got to Round 4 and he has the strength with each serve and return to outpower his opponents on grass.
Provided that he continues to improve his backhand, Berdych has the potential to make a deep run.
Juan Martin Del Potro, Argentina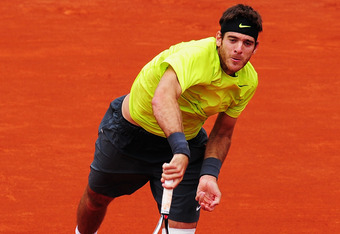 Mike Hewitt/Getty Images
Juan Martin Del Potro is an anomaly.
Throughout his career Del Potro has played impressively on clay and hard courts, but weakly on grass courts. So, because of his aggressive offense and strength, he'll either win by speed (hard courts) or power (clay courts).
Grass unfortunately has been that medium Achilles Heel. During his best grand slam season of 2009, Del Potro made it to the quarterfinals in Australia, the semifinals in France, and he won the US Open. However, he had an early Round 2 exit at Wimbledon.
This year though, Del Potro enters Wimbledon with confidence yet again after two consecutive grand slam quarterfinal appearances. Also, he did make Round 4 of Wimbledon in 2011—his best grand slam performance of that year—so Del Potro has progressed on his weakest surface.
Jo-Wilfred Tsonga, France
Jo-Wilfred Tsonga almost pulled off the upset of the year over Novak Djokovic at the 2012 French Open. And although he failed to win any of his four match points, Tsonga proved he could hang with and challenge the elite.
Glancing ahead at Wimbledon and we see this having been Tsonga's best grand slam over the past couple years—he made the quarterfinals in 2010 and semifinals in 2011. Last year he lost to Djokovic in Wimbledon, so look for Tsonga to avenge himself and continue to improve.
The next step for Tsonga is the finals on the grass surface and to focus on being clutch. Instances of his lack of ability to pull through in the clutch are: the 2008 Australian Open Final and losing to Djokovic at the Roland-Garros after holding four match points.
For his sake, let's hope that Tsonga proves this wrong at the 2012 Wimbledon Championships.
John Rozum on Twitter.