Rafael Nadal: A Review of Rafa's Year Heading into the All England Club
November 25, 2016
Clive Brunskill/Getty Images
As Wimbledon looms, the Spanish superstar looks to carry over momentum from his victory at the French Open and turn his 2012 campaign into a year to remember with a 12th Grand Slam title.
The tournament that will serve as Nadal's foremost motivation for revenge at Wimbledon is the result of January's Australian Open.
After cruising through the first four rounds, Nadal narrowly lost the first set, and then rebounded to take the next three sets for 3-1 victories over Tomas Berdych in the quarterfinals and 16-time champ and former main rival Roger Federer in the semifinals.
This set up an epic showdown for the championship between Nadal and the man who took the ATP World No. 1 ranking from him in 2011, Novak Djokovic.
Unfortunately for Nadal, his attempt to capture his second title Down Under ended in agonizing fashion as Djokovic won in a five-set thriller. The marathon of a match lasted 5 hours and 53 minutes, the longest in a major title match history by 59 minutes and the longest match in Australian Open history.
Even worse, the loss left Nadal as the first player in the Open era to have lost in three consecutive major championships, all of which had been to Djokovic.  
Fortunately for Rafa, nothing cures a title drought like clay court season, his specialty.
Nadal won three of four tournaments on clay in the spring, which included ending his streak of seven straight losses in tournament finals to Djokovic with a two-set sweep over the Serbian in the Monte-Carlo Rolex Masters.  
Outside of a brief snafu over supposed slippery blue courts at the Madrid Open, all signs pointed to another Nadal-Djokovic title bout in the French Open. The world's top-ranked players did not disappoint.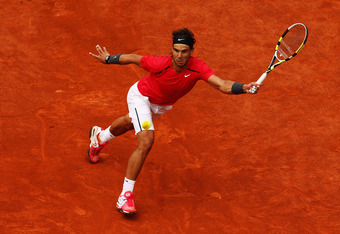 Clive Brunskill/Getty Images
Nadal did not lose a set in his run to the finals, while Djokovic swept Federer in the semifinals to make his first finals appearance at Roland Garros.
Djokovic played well in his attempt for a fourth straight Grand Slam title, but could not touch Nadal as the Spaniard further cemented his reputation as the King of Clay, by taking home the title in four sets.
With his seventh French Open title, Nadal overtook Bjorn Borg for the most titles at Roland Garros as well as took home his 11th Grand Slam title, tying him for fourth all-time with Borg and fellow tennis legend Rod Laver.
Now, Nadal will still need to be healthy in order to have a chance at raising his third Wimbledon trophy this July.
He withdrew from the Sony Ericsson Open a little over three months ago with a left knee injury, and seems to be chronically ailing in some form or another due to his powerful hitting style that takes a great toll on his body.
After his clay season ended on the best possible note, Nadal is taking a break until Wimbledon begins on June 25 following an early exit last week in Germany.
So far 2012 has been business as usual for Nadal, with 4 tournament wins. Any player in tennis will gladly take a Grand Slam title and the hardware Rafa just added to his trophy case from the French Open, but Nadal has to regret the potential 12th title that narrowly slipped away in Australia.
In fact, Djokovic now has more Grand Slam titles (5-4) than Nadal when not playing on clay.
Despite the end result, the Australian Open nonetheless proved that Nadal is still more than able to compete on any surface and will look to use the French Open as a springboard to create a new Grand Slam streak of his own, starting at Wimbledon.