Indianapolis Colts Advanced Stat of the Week: Fourth-Quarter Comebacks
June 19, 2012

Doug Pensinger/Getty Images
Nothing stirs the passion of NFL fans like an expert drive by a quarterback to win a game.
The fourth-quarter comeback may not sound like an advanced stat, but given how difficult it has been for the statistical community to agree on what constitutes a comeback, it's a topic that merits further examination.
Thanks to the work of Scott Kacsmar, football now has a definition of how fourth-quarter comebacks should be awarded. The result is that completely bogus records like John Elway's utterly mythical 47 comebacks have been exposed and debunked as the fraudulent fabrications of team media guides.
The basic rules for a comeback are:
The team has to win the game in which it trailed in the fourth quarter.
The offense has to contribute points in the fourth quarter. If a team trails 14-10 and returns an interception for a game-winning touchdown, the quarterback should get no credit for the comeback. It does not matter if the offense put up all the points in the fourth quarter, as long as the offense put up some of the points.
A game-winning drive is not the same as a comeback. A great drive with the score tied 17-17 might result in a win, but it's not a comeback.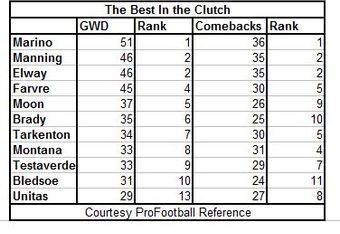 These rules clarify that it is Dan Marino, followed closely by Peyton Manning and Elway, who leads the all-time comebacks scoreboard.
For all the talk about how Manning played in the clutch, it's painfully obvious he was the guy you wanted with the ball in the final quarter. His record in one-score games is completely off the charts compared to other quarterbacks with a reputation for clutchi-ness.
Manning's final game with the Colts was the playoff loss to the Jets. Had the Colts been able to hang on to the lead Manning gave them with less than a minute to play, it would have been his record-tying 36th comeback.
After years of watching Manning lead the Colts from behind, they suffered an incredible drought. Beginning with the infamous Jets game of 2009, Indianapolis failed to convert a single comeback opportunity until Dan Orlovsky found Reggie Wayne in the end zone in Week 16 of 2011. That was a franchise-record 14 failed comebacks in a row.
Remember that just trailing in the fourth quarter isn't enough to create a comeback opportunity. A team's official comeback tally is in effect only if they have the ball on offense with a chance to tie or take the lead in the fourth quarter.
In 2011, the Colts had a chance for a comeback against the Browns, Steelers, Chiefs, Bengals, Jaguars and Panthers before finally snagging one against Houston. The furious rally that Orlovsky nearly pulled off against the Patriots does not count, however, because Indy never got the ball back with a chance to tie or take the lead, as the Pats recovered the final onside kick.