Jerry Sandusky Trial: Unaired Bob Costas Interview Clip by NBC Even More Damning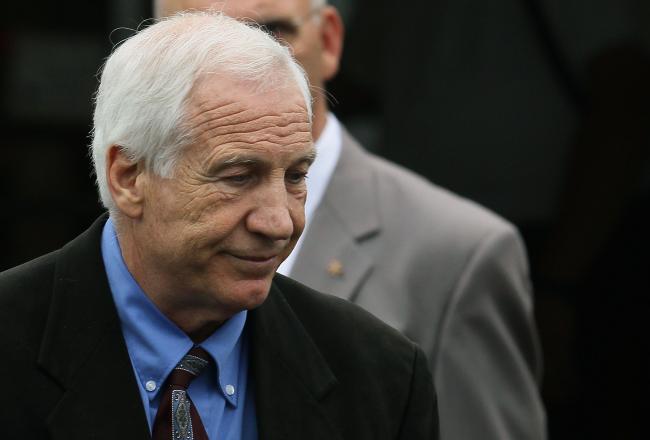 Mark Wilson/Getty Images
The Jerry Sandusky trial speeds along as the defense is expected to rest on Wednesday, according to Megan Healey of ABC 27 News in Harrisburg. The jury will begin deliberating after Thursday's closing arguments, and soon, the Penn State community can move on to the healing process.
In the intervening two days, however, Jerry Sandusky is expected to testify in his own defense. Assuming that happens, according to NBC News, the prosecution will be waiting with an extremely unsettling piece of evidence for Sandusky: his full interview with Bob Costas.
The parts that made it to air on NBC are bad enough that the prosecution introduced them as evidence already. But NBC has agreed to allow prosecutors to present the entire clip, as a transcript has already been made public.
In the full clip, Sandusky's response to questions about his relationships with the boys in his charity only allows that he didn't solicit sexual favors from everyone or as a matter of routine. That raises enormous questions about the difference between that answer and "I never touched any of them." Here's the quote in particular:
In terms of -- my relationship with so many, many young people. I would -- I would guess that there are many young people who would come forward. Many more young people who would come forward and say that my methods and -- and what I had done for them made a very positive impact on their life. And I didn't go around seeking out every young person for sexual needs that I've helped. There are many that I didn't have -- I hardly had any contact with who I have helped in many, many ways.
In fact, Dan Wetzel of Yahoo! Sports speculated that the early end to the defense's case may suggest that Sandusky won't be asked to take the stand after all, considering the amount of time his testimony and cross-examination would take. If that happens, it's unlikely that the defense will present a compelling enough case to help itself in the jury's eyes.
This article is
What is the duplicate article?
Why is this article offensive?
Where is this article plagiarized from?
Why is this article poorly edited?