Wimbledon 2012: Why Novak Djokovic Should Be Considered the Favorite
June 19, 2012

Clive Brunskill/Getty Images
***Before reading this article, I strongly encourage that you read this debate***----An as an aside, I am fully anticipating a hotly contested feud over this subject matter as goes with the territory in any debate.  With that said, I am willing to discuss any components of this article and subject matter given a healthy and civilized debate environment is maintained***
Following his 2012 French Open final defeat at the hands of Spanish sorcerer Rafael Nadal, the Serbian world No. 1 hopes to rekindle the flame that was lit just one short year ago on the revered Wimbledon lawns.   
It must be said that Djokovic undoubtedly has a lot on the line at this year's Wimbledon.   Defending crucial points from last year's victory are key for the purpose of maintaining a grip on the top ranking.   In supplement, the tides of the 2012 season have been much more variable than in 2011 as if to say Djokovic's unilateral dominance has dissipated.   
At certain stages of the 2011 season, defeat appeared to be the unfortunate inevitability for any opponent standing across the net from Djokovic.
Halfway through 2012, Djokovic has already equaled his loss count from 2011.  The aura of pure fear and intimidation he instilled has seen a steady reduction as the season has progressed.  
Belief, a feeling extracted and ultimately deprived from his opponents in 2011, has rejuvenated itself in the minds of the enemy. 
Despite all of this, I firmly believe that Djokovic is the surefire favorite to take down Wimbledon.  With the recent success of Nadal, I totally understand that there are those that have serious issues with such a seemingly outlandish assertion, but hopefully those worries will be appeased.
As to why Djokovic should be the favorite, let's first look at his dominance over Roger Federer.  Its been decades since Federer has taken down Djokovic.  Okay, not really, but it has been quite some time since Federer has shaken Djokovic's hand in triumph.   Excluding last year's French Open (for the sake of talking about quicker surfaces), the last time Federer beat Djokovic was in 2010 at the World Tour Finals in London.
Since that time, Djokovic has won six out of their seven encounters, including four matches on hard courts.
Djokovic has exhibited incredible superiority over arguably the greatest grass-court player ever to step on a tennis court.  Although the two have never faced each other at Wimbledon, or on grass for that matter, Djokovic's success against the Swiss on outdoor hard courts give credence to the idea that this success has a high propensity to extend to grass.
***While I am in full understanding that some may say you can't translate hard courts to grass, I will respond by saying that hard courts are the single best litmus test to gauge potential grass court matchups***
And it would be a bitter injustice to not repeat the fact that Djokovic is the defending champion.  He has the most recent memory of glory at Wimbledon.  This is a single advantage Djokovic holds over every other player in the draw—including Nadal and Federer.    
The Serbian knows he has the game to strive above the rest on grass.  We saw it in stunning fashion in 2011.  It is simply a matter of executing his game plan to the level needed to excel against the field in a best-of-five-set setting. 
Now moving on to the most speculative portion of this debate-- the Nadal factor.
Nadal has taken down Djokovic in their last three meetings and for the most part has done so in domineering fashion, having only given up a single set.
But of course, all of these meetings were on Nadal's surface of choice, that being clay.  With no intention of taking away the value and significance of these victories for Nadal, the implications they hold for Wimbledon must not be held with great regard.
Djokovic has had far greater success on quicker surfaces against Nadal going back to 2011.  Having defeated Nadal in three consecutive major finals on faster surfaces dating back to the 2011 edition of Wimbledon, Djokovic's level of confidence against Nadal should be sky high coming into this year's Wimbledon.
Djokovic's game is amplified on grass.  His ability to dictate and serve as the aggressor will be enhanced on a surface that is far faster and calls for a more offensive-minded approach than at Roland Garros. His variety, depth, and pace will all allow the Serb to intertwine the appropriate concoctions of defense and offense.  
Nadal's baseline grind is inherently mitigated as the impact of his unrelenting topspin and retrieving abilities are severely reduced.  The grass courts at Wimbledon yield a lower bounce, thus expunging a sizable portion of unpleasant, above-shoulder level balls for his opponents, and creating more opportunities for his opponents to attack.  Nadal's speed will always serve as a villainous entity to his opponents, but the quicker surface will force Nadal to rely less on making his opponents play one more shot and rely more on his aptitude to coerce aggression throughout the points.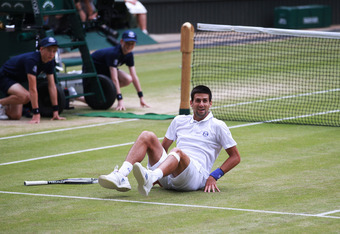 Julian Finney/Getty Images
Djokovic may very well be playing the role Federer took from 2005-2007.  Losing in three consecutive French Opens to Nadal, Federer stormed back at Wimbledon to capture three of his six Wimbledon crowns.
Author Jodi Picoult once stated, "A very wise man once told me that you can't look back—you just have to put the past behind you, and find something better in your future."
Novak Djokovic would be smart to follow this beautiful advice.  He must do as Federer did in those three years, displace the painful memory of Roland Garros from his mindset, and convert all of his negative energy into unwavering hunger.
The scene has been set.  The opportunity awaits.  Will he seize it?
Only time will tell.