Gerry Weber Open 2012: Loss to Tommy Haas Proves Roger Federer Is Done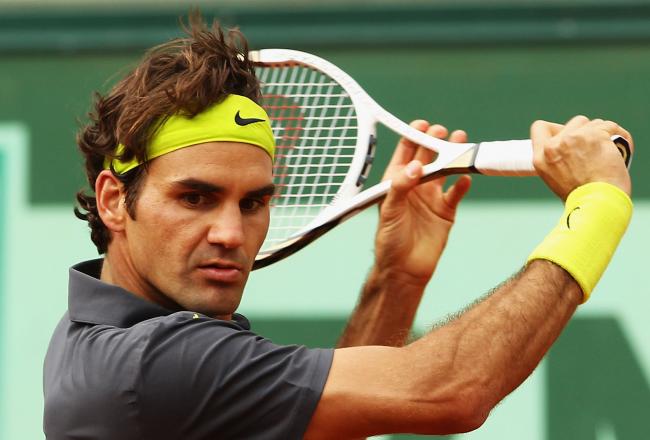 Matthew Stockman/Getty Images
After losing in the Finals of the Gerry Weber Open yesterday 7-6 (5), 6-4, to German player Tommy Haas, Roger Federer seems to be losing his dominance in the sport that he once controlled.
Is this the final straw where Federer can no longer be considered a serious threat in any upcoming tournaments?
Although it will always be tough to count out one of the greats in tennis while he is still playing the game, there does come a time when that has to be the case.
You have to think that a player of Federer's talents would not be losing in the finals of a tournament to an 87th-ranked player in the world such as Haas. Let alone in straight sets.
As much as you can imagine Federer wanted to win, he congratulated Haas on the win, as told by Agence France Presse (via montrealgazette.com);
"Tommy has performed well throughout, I'm thrilled for him."
Seems like a player who is content with losing matches, rather than demonstrating the killer instinct needed to be a top player in the world. Federer always showed gratitude and respect to his opponents, but at his age maybe that turns into not having that drive to win anymore.
If this is what we can now expect of Federer, then we can no longer look at tennis as being a three-horse race. The show now belongs to two players, Nadal and Djokovic.
Of course Federer will be able to win matches, but he is now officially done being a top player.
How much does Federer have left in the tank?
We saw in the French Open the challenges that he had with almost all of his opponents. The only match that he was able to win in straight sets was his first-round match against Tobias Kamke. Many of the other matches presented Federer with some challenges.
In the round of 32, Nicolas Mahut gave Federer a scare, taking him to the very limits in the fourth set before eventually losing 7 – 5.
In the quarterfinals, Juan Martin Del Potro took the first two sets from him before fizzling out and giving Federer the next three sets and the match.
Let us not even consider the match against Djokovic in the semifinals, as Federer was outclassed by the world No. 1—losing in straights sets quite easily.
Federer may not be entirely done when it comes to playing tennis, but it sure looks like he is done playing tennis that would consistently make him a threat to be in the finals of every tournament he plays in.
Especially when Djokovic and Nadal make an appearance.
It is not just his last loss to Haas that begs the question if this is the beginning of the end for the Roger Federer that we know. There are many other reasons why the once-great superstar may be reaching the decline in his career, to the point where he will become a non-factor.
One of these reasons is his age. Let's face it, Federer is not getting any younger.
Already playing in his 15th season on tour, the 30-year-old Federer is way past his best years. In the last four years he has only been able to bring home more than four titles once, and that was in 2010 when he won five.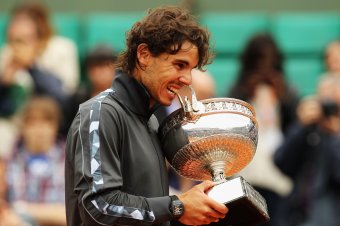 Matthew Stockman/Getty Images
His single titles have bottomed out since the stretch from 2004-2007 when he won 42 titles in those four years.
It will only be a matter of time, and this could be the last year Federer is able to take home enough titles that you might need two hands to count them on.
His best years are behind him, and he will only have a few more seasons left in him where he can keep up the level of play he wants to compete at.
Another problem that Federer faces is the fact that there are now two players who seem to be improving their level of play. Which means Federer may be pushed to the outside when it comes to being considered the best in tennis.
Both Nadal and Djokovic are only going to get better within the next year or two, with them pushing each other to the limits. Federer is too old now to get himself caught in something as intense as that. Especially with the training that Nadal puts in to improve himself, and Djokovic doing what he can to keep atop the world rankings.
Although Federer is so natural on the court, and training was not all that got him there, these other two seem like they are on a mission.
It would be best for Federer now to just be content with being a warm-up match for either of them on their way to the finals.
Give Federer credit where it is due —he is one the best ever but his time has come to pass.
Just as other stars have passed the torch to the new top players, Federer will have to do the same for both Djokovic and Nadal. Although he seems like he is fighting that option and trying to stay at the top and compete with them, like a true professional athlete should, the time has come for the torch to be passed.
Lastly, how much does Federer really have left in the tank. As we mentioned before, he is getting up there in age, and has two dominant players now controlling the game, so what exactly is Federer now playing for.
The Associated Press (via ESPN.com) relays this quote by Federer, after his loss to Haas;
"I'm just really happy for him ... happy that he's been able to fight off so many injuries and come back and still believe in himself, still want to travel, still want to sacrifice his family (life) too," Federer said of Haas.
It seems Federer has thought long and hard about the toll that playing long into your career can take on your body. Although Federer says of how happy he is for Haas, it does not seem like it may be the route that Federer wants to travel down as his career is winding down. So what exactly does Federer plan on doing so late in his career?
Is he trying for the records that are just in reach, or does he still believe that he can overtake either Nadal or Djokovic as the best in the world?
How much longer can he take a full years worth of training, and the injuries and the toll on the body that playing a years worth of tennis can take on an athlete?
In the end, it is more than just the loss to Tommy Haas, and Federer not being able to win the Gerry Weber Open. There are so many more factors that will soon come into play for the legend. Whether it be his age, too much pressure to stay at the top, or that tennis is slowly losing its lustre, Federer will not be one of the top players in the game much longer.
It could rapidly begin after this past loss, or it could slowly happen over the next year or two. Nonetheless, the control that Federer once had over the tennis court will be drastically declining.
This article is
What is the duplicate article?
Why is this article offensive?
Where is this article plagiarized from?
Why is this article poorly edited?