Oakland Raiders: Five Key Positions as the Team Concludes Offseason Program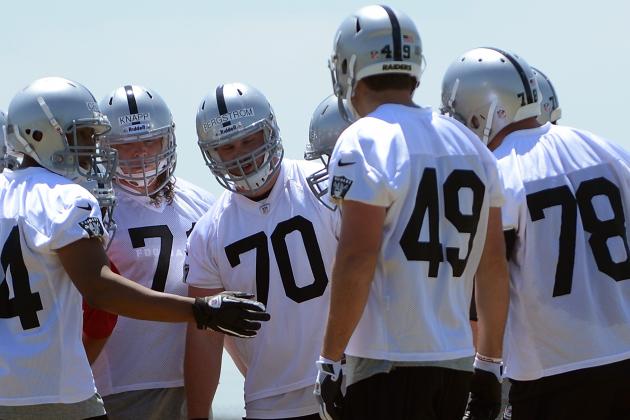 Thearon W. Henderson/Getty Images
Oakland Raiders
As the Oakland Raiders concluded their offseason program on Thursday, June 14, there has been a lot of speculation as to where they are at and what will happen when they take to the field on September 10, 2012 and beyond.
According to Adam Schein of FOX Sports, "the Oakland Raiders will finish in last place this year." He goes on to correctly state, in my opinion, that this season will be the "most impressive and important since Rich Gannon led the Raiders to the 2003 Super Bowl."
While Schein got a few things right, his opening statement couldn't be further from the truth. Here is a look at five of the Raiders' key positions that could have a major impact in taking the team to the top of the AFC West.
Begin Slideshow

»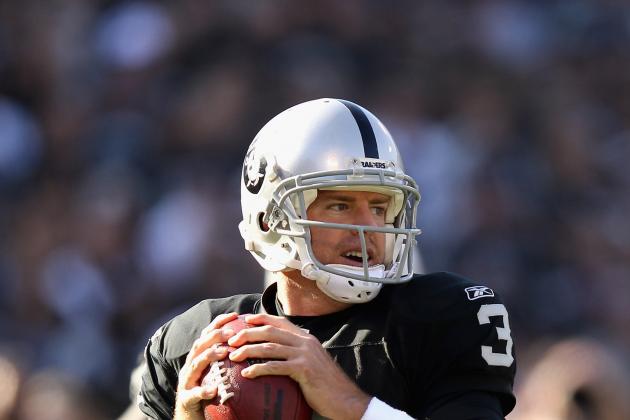 Ezra Shaw/Getty Images
Carson Palmer
While a few fans, and mostly fans of opposing teams, like to focus on Carson Palmer's number of interceptions last year, many realize those numbers don't tell the whole story. Palmer was thrown into the game during week seven after setting foot in Oakland just three days earlier. In his debut with the Raiders that afternoon, he knew just 15 plays.
With the time and experience he's had getting to know all of the players and developing a rhythm with his offensive weapons, I believe Palmer will be a consistent and solid quarterback in 2012.
Palmer knows the importance of proving his worth. There is little doubt that he's growing tired of hearing how the Raiders will fall because of the trade between himself and the team's draft picks, although back in February he said he "loves the pressure" to live up to the controversial trade.
Some have compared Palmer to former Raiders' quarterback Rich Gannon since he has been studying a lot of film and seems to be taking more of a leadership role.
I think Palmer has the ability to live up to and possibility exceed all of the expectations placed upon him.
One of the reasons the Raiders are in a better position this year is that they have several solid backup quarterbacks on the roster. When Jason Campbell went down last October, the Raider Nation was stuck with Kyle Boller.
Going into the upcoming season, they've got both Matt Leinart and Terrelle Pryor, in addition to the recently signed Kyle Newhall-Caballero. Any way you look at it, the Raiders are much better off at quarterback today as compared to last fall.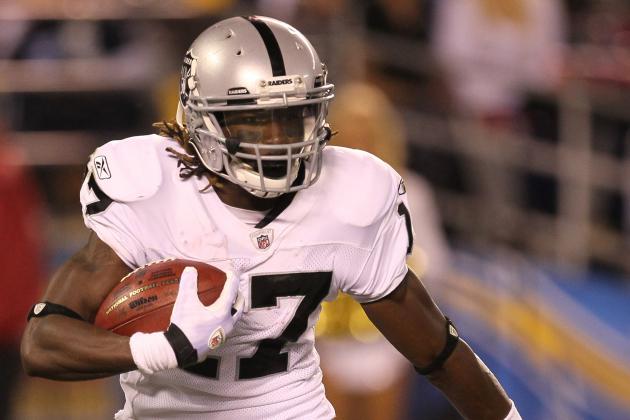 Stephen Dunn/Getty Images
Denarius Moore
The Raiders have a wealth of talent at the wide receiver position. There are currently 12 on the roster and that number will likely be whittled down to five before the season begins.
Denarius Moore became a star in 2011 and I believe we could even see more from him in 2012. Darrius Heyward-Bey was arguably the most improved player last season and Jacoby Ford is yet another exceptional receiver. Between the three, there is a potential for a duo like Tim Brown and Jerry Rice to evolve out of the mix of talented Raider receivers.
Of course, everyone has been talking about the potential of Juron Criner. The rookie may be one of the starting receivers and could possibly become another Moore. The fifth-round draft pick out of Arizona is a shining example of how the Raiders 2012 draft does not equal a losing season.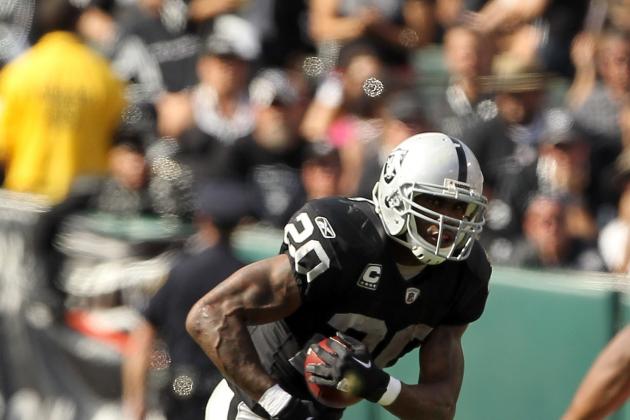 Ezra Shaw/Getty Images
Darren McFadden
When running back Darren McFadden is healthy, there is no doubt that he is one of the best in the NFL and a powerful weapon in bringing the Raiders back to greatness. Of course a lot is riding on him staying injury-free most of the season and the Raider Nation no longer has Michael Bush to back him up.
The team has versatile fullbacks who can become that guy, including Marcel Reece and Owen Schmitt. Running back Taiwan Jones should also be able to provide some relief to McFadden and the Raiders signed Mike Goodson who arrived to Oakland via a trade with the Carolina Panthers in March. While he may not have been the right fit for Carolina, many feel he may have a lot more potential as a Raider.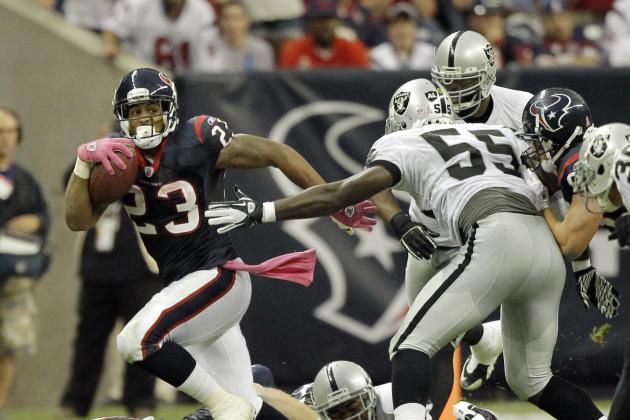 Bob Levey/Getty Images
Rolando McClain
The linebacker position is another exciting one to watch among the Raiders this year. Reggie McKenzie has decided to move on from Rolando McClain's personal legal troubles and has remarked that he only cares about what happens "from here on out."
There is no doubt that McClain is a tough player and has the size and athleticism to have a major impact on the Raiders' defense this year. If he takes McKenzie's generosity and faith in him to heart, he could make a difference between the team winning and losing a number of games in 2012.
Philip Wheeler is another exciting name that was added to the Raiders defense and improves the depth at the linebacker position. The former Indianapolis Colts player could be a big help when it comes to facing the Denver Broncos and Peyton Manning this season.
Linebacker Miles Burris adds even more excitement to the mix. Burris is already one of my favorite rookies and said to be one of the most likely to crack the starting lineup. In addition to playing at outside linebacker, he's expected to make solid contributions to special teams.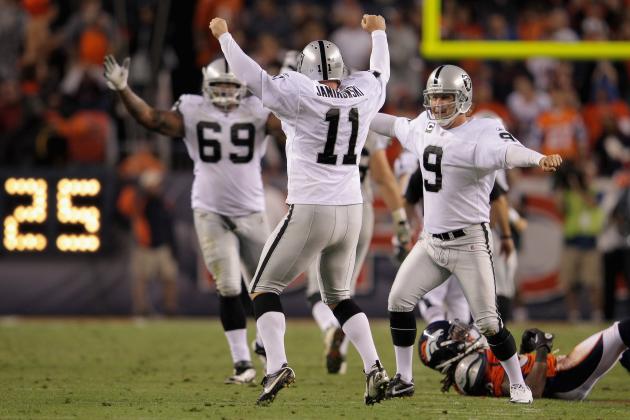 Doug Pensinger/Getty Images
Sebastian Janikowski and Shane Lechler
The duo of kicker Sebastian Janikowski and punter Shane Lechler are always a force to be reckoned with. The pair are heading into their 13th season and without these extraordinary veterans, the Raiders would likely have faced a higher number of losses than they have over the past decade or so.
Janikowski was key in Oakland's win over Chicago, kicking six field goals and was ultimately named "AFC Special Teams Player of the Week," for his efforts.
In the opening game of the season in the Mile-High City, he kicked the historic record-setting field goal of 63 yards, winning this important game for the Silver and Black. The Polish Cannon was also a huge factor in the second battle against the Kansas City Chiefs in 2011 when he kicked the winning 36-yard field goal to keep the Raiders' playoff chances alive.
Lechler is the shining example of what a punter and a team player should be. He also set records last season and as the team's emergency quarterback, he even threw a 35-yard pass for a touchdown, leading to the defeat of the Browns, 24-17.
Of course, Jacoby Ford is another player who should have a major impact on team wins in 2012, providing he remains healthy. Last October, it was Ford who showed off his lightening speed with a 101-yard kickoff return touchdown against the Cleveland Browns. He made the difference between a win and a loss more than once in 2010 as well.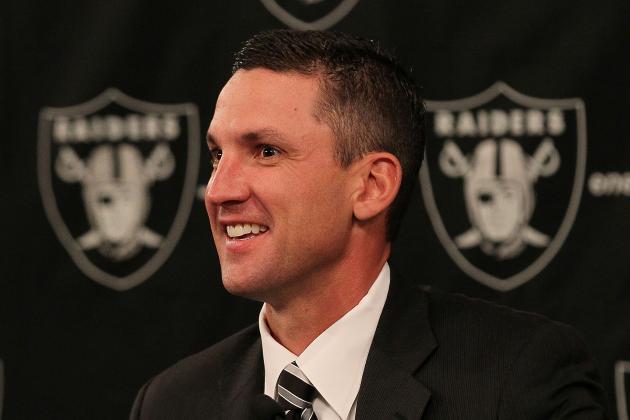 Justin Sullivan/Getty Images
Dennis Allen
These are just five of the key impact positions which will help the Raiders get back to the top of the AFC West in 2012 and with new head coach Dennis Allen leading the team with a combination of passion and discipline, I'd be willing to bet against Schein and his prediction of doom.
Just win, baby!