Rafael Nadal's Loss at Gerry Weber Open No Reason to Worry for Wimbledon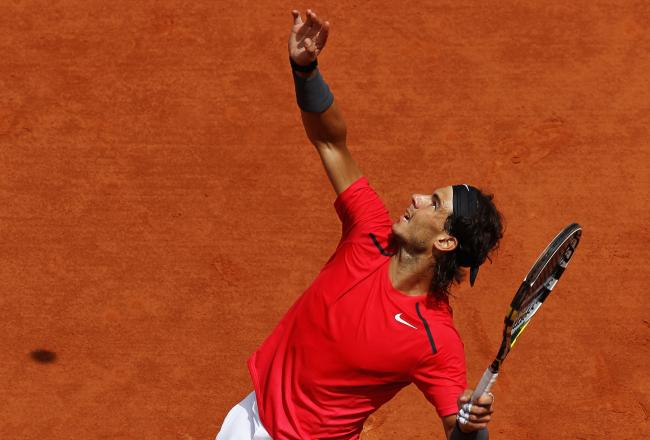 Matthew Stockman/Getty Images
While Rafael Nadal was defeated early Friday morning, his Wimbledon odds ought to remain strong.
Nadal came into the Gerry Weber Open riding a 13-match win streak. Although he was the top seed in the tournament, he was unable to unhinge German champion Philipp Kohlschreiber, who was considered to be the No. 8 seed in the tournament.
With his win, Kohlschreiber will face either Tomas Berdych or Tommy Haas in his next match. Only four days after winning his seventh French Open title, Rafael Nadal will be heading home.
But that's no reason for his fans to worry about his odds at Wimbledon.
Perhaps, the transition to grass was difficult for Nadal since he was recovering from his French Open championship. Alternatively, perhaps he was looking forward and was focused on what he needed to do at Wimbledon, or perhaps, Kohlschreiber was correct, and the German was simply having a day where nothing went wrong.
There are no excuses for a star athlete like Nadal being eliminated early, but there are explanations. And none of them will carry over to Wimbledon.
Nadal is a two-time Wimbledon champion, and it's his second-best Grand Slam behind the French Open. He has made the final of the tournament every year except for one since 2006, and he boasts an impressive 87.5 percent winning percentage in the tournament.
Wimbledon, of course, is a special tournament for Nadal. On June 25, he will put his guts out on the line once more and fight back after his early defeat at the Gerry Weber Open. The 26-year-old indicates that he will be more determined at Wimbledon. Of his victory at the French Open, Nadal explains: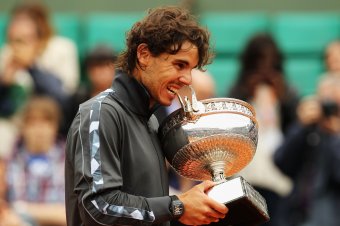 Matthew Stockman/Getty Images
"When you lose," Nadal told ESPN.com, "it's because you don't deserve the title. So in my mind, this was the final I had to win. That's why I was so emotional."
Of course, the French Open is a tournament that's played on clay. Nadal, sometimes dubbed "The King of Clay," is arguably the best player to ever play on it. Like the Gerry Weber Open, Wimbledon is played on grass.
"It's more a tennis problem than a mental problem," Nadal told CBC Sports. "The transition is difficult. It depends how much time you have. Playing on grass can sometimes be a bit of a lottery."
If the grass is going to be a factor in the upcoming tournament, Nadal will do everything in his power to be prepared. But he can't make any promises, as not everything is in his control.
"I can't practice on grass there, but it's better not to practice for a few days. It's time to rest with my family, friends, to relax," Nadal told BBC Sports.
The rest will be good for Nadal, who has had an incredibly occupied schedule in the last month. Daily Mail used the word "exhausted" to describe Nadal in their most recent headline on the loss. This is not the first time Nadal has lost a match in the "practice" sandwiched between the French Open and Wimbledon.
Most recently, Nadal took a loss at the AEGON Championships at Queen's Club. That was the fourth time that he had lost in the quarterfinals at Queen's.
Who do you think will win the title at Wimbledon in 2012?
His defeat at Halle was shocking, sure, but it has become a bit of a pattern for the superstar. At this point, we've come to accept that each sport has an individual that is the best in the world at what he does.
Nadal has recently turned into that man for tennis, winning titles at all expenses and costs. It may have been a frustrating defeat to the German, but it was one that can be written off as a one-time incident that won't affect his performance at Wimbledon.
Nadal is a cut above the rest, and his fans need not worry about one little loss. Win streaks are rare because the human athlete is not perfect. It wouldn't be as fun to watch if they were. Had Nadal gone out early in Wimbledon, there would have been a much bigger hoopla surrounding the loss. Fortunately, this was a small tournament, and he got necessary match practice on the grass.
If I were betting on Wimbledon, I wouldn't worry about his loss at the Gerry Weber Open. I still consider Rafael Nadal to be the favorite to win it all.
This article is
What is the duplicate article?
Why is this article offensive?
Where is this article plagiarized from?
Why is this article poorly edited?