Wimbledon 2012: Players Who Could Win Their First Slam in London This Year
June 15, 2012

Matthew Lewis/Getty Images
Going into each and every Slam in recent years, Roger Federer, Rafael Nadal and Novak Djokovic dominate the pre-tournament talks. Odds are generally stated in their favor, and rightfully so, considering the fact that nobody outside of those three has won a Slam since Juan Martin Del Potro won the 2009 U.S. Open.
Having said that, it is still important to note the few Dark Horses entering each event with the hopes of writing the next Cinderella Story. It's clear that in this Golden Era of tennis history, it would be quite an incredible feat for any non-Big Three member to win a major, but there are always threats flying under the radar.
This year's Wimbledon appears to be no exception. Although most analysts and fans are predicting a Federer, Nadal or Djokovic victory without hesitation, there are several players who would love to win their first Slam title in the upcoming London campaign, and they will be out to do just that.
Here's a look at some of the top candidates for pulling off an incredible run on the grass courts this year.
Based on the way he is commonly associated with the Big Three as the next top contender, some may find it hard to believe that the 25-year-old Brit hasn't won a Slam yet. It's true, though, and he would certainly love to change that very soon.
And what better time to do it then at this year's Wimbledon campaign? It has become quite clear in recent years that the British crowds in London badly want a winner from their own nation, which they haven't had since Fred Perry in 1936.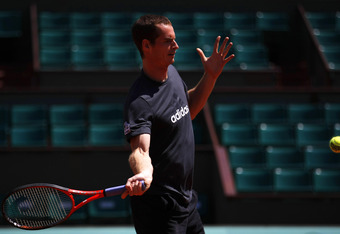 Dan Istitene/Getty Images
Murray has yet to satisfy that desire, but if he can quickly bounce back from recent disappointments in the French Open quarterfinals (lost to David Ferrer in four sets) and the second round of the AEGON Championships (lost to Nicolas Mahut in three sets), then the overwhelming crowd support may be enough to push him towards his first Slam title.
John Isner
Prior to clay season, American John Isner's 2012 track record was quite impressive with wins over Federer in the Davis Cup (first round) and Djokovic at Indian Wells (semifinals). Once clay season hit, though, he began to struggle; his slump reached its lowest point with his second round loss to Paul-Henri Mathieu in the French Open.
Without a doubt, United States tennis fans would be thrilled to see Isner pull something off in London this year; it has been far too long since an American man has raised a Slam trophy. In order for that to happen, though, he needs to get used to the grass courts quickly and find the early 2012 magic once again.
When he's at the top of his game, Isner's big serve and ground strokes are enough to threaten any man in tennis. If he can return to where he was before clay season began, the top players will need to watch out.
Tomas Berdych
Wimbledon will always hold a place in the heart of Tomas Berdych, who reached his only Slam final to date on the grass courts in 2010. As great as those memories are, he naturally wants more.
So far, the 26-year-old has been having a solid season with a title in Montpellier and a finals appearance in Madrid under his belt. His performances in the two Slams of this year have been far from disappointing; he reached the quarterfinals in Melbourne before losing to Nadal and played well at Roland Garros until his Round of 16 loss to Del Potro.
If Berdych is ever going to win a Slam, he should do it very soon before age takes a hold and pulls him down. And based on his past performances, it appears that Wimbledon would be the place to do it.