AFC South Friday Tweetbag: Future Free Agent Corners for the Colts?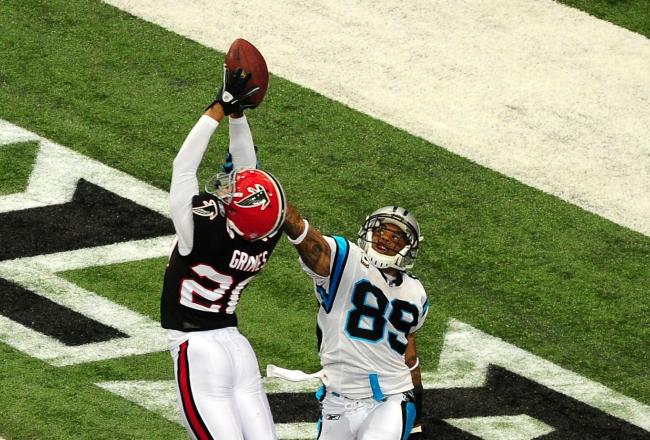 I'm not sure Grimes will actually hit the market.
Scott Cunningham/Getty Images
Welcome to the Friday Tweetbag! As always, you can tweet, email or send your questions to me in the comments section of the articles. Be sure to use the hashtag #tweetbag!
Q: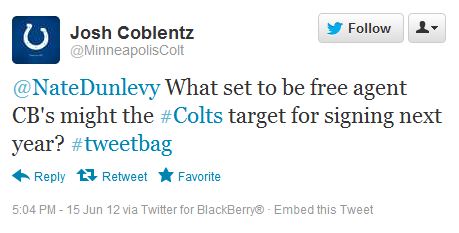 A: This is a great question, because I do feel that the secondary is a good place to address via free agency.
The problem is that it's always difficult to project who will actually make the market. For instance, Jason McCourty has already started talks with the Titans. Someone like Brice McCain of the Texans probably won't see the open market either.
I think we can definitely look at Michael Jenkins of Dallas, given that the Colts were reportedly interested in dealing for him. Of course, the guy Josh mentioned in another tweet, Brent Grimes of the Falcons, would be a great fit too, but he's under the franchise tag now.
Teams are reluctant to let good young corners walk, but the Colts might be able to land a competent vet, even if they have to overpay. Perhaps a guy who needs a change of scenery like Dominique Rodgers-Cromartie. He hasn't been good in a couple of years which lowers his price, but perhaps a reclamation project is in order.
Q: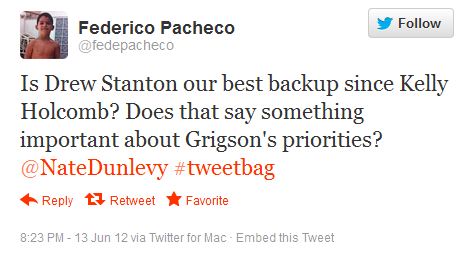 A: I don't think Stanton is appreciably better than Jim Sorgi was, to be honest. He's young. He's got some experience starting. He's not going to challenge Andrew Luck for the starting job, obviously. There's a ceiling on what he is and what he can be in the league. Stanton was a cheap pickup, and is a serviceable backup, but nothing more.
Actually the interesting pick was Chandler Harnish with the final selection of the draft. If the Colts keep three quarterbacks, that might reveal their plans to develop a backup for future trade bait. That's a technique Grigson saw up-close in Philadelphia.
Finally, there was also this amazing pair of crazies from the comments on my Justin Blackmon article.
Q: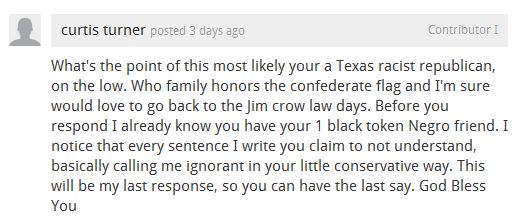 A: You know, you hit a nerve when you get accused of being a racist-liberal-Obama-loving-conservative all for the same post. I'm still not entirely sure what either guy was getting at, other than a lot of people seemed to seriously object to my highly controversial statement that drinking and driving is a crime.
I'll tell you this, these guys have my personal politics nailed. How did they know I sport a Nader/Paul 2016 bumper sticker on my Prius Hummer?
Q: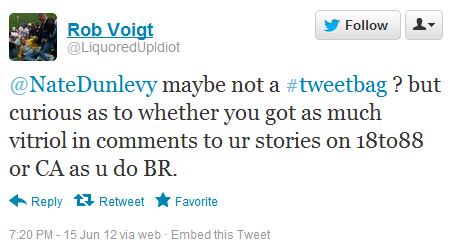 A: This question refers to some of my work over on my own (now-defunct) site, 18to88.com. I'd get some hate mail over there, but it was different because it was my site. I aggressively ran off the idiots, the bigots, and the trolls because it was my own work and I could be as blunt as I wanted.
On B/R, I run into a lot more hate from other fan bases. Most of them complain about me being a Colts fan, a fact I've never denied. What they mostly don't get is that as a writer, I honestly hope for the best for all teams.
It's way easier and more fun to write good things than negative ones. I want three teams from the South to make the playoffs, and the last place team to go 8-8. Writing professionally isn't the same as writing as a fan. I always heard reporters say, "I don't care who wins; I'm rooting for the story." That's mostly true. When you wake up at five every day to write, you start rooting for good things to happen to give you something to say.
I'm still a Colts fan, but it's not particularly hard to be objective. I care about my team, but I care about being right even more. I will admit that I probably couldn't have been fair to Jack Del Rio, but he's gone, so I have no remaining beef with the Jaguars. I even legitimately love Mike Mularkey.
The only criticism that gets to me from time to time is the attacks from Indy fans. I get why a Texans fan might not trust me, but there's a group of Colts fans that assume every negative word I write is because I hate the Colts. Given my personal history, that grates on my nerves.
Overall, it's gotten progressively better over recent weeks. Even the controversial Texans piece was received worse on Twitter than here. I don't think most of those that complained about it read it at all, or very closely. The comments were mostly civil.
This article is
What is the duplicate article?
Why is this article offensive?
Where is this article plagiarized from?
Why is this article poorly edited?