Alabama Football Recruiting: Robert Nkemdiche's Choice Doesn't Affect the Tide
June 14, 2012

The nation's top prospect in 2013, pure 4-3 defensive end Robert Nkemdiche, has finally decided to deliver his services to the Clemson Tigers.
And, it turns out his decision is not a blow against Alabama, but a bit of a blessing in disguise. 
According to Rivals.com Nkemdiche has chosen the Clemson Tigers over numerous powerhouse schools in the SEC, including Alabama and LSU. Some would think this to be a strange choice for such a recruit. The ACC? Really?
A closer examination shows that it was a shrewd move by Nkemdiche to further his own goals that seem to favor NFL potential and personal accolades. The Tigers are a quality team and one of the best in the ACC. They won the ACC championship last season, after all. 
They also are extremely promising. 
Clemson's head coach, Dabo Swinney, is one of the best up-and-coming coaches in the nation. 
As for the players, the Tigers have one hell of an offense, led by 6'1", 230-pound quarterback Tajh Boyd. In his first year as a starter, Boyd made incredible waves. He passed for 3,828 yards with a completion percentage of 59.7, 33 touchdowns and 12 interceptions. 
Boyd is a pure passer, but he also put up five rushing touchdowns on 218 rushing yards. That is what happens when you have a quarterback built like a fullback who can actually throw.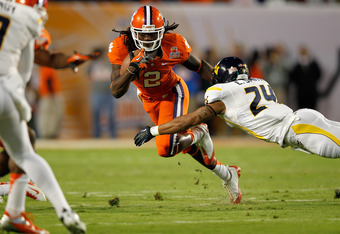 Streeter Lecka/Getty Images
The rest of the offense is highlighted by their superhuman wide receiver, Sammy Watkins, whom I believe is going to make a serious run at the Heisman Trophy.
In Clemson's prolific offense that was second in the ACC last year, Watkins hauled in 83 receptions for 1,225 yards and 12 touchdowns. He displayed his value to the team when he also rushed for 231 yards on only 32 attempts, a 7.2-yard average that topped the team. 
When it comes to winning, it's obvious that it's important to Nkemdiche, because Clemson has all the offensive tools. 
So, why did Nkemdiche choose Clemson?
It's all about the defense. 
First, Nkemdiche was far too cautious about playing in a 3-4 defense, and it's painfully obvious that he was worried he wouldn't be up to the task of playing as a defensive end in that scheme. He felt he was better-suited to play in Clemson's defense, which is fine.
But that's not the real reason he strayed from 'Bama. 
It's about starting. 
Nick Saban isn't afraid to heavily play freshmen once they've proven themselves, but he rarely starts them unless there is a dire need. 
It seems to me that Nkemdiche is not cool with that. He wants to start right away, and Clemson can offer him that, whereas Saban would never promise as such.
The Tigers lose four defensive linemen who accounted for 18.5 sacks 37 tackles for loss in 2011. The opportunity to start seems like a walk in the park for Nkemdiche in 2013. 
Alabama could offer the same, but Saban does not guarantee anything. The Tide have a long list of talented players ready and willing to step up, and Clemson just doesn't have that kind of depth. Nkemdiche clearly wants a quick and easy path to the field as a true freshman, which is just fine by Saban, because he has no time for that kind of mentality. 
So, on to my reasons why Nkemdiche's choice doesn't affect the Tide. 
Nkemdiche Won't Be Playing in the SEC
Alabama will roll every year that Saban is at the helm, but the path would certainly be more difficult if Nkemdiche were playing for a rival. 
The worst-case scenario would have been Nkemdiche committing to LSU, a team that seems to be the only obstacle in the Tide's way each year. With LSU's always stout defense, Nkemdiche could have made them an immovable object that could possibly stuff the Tide for the next three years. 
He also did not commit to his in-state team, the Georgia Bulldogs. Had he done so, he would have bolstered the Bulldogs' already strong defense. 
Doing so could have presented a very tough challenge for the Tide in future SEC Championship Games.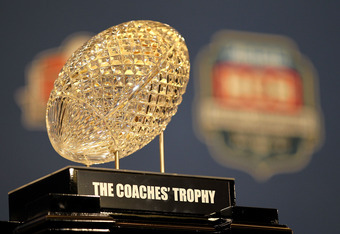 Andy Lyons/Getty Images
In any case, Nkemdiche isn't playing in the SEC, so he is of no concern for the Tide. 
Clemson Is a Non-Factor in the National Scheme
Clemson is my favorite team in the ACC. They are the true Tigers, as far as I'm concerned.
But it is still Clemson, and these Tigers are still in the ACC. 
At the moment, Alabama is not slated to play Clemson in the future unless it is in a bowl game. 
Alabama's goal is the national championship, and if they do make it there, they won't be facing Clemson. That's just the cold, hard truth, proven by underachieving Clemson teams in the past. 
Again, Nkemdiche's commitment to Clemson is irrelevant, as the Tide won't have to face his touted abilities. 
Nkemdiche Wouldn't Fit in Well at Alabama
Alabama is a team-first program. Individual accolades are only achieved after and because team goals are satisfied. 
As stated before, Nkemdiche wants to play a position that benefits himself and his stats. That position is a 4-3 defensive end. 
At Alabama, he would have benefited the team most as a 3-4 outside linebacker and possibly a defensive end required to handle double-teams. That's not Nkemdiche's M.O., and Alabama's plan can't provide the same opportunities for stats. 
Robert Nkemdiche will be in the NFL in just a few short years, and it doesn't really matter which school he attends. Sure, he wants to win, and Clemson can provide that for him as well as almost any other team out there. 
But he wants to be THE guy, or at least it seems that way to me. 
It's just my opinion as a Tide fan, but it's pretty obvious to me that there really is an "I" in team for Nkemdiche. 
The opportunity for quick playing time on a solid team is the best at Clemson. 
The competition to win a starting role as a true freshman would have been very tough at Alabama and LSU, so early playing time wins Clemson a 5-star recruit.