Wimbledon 2012: How Much Longer Will Andy Murray and Ivan Lendl Last?
June 13, 2012

Matthew Lewis/Getty Images
Having crashed out in his first match of the pre-Wimbledon event at Queen's, how much longer will Andy Murray, continue employing his current mentor, Ivan Lendl?
Through his career Murray has gone thru more than his fair quota of coaches. Since turning professional he's hired and fired full-tme coaches Pato Alvarez, Mark Petchey, Brad Gilbert and Miles Maclagan, and dispensed with the part-time services of the now Spanish Davis Cup captain Alex Corretja.
For the past few years he's retained his best friend from the Sanchez-Casal Academy, Danny Vallverdu as a hitting partner, but is Lendl living on borrowed time?  
The former Czech's appointment at the beginning of 2012 was seen by many as something of a gamble. He'd kept completely out of the game since retiring with a serious back injury in 1994.
In the middle of 2011, when Murray was considering his options, his mother Judy publicly stated that she was unsure of the eight-time Grand Slam winner's coaching credentials—basically because he didn't have any!
Murray had worked with Ivan for a couple of weeks during his December break, but stated that Lendl hadn't been in the camp long enough to take any credit when he won the title in Brisbane the next month.
Lendl's influence seemed to be taking hold when Murray made it to the semifinals of the Australian Open, where he lost in a five-set marathon to the eventual champion, Novak Djokovic.
Throughout that tournament, Murray appeared to have found a previously lacking outer calmness. Many attributed this to a general maturing under the iron-fisted influence of his new coach.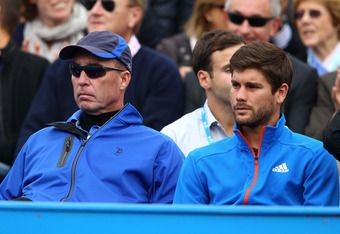 Clive Brunskill/Getty Images
At that point, the future for the Scotsman looked more than just a little promising.
Following Melbourne, Murray beat Djokovic in the semifinals to reach the final of Dubai, where he lost to Roger Federer.
Having lost in his first match at Indian Wells, Murray then played well to reach the final of the Miami Masters, where he again lost to Djokovic.
Murray's clay court season, a surface on which Lendl excelled, turned out to be somewhat disappointing.
He failed to make it past the quarterfinals of any of the four events he entered, including a four set defeat to David Ferrer at Roland Garros.
Following his defeat at Queen's to world No.65 Nicolas Mahut, it's fair to say that Lendl's appointment has turned out to be something of a disappointment!
How long will Murray continue his coaching relationship with his Czech mate—well, how long's a piece of string?