USA vs. Guatemala: American Stars Who Must Dominate to Pass Qualifying Test
June 12, 2012

Tom Szczerbowski/Getty Images
After a lackluster performance in a qualifying victory over Antigua and Barbuda last week, the United States must have a far stronger showing to defeat Guatemala tonight. It's one of the toughest tests the team will face in this round of World Cup qualifiers.
Let's take a look at a trio of players who will need to lead the way for the Americans to earn all three points on the road. Anything less will add some tension to the remaining matches when Team USA should really be on cruise control.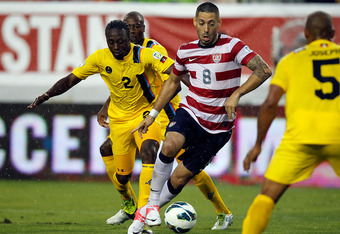 J. Meric/Getty Images
Clint Dempsey
Even though Dempsey scored from the penalty spot against Antigua and Barbuda, he still hasn't showcased the same type of explosiveness that allowed him to have a sensational season for Fulham. He must return to that elite level for the USA offense to thrive.
Jurgen Klinsmann has been testing out different lineups and formations in hopes of finding a good balance between Dempsey, Landon Donovan and the rest of the offense. In reality, he needs to focus on making Dempsey the focal point of the attack.
If the Texas native can find holes in Premier League back lines, he shouldn't have any trouble working his magic against mid-level CONCACAF squads. Going up against Guatemala, which will likely utilize a defensive shape, will put him in the spotlight.
The United States back line has been suffering from a combination of ill-timed injuries and ineffective play, making Howard's life more difficult than it should be between the pipes. At least the 33-year-old goalkeeper should be used to it by now.
This could very well be his last World Cup cycle since he'll be 35 by the time it ends. And since it doesn't look like any reinforcements will be on the way to bolster the back line in the near future, it's once again up to him to bail out his defenders.
Guatemala doesn't have a ton of attacking talent, but the squad does feature veteran Carlos Ruiz, who has scored 48 goals in 95 international games. He's the player Howard has to keep an eye on tonight if he wants to earn a clean sheet.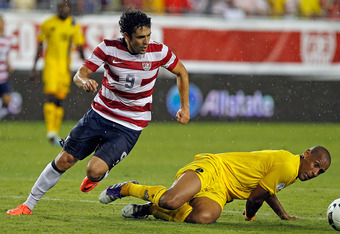 J. Meric/Getty Images
Herculez Gomez
Klinsmann should feel confident that he'll eventually get production from Dempsey and Donovan, but Gomez is the wild card. If he can develop into a reliable third attacking option, the team's scoring woes from recent years will become much less of a concern.
He scored an important goal to put away Antigua and Barbuda after the underdogs had narrowed the lead to one and has four goals in 10 career caps. It's a small sample size, but that's a better international goal-scoring rate than either of the team's main weapons.
With Guatemala sitting back, Gomez must push the pace. While he only has 10 appearances, he's already 30. So he must make an impact during this cycle. A few more good outings starting with tonight's game will secure his spot on the squad.