College World Series 2012 Schedule: Predicting Day 1 Winners
June 12, 2012

With the eight-team field set for the College World Series, it's time to start looking at who is set to make a legitimate run at the title.
Stony Brook will face UCLA to open the College World Series (via ESPN), while Arizona will battle Florida State.
Stony Brook is this year's Cinderella, becoming the second No. 4 seed to enter the field of eight since the tournament expanded to 64 teams in 1999. The Seawolves have won 28 of their past 31 games.
Here's a look at Friday's opening games, complete with predictions.
Stony Brook vs. UCLA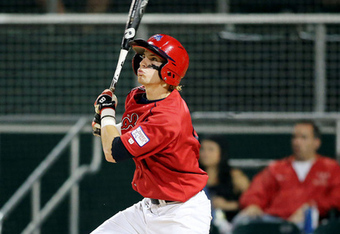 Stony Brook has a lot going for it beyond momentum. The Seawolves have scored more runs per game this season than UCLA (7.2 to 6.3), and have a better ERA (2.99 to 3.14). They defeated host schools Miami and heavily-favored LSU in the regionals and super regionals respectively.
They also have center fielder Travis Jankowski, who is hitting .422 this season and was selected No. 44 overall by the San Diego Padres in last month's draft. Starting pitchers Tyler Johnson and Frankie Vanderka, who have been dominant lately, complete the picture.
UCLA, on the other hand, has some momentum of its own, winning 16 of its last 17 games. The club wins primarily with its pitching, but right fielder Jeff Gelalich is a serious threat, compiling a .365 batting average, 11 home runs, 15 steals and a .485 on-base percentage this season. UCLA has a .309 batting average as a team, but, beyond Gelalich, there isn't much power in the lineup.
Prediction: Call me crazy, but I think Stony Brook will pull this one off. The Seawolves have already shown they can beat some top teams and they are on a serious roll. Everyone's contributing and I expect the pitching to be good on Friday.
Arizona vs. Florida State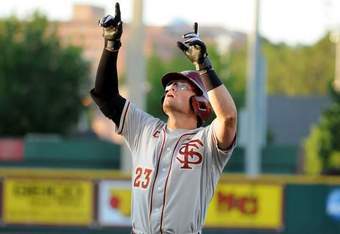 Both Arizona and Florida State win primarily with their hitting. Arizona is sixth in the nation in runs this season, while Florida State ranks ninth. Arizona left fielder Johnny Field sports a .383 batting average and a .553 slugging percentage, while Jayce Boyd (.389) and James Ramsey (.382) have combined to drive in 116 runs for the Seminoles (Ramsey was a first-round draft pick last month).
That's not to say each team doesn't have pitching, though.
Konner Wade was spectacular in Arizona's 7-4 victory over St. John's, pitching all nine innings and allowing two earned runs. Kurt Heyer is the ace, with a 2.28 ERA in 17 starts this season.
FSU's fabulous freshmen Brandon Leibrandt (2.58 ERA, 17 starts) and Mike Compton (2.86 ERA, 17 starts) lead the Seminoles' rotation. They are a combined 19-4.
Prediction: I think Florida State takes it on Friday. The Seminoles have a good shot at winning the title this season, with a nice combination of hitting and pitching.
Follow me on Twitter. We can talk about baseball together.