New York Yankees: What Are the Chances They Pursue Josh Hamilton This Winter?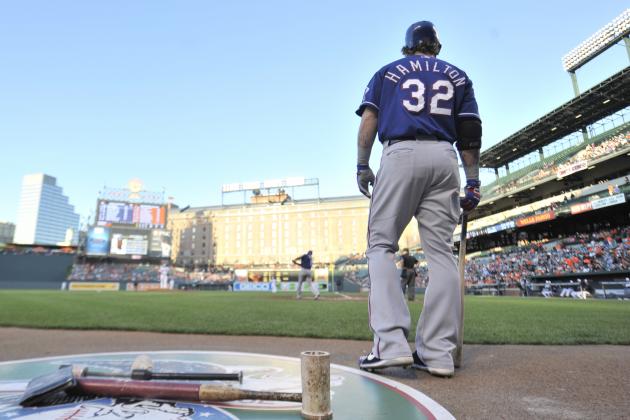 Mitchell Layton/Getty Images

If you are a Yankee fan, the thought has crossed your mind, even if only once.
If you have seen him play, whether on TV or live, you have thought of the idea.
Now, it's time to really think about the possibility, because, hey, who knows?
Could the New York Yankees pursue Josh Hamilton this winter as a free agent?
Hamilton will be a free agent this coming winter and is due for a decent pay raise, but he also just turned 31, so he isn't as young as he once was.
In this slideshow, I will break down all the determining factors involving Hamilton and the Yankees and then after that, come to a conclusion if it will make sense for the Yankees to pursue Hamilton.
And more importantly, will the Bombers strongly consider it. Let's look at the key factors here.
Begin Slideshow

»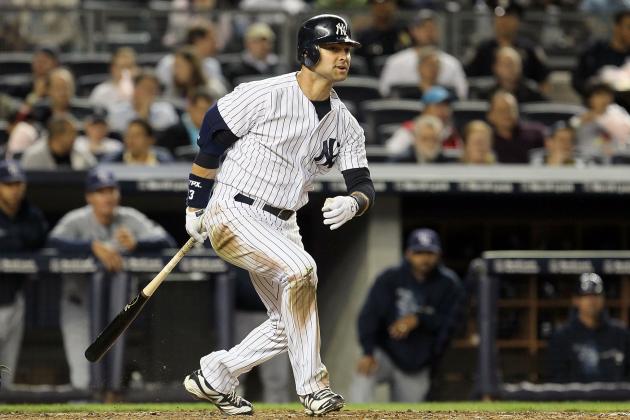 Jim McIsaac/Getty Images

Nick Swisher will be a free agent after the 2012 season and there's no guarantee that he will be back with the Yankees.
Brett Gardner is the everyday left fielder for the Yankees and Curtis Granderson is the everyday center fielder for them as well, so if there is an opening for the 2013 season, it's the starting right field spot.
Hamilton could really play any outfield position, but if the Yankees really wanted to get him, I think he would be slotted into the right field position.
The one thing that is concerning is that if the Yankees let Swisher walk after 2012, there's no obvious replacement in waiting, which is why Hamilton's name is intriguing.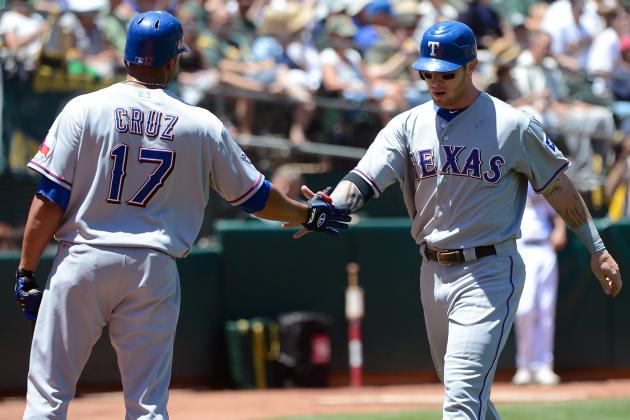 Thearon W. Henderson/Getty Images

Hamilton is 31 years old, and by the time the 2013 season gets going, Hamilton will be turning 32 in May.
If Hamilton were a 27- or 28-year-old outfielder, he would be due for at least an eight-year deal for $200 million.
But he isn't, and while he's in the prime of his career, he's towards the older stages of his prime and giving a long-term deal to an older outfielder is very risky.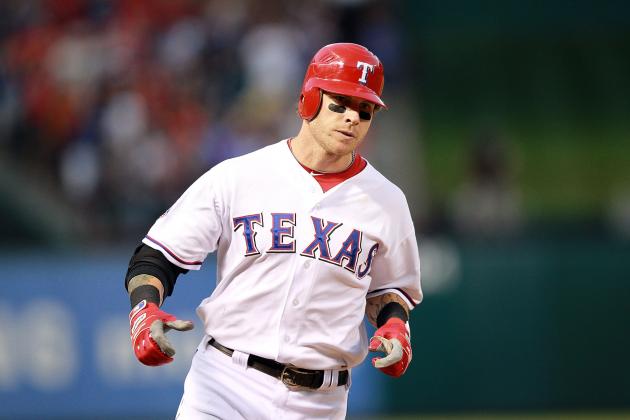 Ronald Martinez/Getty Images

Will the Yankees really get under the $189 million point for their payroll by 2014?
It remains to be seen.
If Hal Steinbrenner and Brian Cashman want to get Josh Hamilton to the Bronx, it would cause them to alter those plans.
Because Robinson Cano, Curtis Granderson, Russell Martin and maybe even Derek Jeter will all need pay raises come that time too.
The Yankees have the money to spend; that's not the issue.
But is Hal really serious about getting the payroll down to that point when 2014 hits? Guess we'll all find out soon enough.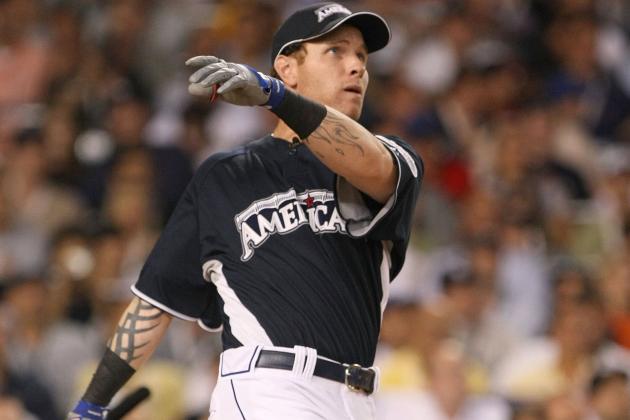 Nick Laham/Getty Images

If you have any doubts of whether the New York fans would like Hamilton, go back to the 2008 Home Run Derby.
Or as it was, the Josh Hamilton Show at Yankee Stadium.
Justin Morneau won the Home Run Derby, but four years ago, nobody remembered that, because all people will remember is the show Hamilton put on in the Bronx that July night.
Tape measure shot after tape measure shot, leaving the crowd begging for more, it was one of the greatest displays in the contest's history. In the first round of the contest, Hamilton set a record with 28 home runs in the round.
That night, Josh Hamilton became a household name to every single baseball fan everywhere.
Hamilton has also won the 2010 American League MVP Award, the 2010 ALCS MVP Award, and is the front-runner for the 2012 American League MVP Award.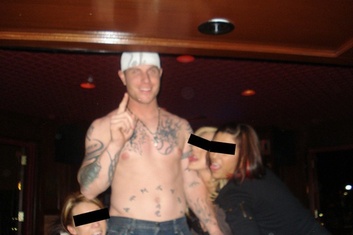 We all know about Josh Hamilton's past and demons.
Hamilton has battled drug and alcohol abuse, which robbed him of his early playing career. He was a former No. 1 draft pick by the Tampa Bay Rays back in 1999.
Hamilton's problems were so bad, he didn't play any baseball from 2004 through 2006 and finally got his chance to play in 2007 with the Cincinnati Reds.
In 2009, photos like the one above surfaced of Hamilton drunk in a bar in Tempe, Arizona and some people even said Hamilton was looking to obtain cocaine and was looking to go to strip clubs.
Hamilton said he doesn't remember what happened that night because he was drunk and apologized for it.
In February of 2012, it was reported again that Hamilton had another slip with alcohol, having a few drinks before his teammate and good friend Ian Kinsler came down to the bar to talk him out of getting out of hand.
Make no mistake about it, Hamilton has had a rough road in his past, and he's battled to overcome a lot of his addictions.
Taking on Hamilton would mean this kind of baggage though, because he has had the occasional slip, and what if one night, he can't control it?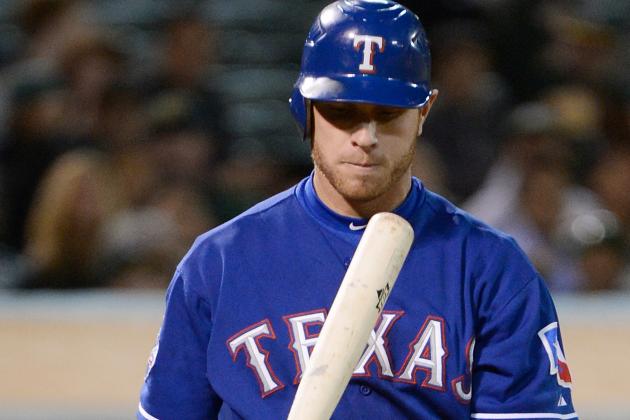 Thearon W. Henderson/Getty Images

I honestly thought by this time, the Rangers would have locked up Hamilton long-term.
But strangely, they have not.
In fact, the Rangers and Hamilton decided to hold off on talking about a contract extension until after the 2012 season.
The Rangers did lock up second basemen Ian Kinsler when the season began, but those talks carried over from spring training.
The Rangers apparently perform business like the Yankees and wait until the season is over.
That gives the Rangers five days after the World Series is over for exclusive negotiating rights before he is open season.
Does Nolan Ryan want that?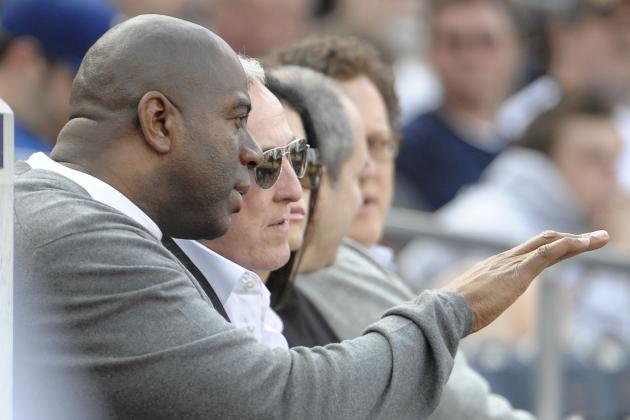 Denis Poroy/Getty Images

Let's say the Rangers and Hamilton don't get an extension after the five-day negotiating window passes and he is in fact open season to the other teams.
Who would have interest in him, aside from the Rangers?
The Los Angeles Dodgers make a lot of sense with their new owner, NBA Hall of Famer Magic Johnson. Under Frank McCourt, the Dodgers had a lot of financial issues, but with new ownership, they now have the money to make moves.
Can you imagine a lineup with Josh Hamilton and Matt Kemp? Scary.
The San Francisco Giants make sense too because they need offense in the worst way. They already have the pitching with Tim Lincecum and Matt Cain, but they need offense.
Josh Hamilton would solve a lot of those issues at the Bay Area.
The Washington Nationals could be a major dark horse for Hamilton, only because GM Mike Rizzo showed the world two years ago he was willing to spend big to land Cliff Lee and Jayson Werth, but only landed Werth.
The Nationals were also a rumored team in the Prince Fielder sweepstakes, but lost out to the Tigers. They could be players for Hamilton this coming winter.
The Angels are an extreme long-shot because they locked up Albert Pujols to a 10-year deal, but you can never, ever count out Arte Moreno trying to snag their division rivals' best hitter away.
And then that leaves the Yankees, who can't be counted out of the race for Hamilton. You know their names will be mentioned with Hamilton's because the Yankees are always mentioned for every big-name free agent.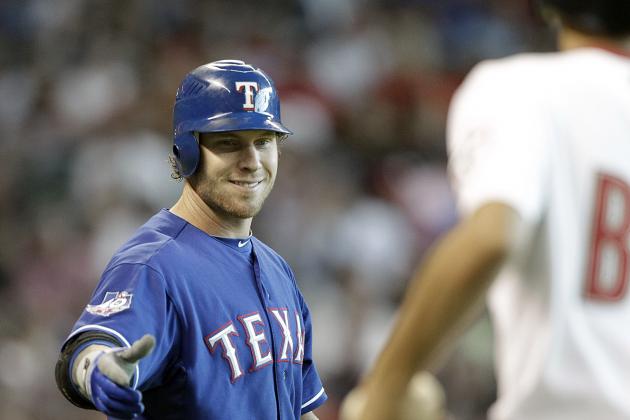 Bob Levey/Getty Images

Like I said before, Hamilton will be 32 by the time May of 2013 hits.
It will be very risky for any team, even the Rangers, to offer him a long-term deal like the ones Prince Fielder and Albert Pujols got this past winter.
But Hamilton is still worth at least $25 million based on the fact that he is such an impact player, and it can be argued that right now, he's the game's best hitter.
He's a Triple Crown candidate every season, along with being an MVP candidate every year as well.
But the years on a deal is what teams will be cautious about.
The most I can see teams offering Hamilton would be a five- or six-year deal, and that would be including options as well.
So either a five-year, $125 million or six-year, $150 million deal would be, in my opinion, the most I can see teams offering Hamilton in the winter.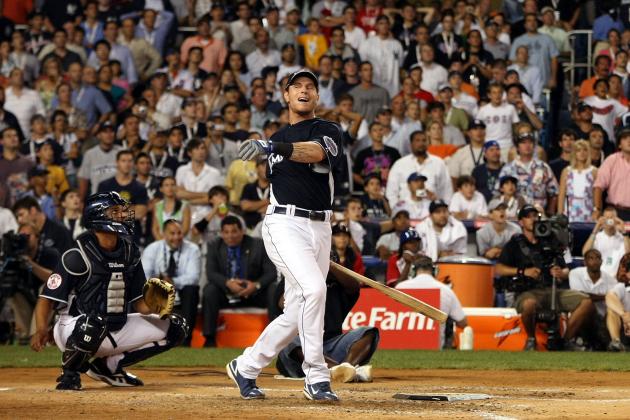 Nick Laham/Getty Images

So, let's get right down to it.
Will the Yankees attempt to pursue perhaps the biggest name in free agency when the 2012 season ends?
It makes sense in a lot of ways because adding Hamilton to a lineup with Alex Rodriguez, Mark Teixeira and Robinson Cano would be deadly.
Hamilton's swing is made for Yankee Stadium, just like any lefty power-hitter that has come and gone through the Bronx.
Plus, Hamilton is a star, maybe the biggest star in the sport now, and putting him in New York would almost be fitting.
But the Yankees signing Hamilton is no sure thing.
He's in his 30's, and he's also had some history with being injured as well in recent time.
Plus, with his past, if he ever had another slip with alcohol, and the New York media got a hold of it, that would be an utter media and public relations nightmare for the Yankees.
If you were to ask me right now, I'd say it's a 50-50 shot on the Yankees going for Hamilton.
Adding Hamilton's contract with Alex Rodriguez, Mark Teixeira and CC Sabathia is a lot of money to give out to four players, and players in their 30's, which is a major risk.
On the other side, how can the Yankees not be interested in the possibility of getting Hamilton?
We've got a lot of time between now and the end of the season to discuss and talk about whether the Yankees will pursue Hamilton.
So we'll begin the talk, and although this might die down as the summer goes on, you know when the winter comes, this will be a very hot topic.
Stay tuned, Yankees Universe.