Nadal vs. Djokovic: Rafa Proves Nothing in Convincing Win Over Djoker
June 11, 2012

Mike Hewitt/Getty Images
So Rafael Nadal is the "King of Clay."
We get it.
After defeating Novak Djokovic, 6-4, 6-3, 2-6, 7-5, he secured his seventh career French Open, proving to the world he is indeed the greatest player on a clay surface in the last 20 to 30 years.
Maybe ever.
Nadal improved to 52-1 in his career at the venue. He knows this is his event.
"This tournament is, for me, the most special tournament of the world," he said via Sports Illustrated.
Here's a news flash—only one Grand Slam is played on clay.
Rafa snapped Djokovic's 27-match winning streak in Grand Slam events. Djoker was looking to become the first man in 43 years to win four straight major titles.
Losing one match doesn't change the fact Djokovic is still the best player in the world.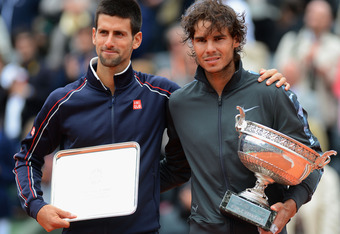 Mike Hewitt/Getty Images
He is more consistent, doesn't play the punishing style of Nadal—which limits his injuries—and has still beaten Rafa in three of four Grand Slam events.
While Rafa may have a 19-14 career head-to-head record when they face each other, you have to look closer at their matches.
Nadal has won three straight—all on clay. But, before that, Djokovic had won seven straight.
Of his 19 wins, 12 have come on clay. Djokovic clearly holds the edge on hard surfaces, which are the majority of events on tour.
Nadal has perfected the art of sliding across the clay, but the time of year this tournament is played is a big factor as well.
Nadal's body has seemed to break down, as the grueling season has worn on in recent years. He has complained to the media about it, and has been more vocal than almost every other player in his concerns.
He watched his play decrease swiftly at the end of last year as he dealt with foot issues. This year, he had to withdraw from the Sony Ericsson Open with a left knee injury already.
The meat of the tennis season is now in full swing. The French Open has done nothing to sway my opinion that Nadal will be beat by Djokoivc and Roger Federer on the grass at Wimbledon and the hard surface at the US Open.
Until he wins those two events against the red-hot Djoker and the desperate-to-win-one-last-major Federer, he remains the "King of Clay" and nothing more.