Kurt Busch: Is Anyone Surprised by the Decision at Phoenix Racing?
June 12, 2012

Chris Graythen/Getty Images
Kurt Busch was suspended by NASCAR until June 13, but a meeting between he and team owner James Finch to determine his future took place on Tuesday morning.
It was reported by Lee Spencer at Fox Sports.com that Busch would remain at Phoenix Racing.
His tenure could be short-lived, though, should he violate any NASCAR rules, abuse team members or otherwise behave badly.
The two had a handshake agreement at the start of the season. Busch would not quit and Finch would not fire him from the single-car team.
Finch made a statement concerning his expectations of Busch following the incident where Busch made a threatening comment to reporter, Bob Pockrass, after a Nationwide race (via Huffington Post).
Finch said on SIRIUS/XM NASCAR Radio (via SPEED.com), "(Kurt) needs to either get his mind right or he's going to be working for someone else. Quit wrecking cars, get a good finish, be nice to people. That's not real hard to do."
The ball was in Busch's court for the chat he and Finch would have that was deemed a "come-to-Jesus" meeting.
He had to say all the right things to make the owner of his team happy. It seems he did just that. Finch knows he has the best possible pilot that he could expect to have for his No. 51 car.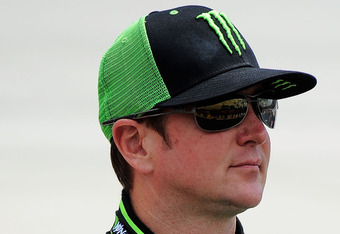 Patrick McDermott/Getty Images
Busch will become a free agent at the end of this season. If he continues to drive in the NASCAR Sprint Cup Series, he has to prove he can really control his mouth.
His level of talent behind the wheel has never been questioned. He is the 2004 Cup champion and has 24 career wins.
Prior to the incident at Dover that got him suspended and Joey Logano's win at Pocono, there was some conjecture that Busch might be considered as a driver with his younger brother Kyle Busch at Joe Gibbs Racing.
Joe Gibbs stated (via Bob Pockrass of Sporting News), "We love Kurt, mainly because of Kyle and Kyle has a strong feeling for him. Kurt's kind of going through a process with everything he has got going right now."
At the time, Gibbs didn't know how complicated that process would continue to get.
Gibbs might be the perfect solution for Busch and his anger issues. He has dealt with a difficult Tony Stewart, the younger Busch brother and his problems, along with countless football players when he was coaching in the NFL.
Busch's future also revolves around his ability to attract a sponsor. His loose-canon attitude frightens those corporations who would dump millions into a sponsorship for this driver.
Finch and Busch will continue their original agreement and we shall see how the season plays out for the driver of the No. 51. Hopefully, Busch will still entertain us, but it will be with his talent as a driver.