Rafael Nadal: How His French Open Win Helps Roger Federer's Legacy
June 11, 2012

Clive Brunskill/Getty Images
Whoever thought that a full-fledged Roger Federer fan would be rooting for Rafael Nadal to win a major title? But after Federer bowed down meekly to Novak Djokovic in the semifinals of the 2012 French Open, that is exactly what I found myself doing.
Lost behind the magnitude of Nadal adding to his amazing career by winning his seventh French Open title and passing the great Bjorn Borg is what he was able to stop from happening for his Serbian opponent.
Djokovic has had a ridiculously good year-and-a-half, as he has now won four of the last six grand slam events played. But by losing today against Nadal in the Roland Garros finals, he did not join Rod Laver as the second man in the Open Era to win four consecutive grand slam events.
So, where does Federer come into all this, you ask? Well, he was actually trying to win his fourth consecutive slam at the 2006 and 2007 French Open tournaments, where he too failed to knock out the King of Clay in the finals.
One of the biggest knocks of Federer throughout his career has been his inability to defeat Nadal. Djokovic has been able to do that of late, including in three grand slam finals, but Nadal showed him it wouldn't happen in Paris.
As of right now, Federer has 16 grand slam singles championships, Nadal 11 and Djokovic five. The Swiss Maestro is still on top, but Nadal and Djokovic have combined to win the last nine grand slam events.
No one appears destined to stop that run.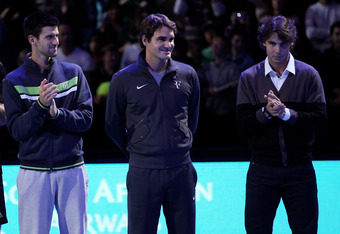 Clive Brunskill/Getty Images
If Djokovic manages to keep the level of play that he has shown over the last 18 months throughout the rest of his prime, he should be able to complete a career slam and also reach double digits in grand slam championships won, just like his two rivals.
With that said, if the Serb was able to hold all four grand slams at the same time—something that Nadal also failed to complete at the 2011 Australian Open—there would have been a clear advantage for him when comparing the legacies of all three players.
It is unknown how many slams that each of the big three will end up with at the end of their careers. It would be a mild surprise at this point if Federer can add to his 16, as Djokovic and Nadal are now dominating the sport, playing in the last four finals.
Things can obviously change quickly, as was the case with Djokovic' results over the last six slams, considering he was in the shadows of Nadal and Federer for so long.
But right now it just doesn't look like anything will get in the World No.1's way of racking up several more grand slam titles.
Considering that stance, Federer and his fans owe a big thank you to Nadal for making sure he stopped Djokovic from completing the so-called "Djoker Slam."