NASCAR: Travis Pastrana Making Progress in Switch to Pavement
June 11, 2012

Tyler Barrick/Getty Images
Travis Pastrana won't be back in the Nationwide Series until July 14th's race at New Hampshire Motor Speedway, but it hasn't stopped him from seriously committing to his new craft.
After all, "it's the most challenging thing I've ever started in," Pastrana said, in a phone interview that took place before last week's Global Rallycross Championship round at Texas Motor Speedway. "Definitely every track has been a completely unique experience. And it sounds silly, because it's just left turns."
Pastrana has now made four Nationwide starts, debuting at Richmond in April and taking on Darlington, Iowa, and Charlotte last month. He's had his share of struggles: spins at Darlington and Charlotte before the race, as well as a faulty fuel line in Iowa and a loose car in Charlotte.
But to his credit, the X Games legend has been more than respectable in his appearances for RAB Racing, with a best start of 15th at Iowa and a lead lap finish of 17th in his second start, at unforgiving Darlington. That's better than Danica Patrick, another high-profile name who transitioned to stock cars from another discipline; she didn't finish on the lead lap or crack the top 20 until the 13th and final race of her rookie season, at Homestead in 2010.
For Pastrana, racing on purely pavement has been the biggest adjustment. "Usually what I do well in is the dirt, so I have a lot of challenges for sure to overcome," notes the four-time Rally America champion. "I think that my strengths are driving when everything's a little out of control. So it's a little tough adapting to just pavement."
In the meantime, the Maryland native has been putting in the work in the K&N Pro Series East. He ranks 16th in points after making five of six starts (he missed Saturday's race at Gresham Motorsports Park due to the GRC event) and scoring a best finish of fourth place in Iowa.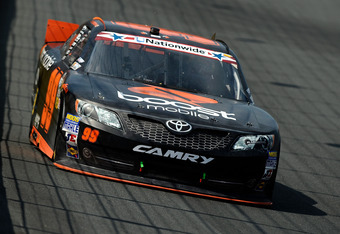 Jared C. Tilton/Getty Images
But more seat time alone isn't enough; Pastrana admits to looking for pointers from the sport's stars. He's got one strong connection: through mutual sponsor Discount Tire, he and Brad Keselowski have been doing autograph sessions and interacting with fans before split NASCAR and GRC race days.
"We're really excited when (Discount Tire) sets that up, because it's fun for us," Pastrana says. "And it really gives us a chance to communicate and talk to the fans that come out.
"And for me, Brad is definitely awesome, (but) we haven't really gotten to spend much time hanging out or doing anything or going over the racing aspect. Most of the guys that I know had a background in off-road racing, more in motorcycle stuff.
"(But) I'm slowly getting into NASCAR and really trying to take advice from all the top guys, yes."