French Open 2012 Live Stream: When and Where to Watch Men's Finals
June 11, 2012

Clive Brunskill/Getty Images
As much as fans wanted to watch the conclusion of the 2012 French Open live from the comfort of their home, many will now be forced to stream the action from work.
While it's a bit unconventional, fans of the sport of tennis will do whatever they have to do to watch the exciting finale between world's No. 1 Novak Djokovic and clay-court maverick Rafael Nadal.
The weather at Roland Garros pushed the action back, but even mother nature can't stop the excitement around this classic matchup of an immovable object and an unstoppable force.
When: Monday, June 11 at 7 a.m. ET
Watch: NBC Sports Network
Where: Stade Roland Garros, Paris, France
Live Stream: NBC Sports
Listen: Roland-Garros Radio
Monday's X-Factors
Rafael Nadal
There is no more dominant of a player at a tournament than Rafael Nadal on the clay of Roland Garros and the French Open. With six career master's wins out of his seven chances, Nadal wants to add yet another notch to his belt.
Clive Brunskill/Getty Images
In the first French Open tournament that hasn't finished on a Sunday since 1973, Nadal has the chance to make history all over the board; this should be a wild Monday.
Novak Djokovic
After turning momentum in his favor, the biggest key to success for the best player in the world is finding his rhythm from the very first serve. The Djoker is trying to become the first man in 43 years to win four consecutive Grand Slam titles and needs his best to beat Nadal.
With all of the pressure mounting against the top player in men's tennis, Nadal on the red clay will just be too much to overcome and Djokovic will come away with the second-place trophy.
Prediction: Rafael Nadal continues his red-clay domination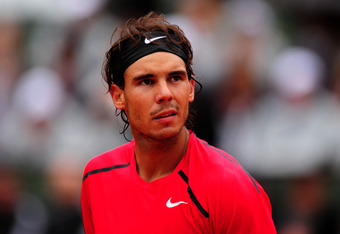 Mike Hewitt/Getty Images
After winning six of the last seven French Opens played, Nadal knows how to win and how to get hot early. As we saw from Sunday's action, it takes Novak Djokovic a set or two to get his feet underneath him at Roland Garros.
The problem for Djoker is that he won't have a few sets to settle in.
With the fourth set already started and Nadal taking an overall 2-1 lead, there will be no time for warming up. This is where Nadal is as dangerous as ever.
If the weather can hold off, Nadal should have enough time to finish off the world's No. 1 before Djokovic starts hitting the shots he wants. Either way, Monday just got far more interesting.
Check back for more on tennis as it comes, and don't miss Bleacher Report's Tennis page to get your fill of all things racquets.