Pacquiao vs. Bradley Results: Bradley's Split-Decision Victory Is a Travesty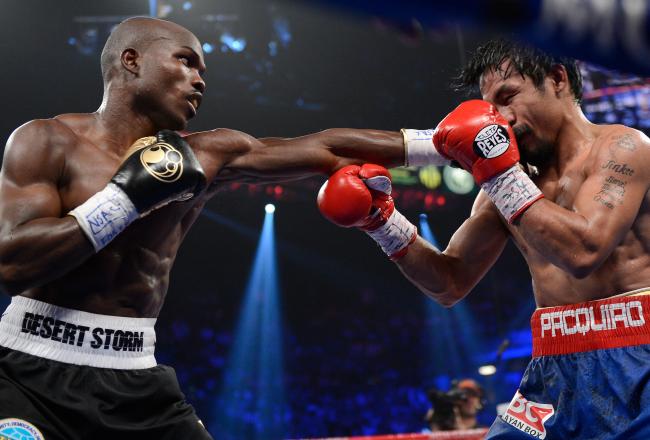 Kevork Djansezian/Getty Images
With a smile on his face for most of the night, Manny Pacquiao was seemingly grinning at any doubters/haters that thought Timothy Bradley would unseat him from his throne atop the boxing world.
Apparently, the judges weren't smiling back.
In a 115-113, 115-113, 113-115 split decision, the three judges crowned Bradley the new champion—while the dumbfounded crowd, family and fans of Pac-Man everywhere scratched their heads to decipher how the outcome was in Bradley's favor.
Pacquiao consistently controlled the fight from round-to-round. Harold Lederman, the on-site analyst for HBO's coverage of the event, scored every round but No. 10 to Pac-Man, and both announcers consistently praised Pacquiao for landing the left hand and keeping Bradley off-balance for the majority of the early rounds.
Starting strong and moving Bradley all over the ring, Pacquiao used his left hand and power punches to both clinch and trade shots with his opponent to the tune of what the audience thought was nine straight rounds for one of the greatest fighters of the generation.
Pacquiao took control in round 4, when he landed a flurry of punches and seemingly had the fight won by staying in control and trading shots with Bradley for the rest of the round.
However, the judges didn't see it that way, and either awarded Bradley for attacking at the end of the fight—where Manny failed to finish it off—or decided his technical strikes weren't as good as Bradley's, though HBO's stats showed a 32 percent connection rate from Pac-Man versus 20 percent for Bradley after the 11th round.
But Bradley stayed tough, didn't wobble enough to decrease his value to the judges, and will walk away with a questionable victory and the firestorm of a call for a rematch in the near future.
To Bradley's credit, he stayed with Manny for the majority of the fight. There were no knockdowns, Bradley consistently stayed tough in matching punches with Pac-Man, and by the end of the fight the judges decided he tried to win the fight more than Pacquiao.
Both fighters seemed willing and ready to rematch in November, but those questions and schedules are up to both the teams of the fighters and the Nevada Athletic Commission following this title fight.
Floyd Mayweather and Manny Pacquiao is no more, for now. Pac-Man will have to vanquish these Bradley demons before we broach that subject again.
For now, fans are going to be left wondering how Manny lost a split decision that seemed so one-sided during the fight, and if boxing is really doing all it can to provide an environment for fair fights—as opposed to an environment for higher revenue that it will likely make off the rematch of these two at a later date.
Either way, the judges got it wrong on this one; and now Manny Pacquiao will take his fifteen fight winning streak-snapping loss in stride as he looks to continue his new religious outlook on life with Timothy Bradley firmly supplanting Floyd Mayweather in his crosshairs.
This article is
What is the duplicate article?
Why is this article offensive?
Where is this article plagiarized from?
Why is this article poorly edited?