Nadal vs Djokovic: Rafa Set to Dominate His Latest Rival
June 9, 2012

Clive Brunskill/Getty Images
Rafael Nadal vs. Novak Djokovic was the odds-on favorite to be the men's 2012 French Open final, and it's the perfect opportunity for Rafa to prove his supremacy in this rivalry.
This marks the third straight time a Grand Slam final has had these two names involved, with Nadal on the top of his game heading into the match on the surface that made him famous.
Djokovic is the No. 1 men's player in the world right now, but when looking over the current tournament at Roland Garros ,he hasn't had that same dominant aura around him we've seen in previous months.
He was able to defeat Roger Federer to reach the finals but only after going the distance with Andreas Seppi and Jo-Wilfried Tsonga.
The Spaniard Nadal is the unquestioned king of clay, with him and Maria Sharapova seemingly having a battle of "who can beat their opponent fastest?" throughout the French. On his way to the final match, Nadal didn't have to play past a third set, something Djoker was unable to duplicate.
Howard Fendrich of the Detroit News put it best when he stated:
As good as Djokovic is on all surfaces and in all settings at the moment, no one ever has been as good as Nadal is on the red clay of Roland Garros.
Even Djokovic admitted to reporters that Nadal should be favored, explaining "You can say he's the favorite, definitely."
Nadal has lost only one match over his spectacular career at the French Open, and there's little reason to believe the Serbian sensation can add another to that shortlist.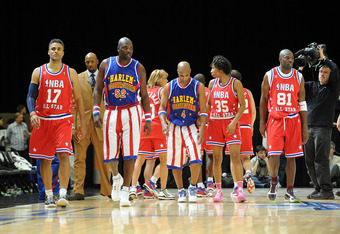 Jason Merritt/Getty Images
Beating Rafa at Roland Garros is almost as impossible as defeating the Harlem Globetrotters, and spoiler alert: their games are fixed.
This isn't an article designed to make the argument that Djokovic isn't as talented as his finals opponent, because they're about as close as two competitors get.
2011 was the year of the Djoker without a doubt, but Nadal is going for history. He's on the court that made him a household name.
Rafa is attempting to become the unquestioned master of Roland Garros. A victory over Djokovic would mark his seventh French Open title, breaking his current tie with tennis legend Bjorn Borg.
Nadal has not lost a set this entire tournament, and he came into Paris hot off victories at the Barecelona Open and Italian Cup, where he defeated Djokovic in the final of the latter.
The Spaniard has the most momentum coming into the final match of the tournament, while Djokovic will have memories of the Italian final in the back of his head. The two predictably made their way into the finals, but Nadal has looked unbeatable, untouchable and destined to win his record-breaking seventh French title.