Novak Djokovic: How Djoker's Character and Attitude Affects His Play
June 9, 2012

Matthew Stockman/Getty Images
Every sport has vibrant characters who add a bit of off-the-field entertainment and showboating, causing fans to respond with either laughter or outrage. 
Whether it's Chad Ochocinco using the end zone as a putting green, or Terrell Owens disrespecting the Dallas star, there are simply some athletes who love to use their showmanship to garner extra attention from the cameras.
Even the traditionally mild-mannered sports, such as tennis, occasionally produce a nutty character or two capable of stealing camera time with absurd antics.
In the world of tennis, that guy is currently Novak Djokovic.
Whether it's his humorous impressions of Maria Sharapova and Andy Roddick, or the open sense of humor he displays in interviews, the 25-year-old Serbian is one of the more colorful characters of tennis. 
But just like any other sport, the man who hogs the cameras is an easy target for mass criticism and disapproval.
Has Djokovic Earned the Right to Put on "Shows"? 
You rarely see a low-level talent removing a marker from his socks and signing an autograph in the middle of a game. 
That's because the unwritten rule says you must remain humble until you have proven yourself.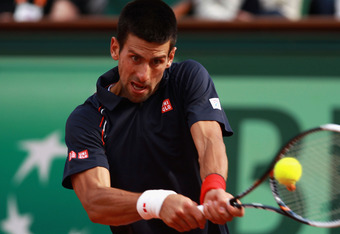 Clive Brunskill/Getty Images
Just like any over-the-top athlete, Djokovic had to earn the right to misbehave by displaying dominant performances on the tennis court.
Remember, he waited until he actually won the Australian Open before shredding his air guitar to the sound of AC/DC's Highway to Hell.
Djokovic has been extremely successful for a 25-year-old athlete. An obnoxious attitude doesn't make him the most popular icon of tennis, but he can undoubtedly defend his cockiness on the court. 
Does Djokovic's Attitude Affect His Play? 
The short answer: No. 
In other sports, it's not uncommon for the showboating athletes to ultimately finish with anticlimactic careers. Terrell Owens, Chad Ochocinco and Randy Moss—three of the most obnoxious athletes in sports history—have a combined zero Super Bowl rings. 
Since questionable behavior results in a surplus of criticism and negative attention, it's not surprising for the athletes to eventually become overwhelmed and lose the big game.
Djokovic is an exception.
The Serbian sensation has five grand slam wins in a five-year span and has a chance to add his sixth with a win over Rafael Nadal in the final round of the 2012 French Open. 
One could argue that Djokovic would have even more tournament victories if only he knew how to reel in his personality and play the sport in a humble and focused fashion, but the success is certainly there to backup his approach. 
Of course, a loss to Nadal in the final round will open the floodgates of criticism. But even if he's defeated, there's no arguing that Djokovic can dominate the sport, regardless of his personality.