Maria Sharapova: French Open Victory Legitimizes an Already Impressive Career
June 9, 2012

Mike Hewitt/Getty Images
Whether you're an avid tennis fan or just someone who is annoyed by the highlights on Sports Center, there's a good chance that you're familiar with Russian tennis star Maria Sharapova, even if it's for the wrong reasons. 
Her smoking good looks have made her recognizable even to those who are apathetic towards the sport, but it's far more appropriate to acknowledge her for accomplishments as an athlete. 
And despite missing the 2008 Olympics in Bejing due to a shoulder injury that forced her miss significant time, Sharapova has been able to bounce back and expand her list of accomplishments.
A 2012 French Open victory adds to the 25-year-old Sharapova's legacy as her first grand slam title victory in four years. 
A Well-Deserved Victory
Sharapova entered the tournament as the No. 2 ranked player in the bracket. She faced low-level opponents in the first two rounds, but she eventually came across more distinguished players as the tournament progressed. 
In the third round, she faced No. 4 ranked Petra Kvitova of the Czech Republic, who was previously able to defeat Sharapova in the 2011 Wimbledon finals. 
Kvitova was not able to repeat her Wimbledon performance after Sharapova left that round with a 6-3, 6-3 victory, which advanced her to the final round against Italy's Sara Errani.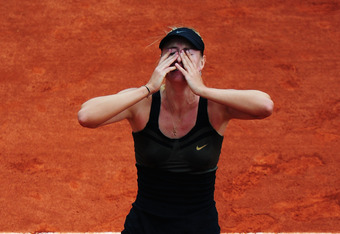 Mike Hewitt/Getty Images
Errani was the 23rd ranked player and took a tough road getting to the finals, defeating No. 10 ranked Angelique Kerber and No. 6 ranked Samantha Stosur. 
Regardless of Errani's unlikely appearance in the final round, Sharapova was able to overpower her with yet another 6-3, 6-3 victory. 
Where Does Sharapova's Career Stand Now? 
After defeating Serena Williams and winning Wimbledon eight years ago at the age of 17, Sharapova immediately projected herself into the spotlight. 
Following the Wimbledon victory, Sharapova won the U.S. Open in 2006 (which gave her a second grand slam victory before the age of 20), as well as the Australian Open in 2008. 
Now, after her recent conquest of the 2012 French Open, Sharapova has four grand slam victories at the age of 25. 
She is only the 10th woman in history to win all four of the major tournaments. 
Her debilitating shoulder injury slowed her progress and certainly prevented her from piecing together an even greater career, but her willingness to overcome the injury was well worth it, as she now has nothing left to prove on the court. 
It's unclear what will come next for Sharapova, but at this point, there's nothing stopping her from being remembered as an all-time great and icon for her sport.