Nadal vs. Djokovic: Dissecting Each Superstar in French Open Finals
June 9, 2012

"We've got to stop meeting like this." It is one of the world's most common phrases, but it has become all too constant for Novak Djokovic and Rafael Nadal. For a record fourth-straight time, the two will meet in a Grand Slam Final, which should make Sunday's event one of the most exciting in tennis history.
Here's a closeup look at the two most dominating players in men's tennis, complete with their latest and most spectacular achievements. 
World No. 1 - Novak Djokovic:
Djokovic is riding a wave of emotion after exacting revenge on Roger Federer, who beat Novak in last year's semifinal round. Djokovic made a statement with the 6-4, 7-5, 6-3 win and appears confident to punish Rafael Nadal on a court that has been duly his since 2005. He also has the amazing opportunity to become the first man since 1969 (Rod Laver) to hold all four titles at once.
So, what does the world's best bring to the table?
How about the World No. 1 ranking for 49 straight weeks and a perfect record in his last 27 Grand Slam matches? Or perhaps the streak of victories he put together against Nadal the last couple of years, including wins in three consecutive Grand Slam finals? 
Djokovic's health could be a factor. He pulled through against Federer, but that win came after he reportedly "tweaked a hamstring muscle in the quarterfinals," according to ESPN. 
Novak can also be susceptible to losses on clay. In fact, he dropped his two clay matches to Nadal in May. But he's playing incredibly well right now, and after disposing of Federer in such convincing fashion, the odds are good that Djokovic will celebrate Sunday night in Paris.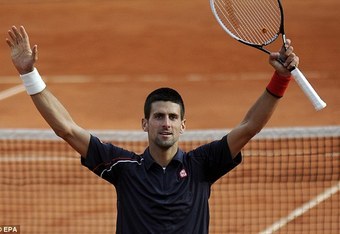 World No. 2 - Rafael Nadal: 
Nadal's determination Sunday should be like a swarm of bees in a nest full of honey. The No. 2 men's player in the world has been nearly unbeatable at Roland Garros, with six titles and a fascinating 51-1 record. He crushed David Ferrer 6-2, 6-2, 6-1, en route to the final.  And if he takes the trophy, it will be a record seventh one that he owns, which would break the tie he currently has with the great Bjorn Borg. 
In order to succeed, Nadal will have to fend off the relentless Djokovic, who has had Rafael's number in each of the last three Grand Slam title matches in which they have faced each other.
In 2011, Nadal succumbed to Djokovic at Wimbledon and the US Open. Then, of course, there was this year's five hour and 53 minute marathon at the Australian Open. It was the longest-ever men's final, and Nadal hopes history doesn't repeat itself, in more ways than one.
To put it bluntly, Nadal's clay game has become downright irritating due to a string of losses, including two matches that he yielded to Djokovic. But Rafa has the heart of a lion and would like nothing better than to defend his French turf and gain revenge for the seven consecutive losses he suffered to Djokovic in 2011.