French Open 2012 Results: Sharapova's Victory Will Lead to Return to Dominance
June 10, 2012

Mike Hewitt/Getty Images
Maria Sharapova accomplished what few tennis players have when she completed her career Grand Slam, defeating Italy's Sara Errani to win the 2012 French Open. It was a victory that will lead to Sharapova dominating the tour once again.
The clay of Roland Garros has never been the Russian sensation's favorite court, reaching the semifinals of the tournament just twice in her career before winning the title this year. The woman who once referred to herself as a "cow on ice" when it comes to playing on clay, now has the most prestigious clay tournament title in professional tennis.
The 25-year-old took the tennis world by storm in the mid-2000s, but saw her career delayed by injuries and poor play from '08-10. Those days are over nowadays though, as Sharapova has been on a comeback tour since 2011 and won't stop even with this year's Roland Garros title now in her trophy gallery.
In 2011, Sharapova reached the semifinals of the French Open for the second time, reached the Wimbledon finals for the second time, won the Italian Open and several other tournaments.
"It's been a long road back, it hasn't been the quickest comeback," the champion told NBC Sports television after her victory.
During her fall from grace, critics began to get on Sharapova for her off-the-court celebrity status and endorsements from companies like Cannon.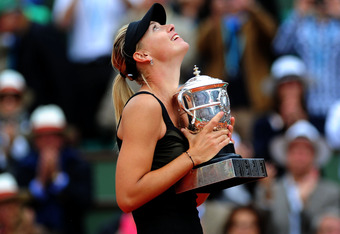 Mike Hewitt/Getty Images
Her return to form in recent years has quieted those critics and proven when healthy and focused, the world's No. 1 female tennis player knows how to separate her career from her fame.
With both Venus and Serena Williams posting surprising early-round exits at Roland Garros and both in their 30s, Sharapova has little in her way of just dominating the women's tour.
The French Open victory marks Sharapova's third title in four tournaments and makes her one of two players on the WTA Tour with a career Grand Slam to her name.
"This is probably the most special moment in my career...I've never felt this happy," the overjoyed Florida resident told NBC Sports.
Sharapova's toughest competition in her career has been the Williams sisters and various injuries. The past few years prove that she has surpassed her rivals and overcome the injury bug that plagued her several years ago.
There is nothing in Sharapova's way from continuing to take home title after title on the WTA Tour.