French Open Final: Novak Djokovic vs Rafael Nadal and the Keys to the Match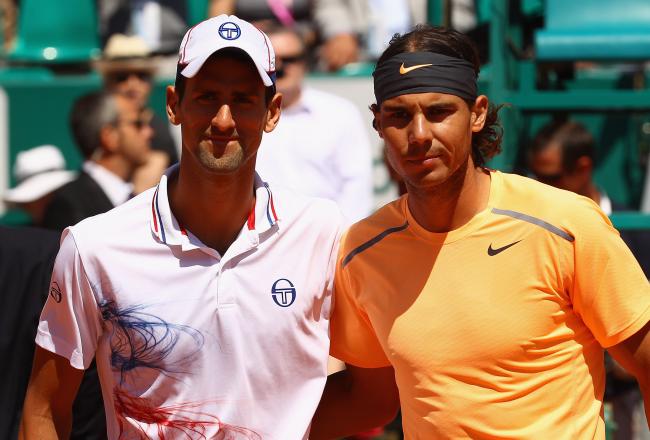 Clive Brunskill/Getty Images
History will be made on Sunday at Roland Garros. That much we know.
The only question is: Who will be making it?
In a French Open finals matchup that comes a year later than originally expected, Novak Djokovic and Rafael Nadal will square off, each hoping to add a unique chapter to already compelling legacies.
For Novak, it's a chance to complete the "Novak Slam," or non-calendar year grand slam sweep, something that hasn't been done since Laver back in the Paleozoic era. A victory would also give him a career grand slam and, perhaps more impressively, make him only the second player ever to pull off the hardest trick in men's tennis—beat Rafael Nadal at Roland Garros.
Federer's never done it. Probably never will.
And with apologies to Robin Soderling, the only other player to beat Rafa in Paris, a finals victory by Djokovic against a healthy, confident, seemingly unbeatable Nadal at the height of his powers would be the ultimate coup de grâce. It's never been done.
We don't even know if it can be done.
For Rafael, the stakes are equally clear. Win the final, and Rafa will have an unprecedented seven French Open titles under his belt (or one more than Borg) and will officially end the debate as to who is the greatest clay court player of all time. Also, it will also put him back on track with eleven major titles overall and within shouting distance of Roger Federer's career record of sixteen.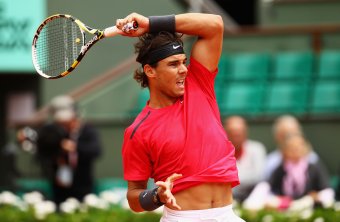 Clive Brunskill/Getty Images
Anyone who thinks Nadal will be satisfied as the greatest clay court player of all time clearly underestimates Nadal's pride and drive to lay claim to the title of greatest player of all time, period, no qualifiers added. If he just happens to win nine or ten French Opens out of, oh, say, eighteen or nineteen majors before all is said and done, well, don't blame him for showing up.
So how do Nadal and Djokovic compare on the eve of this, their fourth straight encounter in a major final? And who will win? Let's break it down.
Serve: As good as they are, neither Nadal nor Djokovic possesses the kind of serve that blows opponents off the court. Isner, Raonic or Karlovic they are not. However, both possess above average service game that occasionally do more than just start the point.
That said, whichever player can somehow up the level of his serve and get some quick, easy points here and there will hold a distinct advantage since quick, easy points between these two are at a premium. More important than service winners, however, is hitting a high percent of first serves in order to keep control of the point from the outset. Both players routinely hit first serves at greater than a 60-percent clip.
So who holds the advantage on serve?
Neither. It's a deuce.
Return Game: This is where things get interesting fast. Nadal is unquestionably one of the game's greatest returners. To maximize his chance, Rafa usually sets up well behind the baseline, a strategy that gives him more time to react and track down balls but leaves him vulnerable to angled serves and/or hitting his returns short in the court.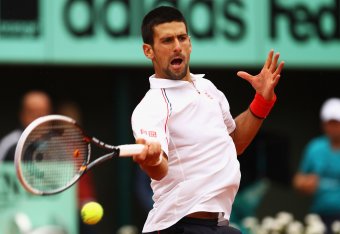 Clive Brunskill/Getty Images
But few players have the serve or the ground game to consistently take advantage of Rafa's court positioning or short balls, and once he gets the ball back in play, Rafa likes his chances in any baseline rally and figures to win points in bushels from there against anyone...with one notable exception. (More on this in a moment.)
As good as Nadal is at returning serves, nobody can take control of his opponent's service game as ably and consistently as Djokovic when he's at his best. Djokovic has rightfully taken up residence as the preeminent return specialist in the game today, arguably the best the game has seen since Andre Agassi roamed the baseline.
If he can reach it (and sometimes, it seems, even when he can't), odds are Djokovic will put the return in play and then some. In contrast to Nadal, Djokovic sets up closer to the baseline and relies on his superior quickness, balance and anticipation to take the ball on the rise, hit it deep and put his opponent on the defensive.
Simple, effective, and devastating. Nobody does it better.
Advantage: Djokovic.
Groundstrokes: Remember that "More on this in a moment" aside? Well, here it is.
From 2008 to 2011, Nadal was the undisputed bully of the men's game in large part because of his punishing, heavy groundstrokes, especially on the forehand side. Once he gained the upper hand in a rally, Rafa seldom relinquished it, unleashing furious inside-out or down-the-line forehands seemingly at will.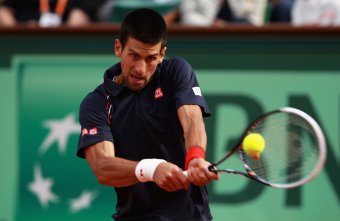 Clive Brunskill/Getty Images
Oh, he might have lost the occasional match when he was off his game (see 2009 U.S. Open semifinal loss to Del Potro) or injured (see 2010 Australian Open quarterfinal loss to Ferrer), but if he was on his game, he was a beast and nigh unbeatable. Winning or losing was on his racquet. End of story.
Or was it?
Enter Djokovic, circa March, 2011. Djokovic's victory over Nadal in the Indian Wells final seemed innocent enough at the time. Hard fought, three set loss. Could happen to anybody. Just an off day at the office, that's all. Little did anyone suspect that Djokovic's victory that day would spark a run of seven straight finals triumphs over Nadal that began at Indian Wells and finished in Melbourne at the Australian Open, a run that included three majors titles and a historic winning streak.
It wasn't just that Novak kept beating Nadal over and over, it was how he did it. Novak did the previously unthinkable; he bullied Nadal around the court in their baseline exchanges. Forehand side, backhand side, it didn't matter. Djokovic pinned Nadal behind the baseline and ran him ragged. He tortured Nadal's backhand, refusing to let Nadal unspool his trademark forehand and daring him to go for backhand winners. It was staggering, stunning tennis. And, just as stunning, Nadal had no answer at the time.
Six months into 2012, Djokovic has come back down to earth, on both the forehand and backhand wings. Though still formidable, his ground game lacks the consistency and penetration that he maintained for so long last year. Nadal, meanwhile, has rediscovered the aggressive ground game and mental toughness that were his calling card. And, to better compete with Novak, Rafa has tweaked his strategy ever so slightly by standing closer to the baseline during rallies and hitting his backhand with more intent.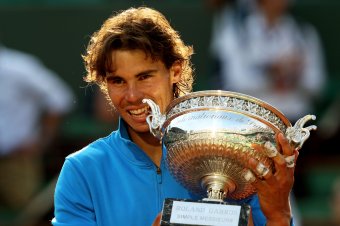 Clive Brunskill/Getty Images
The results speak for themselves. Nadal got the better of Djokovic in their groundstroke exchanges in two tune-ups to the French, both of which he won in convincing fashion. And Rafa has embarrassed the competition so far at Roland Garros (see Monaco, who won two games in three sets, and Ferrer, world No. 6, who won just five games!).
So who holds the upper hand going into the final?
Barring a return by Novak to his form of 2011, the advantage in groundstrokes goes to Nadal.
Net Play: Gonna keep this one brief, folks. Both Novak and Rafa are very capable at net, when they choose to come there. But this match on clay, between the two premier baseliners of this generation, will not be won or lost at the net. None of their previous encounters have been decided at net, and this one will be no different.
Advantage: none.
Intangibles: Allow me to summarize this with two numbers: six and zero. Those are the number of French Open titles for Nadal and Djokovic, respectively. If that statistic alone doesn't give Nadal a fairly "tangible" advantage in the intangibles, I don't know what does. He has been on this stage many times, and while there may be more pressure on Nadal than on Djokovic given the former's experience and dominant form of late, Nadal has never seemed more up for the challenge.
Advantage: Nadal.
Prediction: The last time these two competed in a major final, it went five sets and lasted nearly six hours. Clay is a slower surface. Could this possibly go even longer?
Not a chance.
Rafa is dialed in, he's hungry and he's on his favorite surface. As formidable an opponent as Djokovic is, he's in his first French Open final against the man who will almost certainly go down as the greatest clay court player of all time, if not the greatest player of all time when he finally calls it a career. History is on Nadal's side. And winning or losing is once again on his racquet.
And he will win. In three sets. 6-4, 7-5, and 6-3.
This article is
What is the duplicate article?
Why is this article offensive?
Where is this article plagiarized from?
Why is this article poorly edited?