French Open Tennis 2012 Finals: Novak Djokovic Has No Shot at Victory
June 9, 2012

Clive Brunskill/Getty Images
In a predictable matchup, No. 1 seed Novak Djokovic will face No. 2 Rafael Nadal in the finals, but the top-seeded player has no shot at winning his fourth straight Grand Slam.
Nadal is just too dominant on clay and has been playing unbelievably well at this tournament.
Both players will be vying for a chance to make history. For Djokovic, a win would make him the first player to win four consecutive Grand Slam titles since Rob Laver accomplished this in 1969. Meanwhile, Nadal has the chance to capture his seventh career French Open title, surpassing Bjorn Borg for the most trophies since the tournament became an open.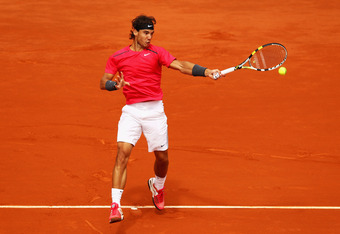 Clive Brunskill/Getty Images
The two players met in the finals at each of Djokovic's previous major wins, but victory did not come easy. The most recent final, in the Australian Open, was an especially grueling match, going all five sets and lasting five hours and 53 minutes, as noted by Simon Briggs of the Telegraph.
Since the Australian Open, the two players have met in the finals in two tournaments, both on clay courts. Each time, Nadal won in straight sets. 
Djokovic has played extremely well over the past two years and is 7-2 against Nadal in 2011 and 2012, but in recent months, Nadal has been untouchable. In addition, Nadal owns Roland Garros and is 51-1 all-time in Paris.
The two players' recent form is the most telling indicator of how the final will go.
At this tournament, Nadal has crushed each one of his opponents. He hasn't dropped a single set, winning every match 3-0.
Nadal's semifinal opponent, David Ferrer, was completely overwhelmed. He said the following after the match, via Howard Bryant of ESPN.com. 
He played better than me all the time. It is difficult to say something. I tried to do my very best. He was better than me in that moment. He played very, very good. I didn't have a chance.
Ferrer is ranked No. 6 in the world and next to Nadal, Djokovic and Roger Federer, is the best player on clay. However, Nadal dispatched with him as if he were an unseeded first-round opponent. 
Djokovic may be the world's top player, but this ranking means little in Paris. Nadal owns Roland Garros, and he is playing better than he ever has at the tournament.
There will be little suspense in the men's final, as Nadal will dominate Djokovic from start to finish.