Andrei Arshavin Makes Strong Case to Start at Attacking Midfielder for Arsenal
June 8, 2012

Jamie McDonald/Getty Images
Arsenal manager Arsene Wenger said back in February that he was sending out-of-form winger Andrei Arshavin on loan to Zenit St. Petersburg to restore the Russian's confidence levels, which had been edging dangerously close to 'empty'.
One league goal was a decidedly troublesome return for the man who captains Russia at the international level. As if to prove the point, he scored four goals in just two months' worth of action for Zenit after the one in nearly four months' time in north London.
It seems safe to say now that the loan has done the trick. The Andrei Arshavin on display for Russia on Friday—the opening match for Dick Advocaat's side—came very close to rivaling the mazy attacking whirlwind who took the Premier League by storm upon joining the Gunners on a club-record transfer back in January 2009.
Granted the sort of freedom in the attacking half of the field he rarely sees with Arsenal, where he's cut an isolated, and nigh immobile, figure on the wing for two-and-a-half years now, Arshavin was scintillating.
The quick feet that bedazzled viewers in those now-forgotten first months in an Arsenal shirt were back with a vengeance.
Arshavin was pulling off audacious back-heeled flicks, spreading play with cross-field searching passes, and showing a keen eye for the killer pass in attack—shown to greatest effect with his inch-perfect, defense-shearing assist for Roman Shirkov's goal to send Russia to a two-goal (2-0) advantage in the 24th minute.
(Russia would go on to win the match 4-1, but could have had several more goals if strikers had finished off some of Arshavin's better passes in behind the lackluster Czech defense).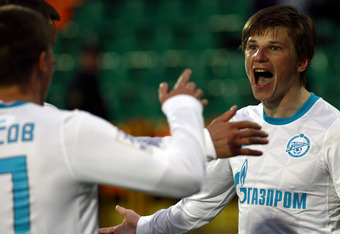 Epsilon/Getty Images
The ESPN Soccernet scribe presiding over the GameCast was, like many viewers, thoroughly nonplussed by this rebirth.
"Where was this form when Arshavin was at Arsenal in the first half of the season?" he wailed with his final post of the first half, when the little maestro had been arguably the most important player on the pitch.
This was Arshavin at his best—interchanging between the two wings as he saw fit. But what separated this drifting from the lethargic and soporific sort seen by him in Arsenal red was the end-product of his work.
On more than several occasions (the assist included), Arshavin was at the start of Russia's best attacking moves. Whether it was crosses whipped in venomously, or impressive link-up play with his teammates, No. 10 played with the verve and creativity his number signifies.
This was the Arshavin who had scored six goals in his first 12 Premier League appearances back in 2008-09. This was the little genius who needed only a sliver of space to turn a match on its head. This was the man who'd made his £15 million price tag look a relative bargain.
The deft touches, uncanny flicks and well-worked passes were coming in abundance.
Arshavin's wondrously weighted ball through to striker Alexander Kerzakhov 15 minutes into the second half sent him into such gaping space in the penalty area, it almost seemed he didn't know what to do with himself before scuffing his shot.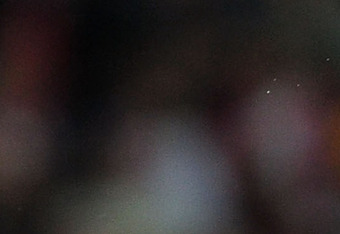 Jamie McDonald/Getty Images
Kerzakhov won't get a better opportunity to nab his 20th goal at international level.
The proverbial silver platter continued to be a major theme, as Arshavin ladled passes into the paths of his teammates with uncanny precision.
Even the burst of pace that nearly saw him push past four Czech defenders in the 77th minute before being crowded out hearkened to the confidence Arsenal fans had once seen from this little attacker on a match basis.
Where had this Arshavin been hiding?
Who knows, but for an Arsenal side gearing up for a title challenge in 2012-13, the Andrei Arshavin on display on Friday would seem to make a stirring case to start at the attacking midfield position—one where the player who occupies it is granted ample room in the final third.
He was far superior to Tomas Rosicky, perhaps his most direct competitor for the AMF role at Arsenal outside of Aaron Ramsey. Granted, Rosicky was recovering from injury, and was well short of his full match sharpness, but if Arshavin continues this form, there's few in the world who can rival him for attacking intent.