French Open 2012 Finals: What to Expect from Women's Draw
June 9, 2012

Clive Brunskill/Getty Images
When 21st-seeded Sara Errani walks into Roland Garros Stadium on Saturday afternoon she will be a huge (or small based on her stature) underdog against the newly crowned No. 1 player in the world, Maria Sharapova. 
Both players are 25 years old and both were raised to play tennis in the state of Florida at a young age, leaving their native homes to pursue acclaim in the sport they had been gifted in from birth. 
It was Sharapova who burst onto the scene at age 15 and at age 17 she had won her first Grand Slam, Wimbledon in 2004. 
Errani struggled her way through the tennis scene. In fact, until this French Open she had never reached a Grand Slam final, but she has won three tournaments on clay surfaces in 2012. That fact should brood a confidence within her that cannot be taken away. 
She has been to the tennis mountaintop and looked over for much of 2012. The question now becomes, can she get to the other side? Winning three times on clay has got her to within a few paces of the top. Defeating Svetlana Kuznetsova, Angelique Kerber and Samantha Stosur then got her to the very top of the mountaintop. Defeating Sharapova would get her over the hump for the first time on a long journey. 
It seemed she would never get over the top. Defeating Sharapova would place her in the WTA Top 10. And it would in some ways complete the journey she and Sharapova began at the same time in the great state of Florida. 
Make no mistake about it, though, Sharapova is the better tennis player. At 6'2", she is powerful and well-conditioned. Her ability to fight through tough game points and dominate after having been through the war is one of the main reasons she is in this position.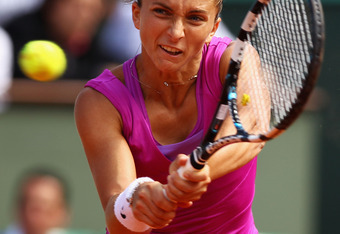 Clive Brunskill/Getty Images
And the funny thing is that she probably hasn't played her best tennis yet at Roland Garros. 
On the other hand, Errani is obviously playing the best tennis of her life. Defeating the three players mentioned above and her three clay-court victories should give her enough confidence to stand in against Sharapova's strength and durability and fight back. 
In fact, that is the main key in this match. Who is more determined to win? 
I know that is usually the case in at least one sense. It certainly isn't a new discovery in sport. Sharapova is going for the career Grand Slam on Saturday. Errani again wants to simply get down to the other side of the mountaintop. 
There's a ton at stake in this match. Whoever wins sets themselves up for favorite status for the remaining two Grand Slam tournaments. That and a crap load of money. 
But mostly it is the ability to say that they have won the most physically exhausting tournament in all of tennis. And that is enough motivation to keep both players fighting for each point, never giving up, doing everything within their physical limit to win each individual shot. 
Expect a war of attrition. Expect three sets with multiple game points, possibly even match points. Most of all, expect the winner to explode in joy when the match is over. 
This tournament has been exhilarating for both Errani and Sharapova. And the winner deserves all the adoration she will get.