MLB Draft Results: Chicago Cubs Draft Picks That Could Be Fast Risers
June 8, 2012

The Chicago Cubs finally had their first draft under their new regime of Theo Epstein, Jed Hoyer and Jason McLeod, but only time will tell how their first go around actually turned out.
Things have not looked good thus far for the Cubbies, but mostly everyone knew that Epstein and his team were not going to turn this current mess around just by entering the Windy City.
Nope, they have to make moves, and the first place to start that is in the MLB Draft.
The Cubs selected a total of 42 players, and while obviously not all of them are going to become something, the following future prospects could make an impact relatively soon.
Round 1, Pick 6: OF Albert Almora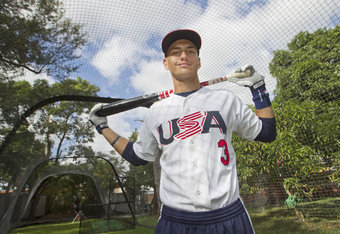 The Chicago Cubs took high school outfielder Albert Almora with the sixth overall pick in the 2012 MLB Draft.
The scare here with Almora, according to ESPN.com's Bruce Levine, is that he is considering opting for college, which would put the Cubs in an early hole with this crew's first-ever first round pick.
In all likelihood, Almora is just playing the negotiation game, making sure the Cubs dish him out the money he believes he deserves.
The kid seems ready, as one can tell from his resume via the Associated Press:
The 6-foot-2, 180-pound Almora batted .603 with six home runs and 34 RBI in 25 games for Mater Academy last season.

Almora has played on six USA national teams, five of which have earned gold medals.
If the young outfielder does get the money and signs with the Cubs, this team could have one of the best young outfields with Almora and rising prospect Brett Jackson in the near future.
Round 4, Pick 134: RHP Josh Conway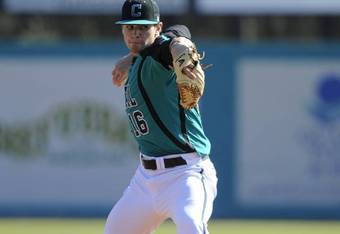 The Chicago Cubs rolled the dice here on Coastal Carolina right-handed pitcher Josh Conway, but things with the junior may turn out for the best.
According to John Arguello of Chicagonow.com, Conway is coming off of Tommy John surgery, but his upside was huge before he fell to injury.
Josh Conway had a 2nd round grade for a lot of teams but Tommy John surgery caused him to slide a couple of rounds here.  It shows the Cubs would rather be patient and potentially find an impact guy than just get low ceiling, useful players.  Before he got hurt, some had Conway sitting in the mid-90s, while others had him in the low 90s but peaking mid-90s.
Before Conway got hurt, he was 4-1 in nine starts with an ERA of 2.14. He struck out 50 batters through 54.2 innings, and if he can return healthy, the Cubs may have themselves a solid right arm in the near future.
There are a a lot of ifs here, but with a healthy return, Conway could have some real potential soon.