Should Australian, French and Wimbledon Adopt a Fifth-Set Tiebreak?
June 7, 2012

Pool/Getty Images
It's past 9 p.m. on Court Philippe Chatrier, and American John Isner is in trouble. Being on court for more than five hours, he finds himself in a hole, serving at 30-40 in the 33rd game of the fifth set, facing another match point from Frenchman Paul-Henri Mathieu.
As sunlight is fading, so is Isner's body language, staring down at the red clay, then at his opponent across the net.  As his forehand sails wide, Mathieu and the rest of Paris rejoice in victory. 
Later, Isner explained to ESPN's Greg Garber how he had nothing left as the set extended into the longest fifth-set (game-wise) at the French Open (Mathieu won 18-16).
"It's more disappointing on how I lost it. For whatever, six hours, [I was] really not doing what I should be doing. I just couldn't free myself up the whole match, so I just—he's a good player, and he was better than me today. He deserved to win." 
This match spotlighted the practice of no fifth-set tiebreakers in three of the four Grand Slams. Currently the Australian Open, Wimbledon and the French Open have no tiebreakers in the final set to determine the winner. The U.S. Open, on the other hand, has used the fifth-set tiebreaker since around 1970. 
Is it time for tradition to embrace a fifth-set tiebreaker in the men's game?  
Yes: These are Athletes, Not Gladiators
Marathon fifth-sets take a physical and emotional toll on the players. One recent example, such as the 2010 historic match Isner played against Nicolas Mahut, shows the devastating effect this match had on the rest of his season.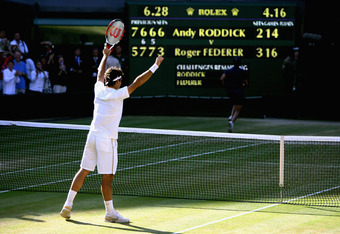 Paul Gilham/Getty Images
Isner was not only blitzed in the next round at Wimbledon, but early exits in the Canada and Cincinnati Masters, along with the U.S. Open, were all related to physical ailments. Another example is Andy Roddick's heartbreaking loss in the 2009 Wimbledon final to Roger Federer 16-14 in the fifth-set.
Roddick had a disappointing rest of the season after starting the year with great results under his then-new coach Larry Stefanki. The toll on Roddick seemed to be more emotional, while Isner's was physical. 
These long sets also wreak havoc with tournament scheduling and limited outdoor lighting. When Isner finished his French Open match, Maria Sharapova was supposed to play afterwards, but instead she had to come back the next day and play her second-round match due to darkness.
Tennis Channel commentators John McEnroe and Ted Robinson discussed this issue during the Isner-Mathieu match, contending that prolonged fifth-set matches are not right for the sport. McEnroe argued that seeing these players battling each other crosses a line from athlete to gladiator.
Regardless of who wins, both would be losers due to the long-term effects of such a match (by the way, Mathieu would come up short in the next round, losing to Marcel Granollers).
The price of our entertainment is not worth seeing a player's season compromised.
No: Keep the Tradition
Who would have wanted to see the 2008 Wimbledon final end in a tiebreak? This match, which is now hailed as one of the greatest matches in tennis history, was epic because of what unfolded between Roger Federer and Rafael Nadal, going 9-7 in the final set to Nadal. Why change tradition when it creates such memorable matches?
Plus, physical endurance is a key part of any sport, and players should be expected to do what it takes to win, even if it means being on court for several hours.
Novak Djokovic was able to become world No. 1 by dramatically improving his physical condition after struggling with endurance issues earlier in his career.  Playing out the fifth set separates the boys from the men.
These long matches also have the ability to increase public awareness of tennis. I think it's safe to say that the common sports fan knows about Isner's epic 70-68 fifth-set Wimbledon match, which was in the headlines for at least three days. These long matches give tennis a larger audience and increase its popularity. 
Bottom line is that men's tennis should have a fifth-set tiebreaker. The U.S. Open has shown such tiebreakers do work, while still allowing for exciting competition.
Although recent examples with Isner might suggest that this is only his problem, the way the men's game is evolving indicates that these big-serving guys just can't seem to break each other's service games. Not to mention that with longer baseline rallies rather than quick serve-and-volley points, men are putting in more physical effort.  
In the end, only time will tell if these three Grand Slams will join the U.S. Open and adopt a fifth-set tiebreaker.