2012 NBA Playoffs: Oklahoma City Thunder Advance to NBA Finals
June 7, 2012

Brett Deering/Getty Images
The Oklahoma City Thunder's checklist of what they needed to accomplish in the Western Conference Finals was an interesting one.
Defend home-court advantage after falling down 2-0 in the first two games.
Check.
Steal home-court advantage back from the San Antonio Spurs by sending a huge statement with a big Game Five victory.
Check.
Come back from another double-digit deficit and do what many people didn't think they could do—knock out the heavily-favored Spurs.
Check.
And finally, reach the NBA Finals in the fourth year of their existence.
A rather emphatic check.
Ladies and gentlemen, your eyes did not deceive you. San Antonio was in clear control for a good majority of this game. They led by as many as 18 points during the game and it seemed like the Spurs would coast to victory and force a Game Seven back in the Alamo.
But when both teams entered half time with the Spurs up by 15, you just knew that the Thunder would have some sort of answer for San Antonio because they've done it all postseason long.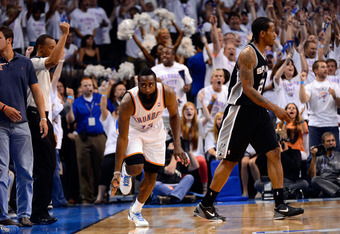 Ronald Martinez/Getty Images
As the San Antonio lead began to trim to single digits in the third quarter, flashbacks of the prior double-digit comebacks that OKC performed this postseason ran through my mind like an old-fashioned 1920s black and white movie, added with pretty cool music from Inception.
Visions of Kevin Durant and James Harden taking over the entire first-round series against the Dallas Mavericks were flashing through my eyes, with unreal jump shots bouncing off the rim and trickling through the net as OKC swept the former NBA champions.
Then the way that Durant and Russell Westbrook led the Thunder to both comeback victories over the Los Angeles Lakers in Games Two and Four in the conference semifinals was showcased in pure beauty for the whole world to see—the moment where everyone knew they officially arrived.
By the time that imaginary montage had passed, Durant hit a three-pointer in Stephen Jackson's face from the top of the key, and OKC came back from double digits again and took a two-point lead in the third quarter.
As the crowd continued to electrify Chesapeake Energy Arena with its passion and intensity, you just knew that the Thunder would not be losing on this night. And while the Spurs fought valiantly to stay in the game, the writing on the wall was clear:
It's hard to beat a team of 13 basketball players and almost 20,000 screaming fans.
And it is because of a city's devotion to its team, and a team that refuses to quit under any circumstances, that the Oklahoma City Thunder are the new Western Conference champions and now await the winner of the Miami/Boston series.
This young team did not want to go back to San Antonio for a pivotal do-or-die Game Seven, and Durant was going to make sure that didn't happen. And if you need any more proof of that, look at his box score.
Yes, he scored 34 points and grabbed 14 rebounds and dished out five assists. Yes, he was the main reason why OKC completed that huge comeback and won this game. But if you still need to find out how dedicated this 23-year-old superstar is to winning, look at the amount of minutes he played.
Yes, Kevin Durant played all 48 minutes on Wednesday night.
One can go as far as saying that what Durant did in Game Six could go down as one of the greatest individual performances in a close-out game in NBA playoff history. I'm certainly one who will say that to be the case.
Because what we all witnessed on Wednesday night from Durant was legendary, we forget that the man is only 23 years old.
Yes, Kevin Durant is only 23 years old, he's a bona fide superstar and he's in his first NBA Finals.
Scary. Truly scary.
Obviously, we do need to remember that the other members of this young team have done their part in more ways than one. Westbrook and Harden have not only left their fingerprints on this series, but have made significant moments throughout these playoffs.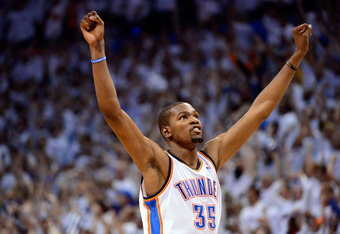 Ronald Martinez/Getty Images
No one will overlook Harden's huge fourth quarter in the close-out game against Dallas in the first round, and no one will overlook how Westbrook was a scoring machine throughout these first three rounds.
Even guys like Serge Ibaka going 11-for-11 from the field in Game Four, Kendrick Perkins having an amazing first half in Game Four, Derek Fisher hitting big shots in Game Six and Thabo Sefolosha with his breakout performance in Game Three, were making big-time plays when they needed to.
Top all of that off with the best player in the NBA making big-time shots in clutch moments—along with bringing his team back from the dead—and you have yourself a team that can produce from anywhere when you least expect it.
The fact that it took four years for this team to make it to the NBA Finals is truly remarkable. And the fact that I continue to wonder what would've been if Las Vegas made a bigger push to grab the Thunder still haunts me.
For the first time since 1998, a team that is not the Lakers, Mavericks or Spurs are representing the Western Conference in the NBA Finals. Oklahoma City took each of those teams out this year.
Talk about a passing of the torch.