USMNT: Breaking Down Team USA's World Cup 2014 Qualifying Opponents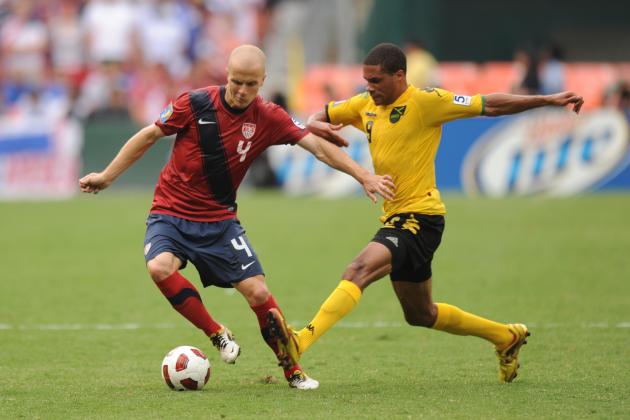 Mitchell Layton/Getty Images

For the USMNT, it is finally no longer just fun and games. The 2014 World Cup CONCACAF qualification process has finally arrived for the Yanks, and I think we all are ready for some serious, un-friendly competition. After a disappointing 2011 Gold Cup, fans have had to wait for nearly a year to see their team back in a competitive tournament. The teams lying right in front of the USMNT in that tournament are Antigua and Barbuda, Guatemala, and Jamaica.
For those who want to know a little bit more about who the USMNT is up against, take a look at these team-by-team previews in this slideshow. Enjoy!
Begin Slideshow

»
Nickname: Benna Boys
FIFA Rank: 105
Coach: Tom Curtis
Last World Cup Qualifying Campaign: Eliminated in Second Round with 3-8 loss to Cuba
Last Five Results:
Win vs St. Vincent and Grenadines
Loss to St. Vincent and Grenadines
Loss to St. Kitts and Nevis
Loss to Trinidad and Tobago
Loss to Haiti
Player to Watch: Dexter Blackstock: The star striker for Nottingham Forest recently debuted for Antigua after playing his entire youth international career for England. Blackstock has the pace to get behind the defense and very well could punish the United States if left unguarded on set pieces.
X-Factor: Peter Byers: The all-time leading A&B National Team scorer has been on an absolute tear recently in international competitions. Byers has scored 10 goals in his last 13 international appearances and is the go-to-guy on this offense. If Antigua want to keep up with the USMNT offense, they will need a big game from Byers.
The Verdict: By far the weakest opponent of the group and surely to be the victim of multiple dominant defeats. The offense might have some talented players, but the same defense that T&T dropped four on in a friendly a few months ago will be no match for the Yanks and the rest of the group.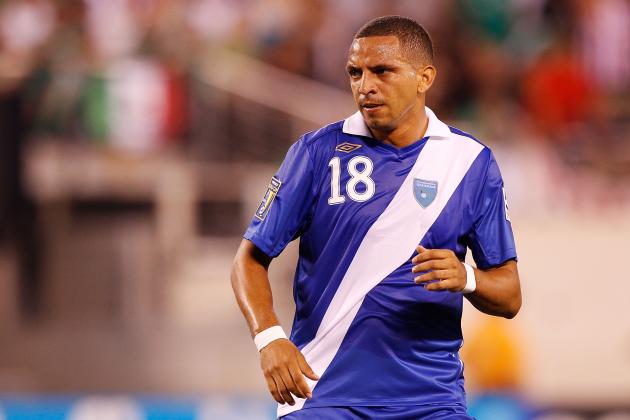 Mike Stobe/Getty Images

Nickname: Los Chapines
FIFA Rank: 85
Coach: Ever Hugo Almeida
Last World Cup Qualifying Campaign: Eliminated in Third Round, Group 1
Last Five Results:
Win vs Costa Rica
Loss vs Costa Rica
Loss vs Paraguay
Win vs Guyana
Loss vs Paraguay
Player to Watch: Carlos Ruiz: Undoubtedly, the biggest offensive threat the Guatemalans have is former MLS star striker Carlos Ruiz. Before leaving the Philadelphia Union abruptly last summer, Ruiz proved he could still play at a very high level despite his age. Coming into the matchup, Ruiz has scored the last three goals for Guatemala and four out of the last six. The USMNT cannot leave him unmarked.
X-Factor: Home Field Advantage: Possibly the best thing Los Chapines have going for them is their excellent home field advantage. Just a few days ago, the team beat Costa Rica on home soil, and a few weeks before that, put forth a very good showing against a top 25 Paraguay team. If the team wants to advance, it will need to continue making home games a nuisance for their visitors.
The Verdict: Although opponents may struggle down in Guatemala, the team simply does not have enough weapons to earn max points on a consistent basis. Pappa and Ruiz can only carry this team so far, as the Americans' and Jamaicans' offensive firepower will result in this team's third-round exit.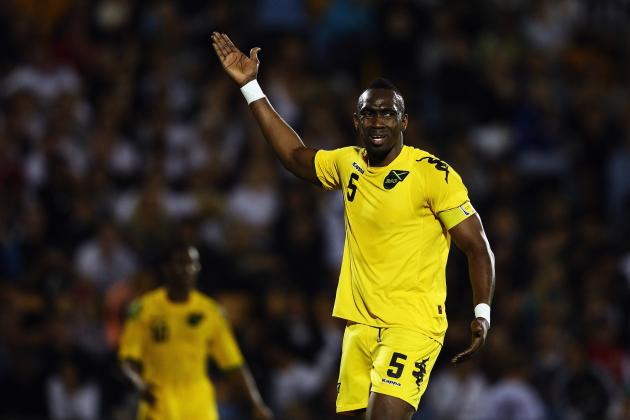 Hannah Johnston/Getty Images

Nickname: The Reggaeboyz
FIFA Rank: 60
Coach: Theodore Whitmore
Last World Cup Qualifying Campaign: Eliminated in Third Round, Group 2
Last Five Results:
Loss vs Panama
Loss vs Panama
Win vs Guyana
Tie vs Costa Rica
Win vs New Zealand
Player to Watch: Marlon King: The Birmingham City striker is coming off a fantastic year in which he led the club in goals (16) and was second in assists (10). As the most in form of all the Jamaican forwards, watch to see if King can keep up his hot streak against three teams that have suspect defenses.
X-Factor: Donovan Ricketts: A few years ago, Donovan Ricketts was thought of by many as the best goalie in all of MLS. Now, the Jamaican has the second-highest GAA for starting keepers in the league and lacks all the confidence that used to make him so effective back with the Galaxy.
Jamaica used to rely heavily on Ricketts' play back in previous qualifying campaigns, and if the team wants to reach the Hexagonal, they most likely are going to need the veteran keeper to get back to playing like his former self.
The Verdict: From front to back, Jamaica is the second most talented team in Group 2, and they will finish in that position when it is all said and done. From Richards, to King, to Cummings, to Johnson, this team has a plethora of attacking options that Guatemala and Antigua will have trouble keeping off the scoreboard. On to the hexagonal!