Chicago Cubs: Is Starlin Castro Better Suited to Play Second Base?
June 6, 2012

Justin K. Aller/Getty Images
A manager can only take so much until he reaches his breaking point, and after yet another miscue by shortstop Starlin Castro, Dale Sveum might eventually need to make a change.
After failing to realize the number of outs in the inning and jogging back to the dugout with only two outs, Sveum issued a warning to Castro to fix his problem:
"It's the last straw.  He better start getting his head in the game, period."
Without a doubt, the single most important defensive position on the diamond is the shortstop. 
In Starlin Castro's 335 career Major League appearances, he has made 65 errors.  According to Baseball Info Solutions, Castro has the most defensive miscues amongst middle infielders, 171, since his call-up in May of 2010.
Not all of Castro's problems seem to be from a physical standpoint but more of a mental issue. Castro was chastised by former ESPN Sunday Night Baseball analyst and current Boston Red Sox manager, Bobby Valentine, for having his back turned away from the plate during an at bat.
Castro has the athletic ability to make the impossible look possible but the mundane simple plays often appear to be a struggle.
Could moving Castro to the less demanding second baseman's position be the best solution?
Castro will still have plenty of responsibilities, including covering the bag on double-play attempts as well as covering first in certain situations, but his defense will no longer be counted on as much as it is now.
The bigger question then remains, if Castro is moved to second base, who takes over at shortstop?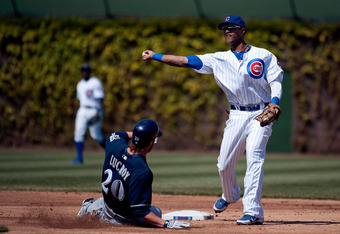 Brian Kersey/Getty Images
As it stands today, Castro is the only shortstop on the 25-man roster and unless there is an acquisition via trade, help will not be on its way until next spring.
One of the Cubs top-3 prospects, Javier Baez, currently plays shortstop, but many view his frame better suited to move to third base.  Another option, Junior Lake, has been even worse than Castro defensively, committing 74 errors between 2010-2011 during his time spent at Single-A Peoria and Double-A Tennessee.
If Baez can maintain his athleticism and continue to hit, he could make a jump from the minors to the big league club sometime in 2014. 
With few other options currently in the system, the Cubs will have to hope that Castro continues to mature with his experience and that his glove and mental makeup will eventually get on par with his great hitting abilities.