Dale Sveum's Starlin Castro Ultimatum Will Force Cubs to Make Tough Decision
June 5, 2012

Joe Robbins/Getty Images
Chicago Cubs shortstop Starlin Castro is one of the top young players in Major League Baseball. He can hit, he can run, he can field and he's only going to do these things better and better as he acquires more experience. 
There's just one problem: There are simply too many incidents in which it's painfully obvious that Castro is a young player. The talent is there. The wisdom and general baseball savvy...not so much.
This has been the case for a while now with Castro, and things finally boiled over on Monday afternoon in San Francisco. Castro forgot how many outs there were in the fifth inning of the Cubs' eventual 3-2 loss to the Giants, and it led to a run for the home team.
Thinking there were two outs in the inning, Castro took a throw at second base from Darwin Barney and got the force at second before jogging towards the Cubs' dugout. Had he known there was only one out, the Cubs would have ended up with an easy inning-ending double play.
If you missed it, you can watch it over at MLB.com.
After the game, Cubs manager Dale Sveum did not hide his fury. 
"It's the last straw," said Sveum, via The Chicago Tribune. "He better start getting his head in the game, period."
He went on:
It's something obviously that's unacceptable at any time. Whether we could've turned the double play or not is irrelevant to not knowing how many outs there are in the most important part of the game.

It's not acceptable. These things have got to stop happening, or we're just going to stop playing him. These kind of things are things my son does in high school, maybe.
Just like that, [bleep] got real. The North Side of Chicago is now home to a problematic young star, an angry manager and a front office that now has to figure out the best way to resolve the situation.
Make no mistake, some sort of decision is incoming. It's just hard to determine what the decision is going to be.
Jonathan Daniel/Getty Images
A line in the sand has been drawn here. The Cubs brass, specifically head honcho Theo Epstein and general manager Jed Hoyer, has to back somebody. The question is if they should back the young star or the team's manager.
Or they could decide to let somebody else deal with this problem.
Backing Castro here would have consequences. As reported by ESPNChicago.com, Epstein has already come out and said that Castro is not on the trading block and that he's a player the team is looking to build around. If that announcement is followed by some kind of affirmation that Castro's mental gaffes aren't a major problem, the message will be that Castro can do no wrong.
And that, of course, is not a message the Cubs want to send, as it could lead to an out-of-control ego. Many young stars have morphed into superstar divas over the years, and blind support is often a reason why. Castro could be MLB's next diva superstar if the dominoes fall a certain way.
At the same time, taking Sveum's side here could lead to the benching that he threatened, and that's a possibility that works out in nobody's favor. The Cubs don't want to feed Castro's ego, but they don't want to risk killing his confidence either.
More importantly, they're not going to get a mind-blowing trade offer for Castro if he finds his way to the bench. That's a decision that would rob Epstein and Hoyer of a lot of leverage in trade talks if they ever take place, and leverage in Castro trade talks is something they can't afford to lose, seeing as how it's only becoming more and more apparent that Castro has a lot of issues that need to be fixed. He's not the best thing since sliced bread.
If you're thinking about racing to the comments section and posting a message about how Castro absolutely, positively won't be traded this season, do yourself a favor and think about the situation for a second.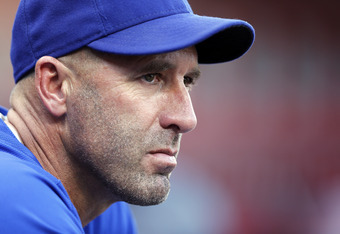 Joe Robbins/Getty Images
Nobody on this Cubs team is untouchable, and the team's current management had nothing do with Castro's development. He's not their guy, and it doesn't help that his approach to the game, particularly at the plate, doesn't gel with Epstein's baseball philosophy. If a club comes calling with a can't-miss trade offer for Castro, that club will not be instantly shooed away by Epstein and Hoyer.
If anything, the events of the last couple days (Castro also suffered a "brain fart" on the basepaths on Friday) make it more likely that the Cubs will trade Castro. There's still plenty of upside where Castro is concerned, but dealing him for a package of high-end prospects (a notion proposed by Bob Nightengale of the USA Today) would be an opportunity for the Cubs to deal upside for even more upside.
Epstein himself admitted that a deal isn't out of the question. Via the ESPNChicago.com report:
I think everybody knows what we're trying to do. We're trying to build a nucleus of talented young players who can form a core of being an annual contender. If you have a piece like [Castro], the only way you contemplate ever moving him would be to get multiple back of that same caliber and those deals are hard to make.
Hard, but not impossible. As long as there are two sides willing to do business, deals can always be made.
It's either this route, or the Cubs brass will have to solve the matter internally. That will involve some very careful manipulation of both Castro and Sveum. The manager must be supported, the star player must be put in his place and these things have to be done in a way that ensures everyone stays happy in the long run.
Good luck with that.
Regardless of how they choose to handle the situation, inaction on the part of the front office would be unacceptable. They can't just sit back and hope that the situation will resolve itself, because it won't.
Thanks to Castro's immaturity and Sveum's anger, Epstein and Hoyer have been presented with the first great challenge of their reign in Chicago.
If Epstein is forced to escape Wrigley Field wearing a gorilla suit, we'll know that things are going south.
If you want to talk baseball, hit me up on Twitter.