French Open 2012: Fans Get a Much-Needed Federer-Djokovic Semifinals Rematch
June 6, 2012

Clive Brunskill/Getty Images
Finally, on Day 10 of the French Open, fans got confirmation that the matchup they've been waiting for will happen. World No. 3 Roger Federer will take on No. 1 Novak Djokovic in a reprise of last year's epic semifinals matchup.
The road to this point hasn't been easy for either star. Neither of them has played anything close to their best tennis leading up to the semis, and both of them faced serious scares in their quarterfinal matchups on Tuesday.
But alas, they meet again. Just like last year.
Federer managed to dispatch Juan Martin Del Potro by overcoming a two-set deficit to win 3-6, 6-7 (4), 6-2, 6-0, 6-3. It was his seventh straight win over Del Potro since losing to him in the US Open in 2009, and he managed to advance despite making 14 unforced errors in the first set.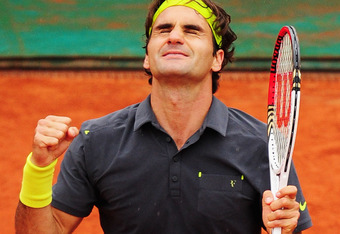 Mike Hewitt/Getty Images
Were old demons cropping up? Old ghosts lingering from the disaster three years ago? No. Federer simply needed to give more to win, and he found a way to do it, he told ESPN.com: "Letting go helped me. I pushed harder at the end of the second set."
Djokovic, meanwhile, was mired in a nail-biter of his own against Jo-Wilfried Tsonga, who had Djokovic on the brink of elimination but couldn't capitalize in the fourth set and allowed Djokovic to charge back for the come-from-behind win, 6-1, 5-7, 5-7, 7-6 (6), 6-1.
Though Djokovic is still in the hunt for his fourth straight Grand Slam, he seems far more vulnerable than he did last year. This year, he's coming off a loss to Rafael Nadal in the Italian Open, and more than likely, if he manages to bypass Federer, he'll have to avenge that loss to Nadal. Despite the fact that he had beaten Nadal in seven consecutive finals, he has now dropped two in a row to his rival and desperately needs to right the ship.
But that's getting ahead of ourselves. First comes Federer.
Both superstars have everything to play for when they meet in the semis. Federer, despite the fact that he's won 16 major titles, hasn't won one since 2009. Djokovic is making a bid to win his fourth straight Grand Slam but has looked vulnerable of late and doesn't seem to resemble the champion who entered last year's French Open at 37-0.
But Djokovic has managed to escape disaster thus far. He's won at Wimbledon, at the US Open and at the Australian Open. One more and he accomplishes a feat that hasn't been accomplished since Rod Laver did it in 1969. Perhaps the scares have just been symptoms of the pressure, which Djokovic has managed to fend off throughout this year's French Open. 
Now, Federer stands in his way of history, just like last year, when he halted Djokovic's 43-match winning streak in an epic five-set showdown. This year, though, things are different, and the first step to proving it is taking down Federer in the semis.
It's the matchup everyone has been waiting to see since the French Open began, and now it's here.