French Open 2012 Results: Top Head-Scratching Performances Thus Far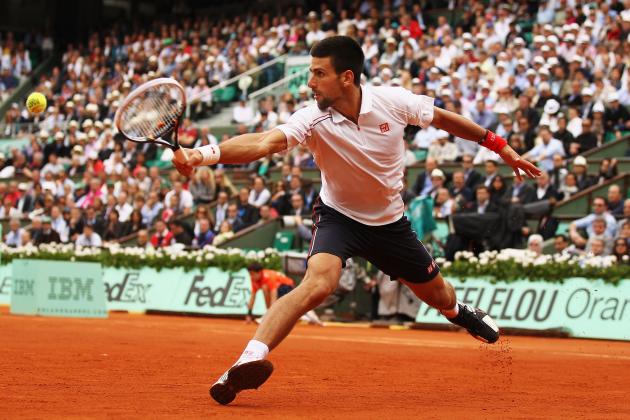 Matthew Stockman/Getty Images

There have been a ton of head-scratching moments thus far at the French Open. Some surprises, more disbelief and overall a good time to be a fan of tennis.
There have been some five-set matches with top players. Guys like Novak Djokovic and Roger Federer have been tested earlier than expected, while favorite Rafael Nadal has been able to cruise thus far.
There were some surprises during the first week, and more thus far in the second week.
Here's a look at some moments that have left me scratching my head.
Begin Slideshow

»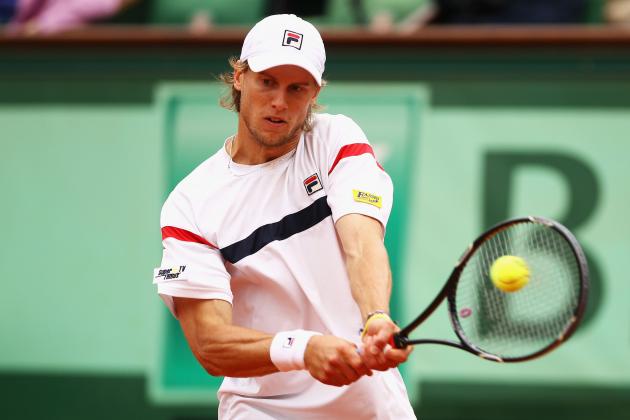 Clive Brunskill/Getty Images

Andreas Seppi pushed Djokovic to the limit in the Round of 16 encounter. Seppi took the first two sets, but the Serb was able to rally 4-6, 6-7(5), 6-3, 7-5, 6-3. It was only the third time Djokovic has come back from a two-set deficit.
What left tennis fans scratching their heads was the amount of unforced errors. The world's No. 1 player committed 81 unforced errors. The same amount of unforced errors Djokovic had in the first three matches combined.
After a four hour 48 minute encounter, Djokovic was able to earn the victory. He was on the brink of elimination, but showed a true champion's mentality.
With the win, Djokovic advanced to the 12th straight slam quarterfinal.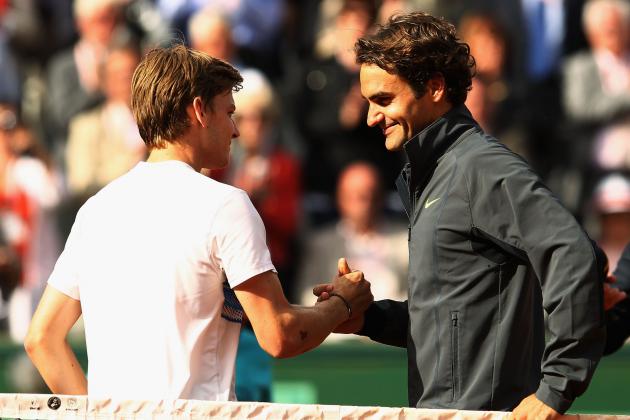 Matthew Stockman/Getty Images

The 21-year-old David Goffin from Belgium gave Roger Federer a run for his money in their fourth-round match.
The 16-time Grand Slam winner dropped the first set, but was able to defeat Goffin 5-7, 7-5, 6-4, 6-2. It was unusual to see the Swiss struggle against such a young player, similar to how he struggled earlier on in the first week against guys like Nicholas Mahut. Sure, Mahut has been around for a while, but who would think he would give Federer a fight?
Perhaps that's just the way Federer plays in the first week of play. He saves his best for the second week. Or it could be that younger guys now give Fed more of a struggle than they have in the past.
A guy that is ranked 109 in the world gave Federer a test. He was going for his shots, but Federer didn't have his usual killer mentality this match.
This was a match that left you with your head shaking.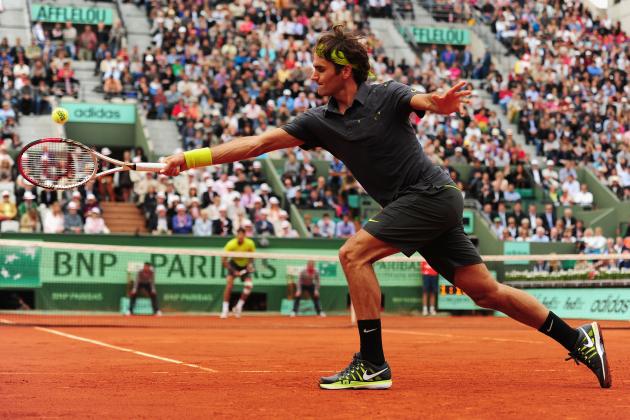 Mike Hewitt/Getty Images

Juan Martin Del Potro is a top ten player. He's won the 2009 US Open. He is a guy that gives top players such as Federer trouble. And quite frankly, Del Potro is probably the hardest striker on tour.
This is all true. However, he has struggled against Federer during their recent encounters. That didn't stop him from nearly taking the 16-time Grand Slam champ to the exits in their quarterfinal match, though.
The young Argentine was absolutely killing the ball in the first two sets. He was able to get some quick break points and take control of the match.
Del Potro was able to win the first two sets, and it looked like Federer was going home with another disappointing French Open. But Federer he has the heart of a champion.
Federer rallied back from two sets down to win 3-6, 6-7(4), 6-2, 6-0, 6-3. Del Potro looked to be tired as he called for the trainer at a point in the match. Federer took advantage of the extra rest this break gave him, and cruised after the first two sets.
This left fans scratching their heads. It wouldn't be a complete upset if Del Potro prevailed, but Federer looked out of it early. Roger's first serve percentage struggled in the first set, and things didn't look good.
It was unusual seeing a guy like Del Potro getting a bagel in the fourth set as well. That doesn't happen often.
At the end of the day, the third-seed got over the hump and advanced to his record-tying 31st Grand Slam semi.
It was the seventh straight victory for Federer over Del Potro since their 2009 US Open final.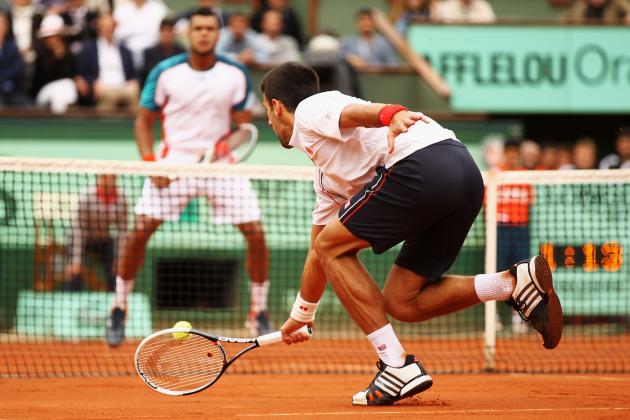 Matthew Stockman/Getty Images

This was another classic quarterfinal match at the French Open. The stage was set for Djokovic to take on Frenchman Jo-Wilfried Tsonga. The crowd was fully behind Tsonga in his quest for a semifinal against Federer.
And that looked to be the case for much of the match. After losing the first set 6-1, Tsonga took the next two 7-5. Djokovic looked physically out of it. Both guys had five-set matches in the Round of 16.
In the fourth set, Tsonga showed his shot-making abilities and his array of shots. He took it to Djokovic, and the Serb didn't have an answer for most of the set.
The Frenchman had four match points. But like Federer, Djokovic had the will to win. He saved all four to a 6-1, 5-7, 5-7, 7-6(6), 6-1 victory.
Djokovic is now to set to take on Federer in a rematch of their semi-encounter last year, when the Swiss ended Nole's 43-match winning streak.
Now, Federer hopes to end Djokovic's 26-match winning streak.
Tsonga had match points against Djokovic at 5-4 and 6-5 in the fourth set. Djokovic didn't feel the pressure as he went for his shots, and even had a volley winner on one match point.
It has not been easy for the Serb on his quest to the semifinals once again. He has now faced two five-set matches in a row. He will need to be on top of his game to get by Federer.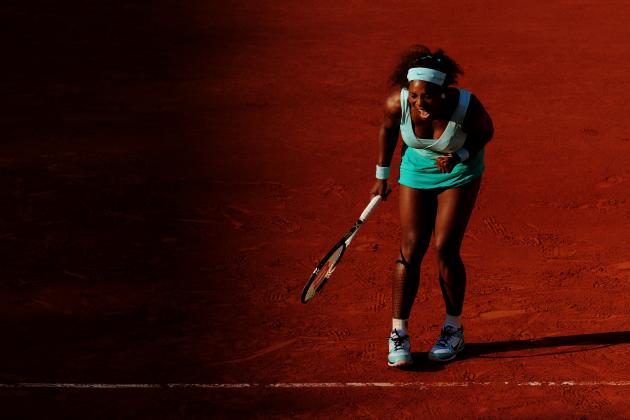 Mike Hewitt/Getty Images

During perhaps the biggest head-scratching moment of the French Open, Serena Williams fell to 111th-ranked Virginie Razzano, the only first-round loss of her career in Grand Slams.
She looked to be off throughout the match. Williams let Razzano get in her head, and it showed on the court.
After losing the first set, Razzano went on to win 4-6, 7-6 (5), 6-3. The most head-scratching moment of the whole match was the third set.
Razzano was up 5-0 at one point. Williams fought back as expected, and pulled it to 5-3.
The last game went over twenty minutes, but after numerous break/match points Razzano eventually prevailed.
Who expected to see Williams lose in the first round after such a promising clay court season?