Roger Federer Defeats Juan Martin del Potro to Advance to 2012 French Open Semis
June 5, 2012

Mike Hewitt/Getty Images
Even after Juan Martin Del Potro stole the second set away from Roger Federer and the Swiss star showed rare signs of frustration, we knew he was going to rally and push the match to a fifth set.
And once it got to the fifth set, we knew what would happen there because, after all, del Potro has only defeated Federer twice in 13 career matches.
Federer was cool as cucumber winning the third set 6-2 and fourth set 6-0 before turning his attention to the fifth. It took him less than an hour to take the third and fourth sets from del Potro and the Argentine was visibly crushed down the stretch.
He rallied in the fifth set to win three games, but Federer was simply too good when it mattered most. In the end, the world's No. 3 player advanced with a 3-6, 6-7 (4), 6-2, 6-0, 6-3 victory.
Next up is the world's No. 1 player Novak Djokovic who rallied from behind to save four matches points before defeating Jo-Wilfried Tsonga in five sets.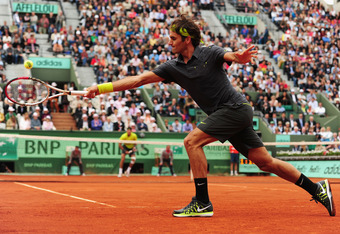 Mike Hewitt/Getty Images
A year ago, Federer eliminated Djokovic in the semifinals before losing to long-time rival Rafael Nadal in the final.
Rafa has won the French Open six of the last seven years and has looked absolutely dominant so far this year. He's made it well known that Roland Garros is his court and everyone else is just playing on it, even Federer.
The Swiss star made his showdown with del Potro more difficult than it had to be, but nobody is more calm under pressure than the 16-time Grand Slam winner. 
Should he get back to the final against Nadal, he'll need all that composure and more.