Rafael Nadal: Why We Have Yet to See the Best from Rafa in His Career
June 5, 2012

Matthew Stockman/Getty Images
The six-time French Open champion is at it again. After his recent win over Juan Monaco, Rafael Nadal is paving his way on the clay to advance to the quarterfinals. And he is absolutely unstoppable. If he can keep up his intense play and confidence, the 26-year-old from Spain will surely clinch his seventh French Open title.
The former No. 1 professional tennis player in the world (now No. 2) holds 49 career titles and a Gold Medal in the 2008 Olympic games, and he's just getting started. Six French Open titles are not enough as he crushes the clay in the run for a seventh men's singles title.
Nadal has gone swiftly through four rounds at Roland Garros, "winning 17 games in succession" to defeat Monaco (via The Telegraph).
The currently No. 2-seeded Nadal feels strong and well prepared. According to Fox News, Nadal said, "I feel really comfortable, really at ease...so far, so good. But we'll see. Things could change."
Fox News reports that Nadal trails right behind No. 1 seed Novak Djokovic. And, as he has breezed through the last four rounds leading up to the quarterfinals, we have yet to see Rafa's best. He's been winning easily and quickly, but his true performance will come in the finals.
The tournament favorite is projected to win it all. And with the top six seeds all competing in the quarterfinals, Rafa is sure to display some of his best and most contested play.
Which is more thrilling to watch? Rafa's recent trail of destruction or a grueling, close-call quarterfinals match? Perhaps both.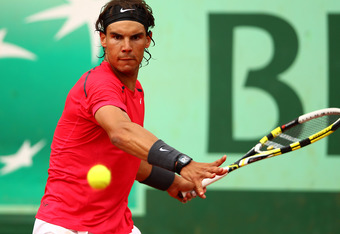 Clive Brunskill/Getty Images
Rafa's overall performance in the tournament will combine to reestablish him as the best on clay. With easy wins in the previous rounds, Rafa has a lot left to be unleashed. When the time comes for more competitive and intense play, Nadal will show his best in skills and ability.
Right now, Rafa is hot on the clay and ready to play No. 12 seed Nicolas Almagro on Wednesday.
Nadal told Fox News, "When the tournament is over, I'll tell you if this was my best Roland Garros or not."
For the time being, all signs point to his best yet.