Kurt Busch Could Be out at NASCAR's Phoenix Racing
June 5, 2012
Christian Petersen/Getty Images
The bad boy of NASCAR, Kurt Busch, has provided perhaps more entertainment this season than any other driver in the sport, but his handshake agreement with James Finch at Phoenix Racing may be in jeopardy.
It was reported by SPEED that Finch will meet with Busch next Tuesday in what has been dubbed a "come-to-Jesus" meeting.
There is little doubt that Finch is tired of his limited equipment being torn up, despite the good runs the driver of the No. 51 has had. Busch can run with the lead dogs, but something always goes wrong.
NASCAR's senior Busch brother can drive the wheels off of most anything, and perhaps he is over-driving the equipment at Phoenix Racing. The team has trouble stepping up to the driver's talent.
Now, Finch is faced with believing in his driver and any promises of good behavior during the remainder of the season.
While Busch is suspended for the race at Pocono, David Reutimann will be behind the wheel of the No. 51.
After all the media attention from this last episode with Busch and Justin Allgaier, then Bob Pockrass and the action by NASCAR, Monster Energy got more bang for its buck than it has invested as a sponsor.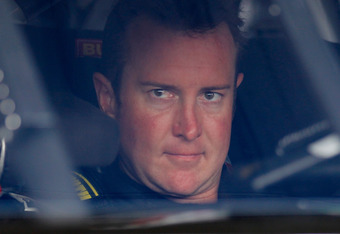 Todd Warshaw/Getty Images
All eyes have been on Busch and the bright-green Monster Energy logo on his cap and driving suit. Fortunately, it is an edgy company that can thrive on the antics some find abominable.
This is a driver who just wants to race. He is a championship-caliber driver who wins races in top-tier equipment.
It was unfortunate that a member of the media had to focus on Busch's probation and how it might hamper his driving immediately after he finished a race where he contended for a win and finished fourth.
Many tend to want to poke the bear with a stick. Busch has been tough with several members of the media and crossed the line of respect. The media still has the responsibility to be fair with the driver.
There obviously is an anger problem that quickly gets triggered when people start tempting fate with questions at times when this driver is emotionally amped up.
Busch is not the devil. He is a really nice guy away from the track and works hard for good causes that help others.
Should Finch decide that his driver will continue to implode, there is a spectrum of drivers that could fill the seat of the No. 51. It likely would be a step down from the ability that Busch has as a driver.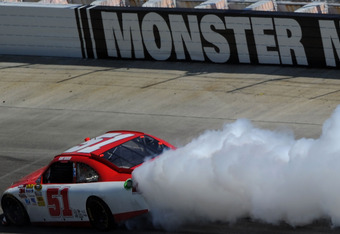 Patrick Smith/Getty Images
NASCAR really needs the personalities of drivers like the Busch brothers, though the younger brother appears to have mellowed.
Throughout the history of the sport there have been drivers who mouth off and take swings. NASCAR has levied fines, probation and suspensions. In most cases, the driver goes about doing his job.
It would be unfortunate to see Busch out at Phoenix Racing. He likely would not have a ride for the rest of the season in a Cup car.
Somewhere out in the corporate world there is a company that would reap untold benefits by hooking up with a team that had Busch as the driver and quality equipment.
With all the chaos surrounding the driver now, it makes it near impossible for anyone to commit to supporting Busch until he can prove he won't cross the lines established by NASCAR in the form of rules.
By the same token, we don't need Busch to become a watered-down version of the personality that he is.
Busch has a week off to reflect on his future. Hopefully he and his team owner can have a meeting of the minds that allows them to continue racing together.
Busch is a tremendous talent as a driver. It would be a loss for him not to be a driver in the premier series of NASCAR.
Certainly there are those who hope he is out at Phoenix. Hopefully that won't be the case, but should it be that way, Busch will land on his feet regardless of where his future path may go.