Roger Federer: Why Madrid Open 2012 Was Perfect Tune-Up for the 2012 French Open
June 5, 2012
Matthew Stockman/Getty Images
Roger Federer beat the blues at Madrid. 
The famous blue clay court at the Madrid Open was no match for the Swiss star as he beat Tomas Berdych 3-6 7-5 7-5 to win the title. It was Federer's fourth win of the season and his 20th Masters win.
It was not a dominating performance, not a classic Federer masterpiece.
But it might have been exactly what he needed.
Federer won a French Open in 2009, but has never beaten Nadal in a final. 
Last year, he lost once again to rival Rafael Nadal in the finals.
He's struggled on red clay and has not yet beat Nadal. Their rivalry is the Magic-Bird of tennis. But in France, it's been all Nadal.
Roland Garros is Federer's Everest. 
Federer's win in Madrid was perfect. He was significantly challenged by Berdych, but still found a way to win. And winning on clay, of any color, will give him much needed confidence.
In order to win, he is going to have to get past Nadal and Novak Djokovic. Not an easy task.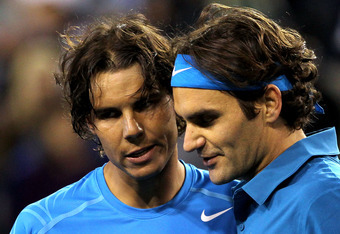 Matthew Stockman/Getty Images
But Federer is still wily, still the savvy technician who plays the game with a beauty, a stylized brilliance, that can be appreciated by fans of all intensities.
He uses his famous "squash" shot, a response to a slice—a simple flick of the wrist that looks so simple but is oh-so-difficult.
It is Federer who is never down. It is Federer who is never out.
Madrid was perfect for Fed. While it does not have the same prestige as Roland Garros, winning on clay, and reclaiming the No. 2 ranking in the world, provided Federer with the tune-up he needed. Nadal and Djokovic struggled in Madrid. Djokovic went as far to say he won't play again on the blue court, saying to reporters [via Yahoo! Sports] that:
I want to forget this week as soon as possible and move on to the real clay courts. Here you can't predict the ball bounce or movement.They can do whatever they want, but I won't be here next year if this clay stays.
Federer didn't complain and did his business in his trademark classy fashion. He didn't blame the court. He just won.
Despite Djokovic and Nadal's struggles, they will be ready to go in France. It is likely that one of the two will be in the finals.
Today, Federer takes on ninth-seeded Juan Del Porto of Argentina in the quarterfinals.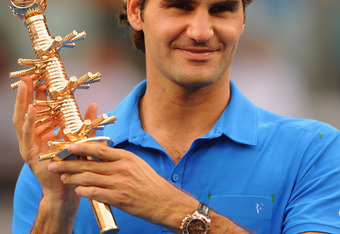 Mike Hewitt/Getty Images
But Federer is entering on a roll, with momentum that the other two do not have. While Nadal is the King of Clay and Djokovic is among the best out there today, it is Federer's quiet style which makes him an unassuming favorite. 
Nadal is 12-2 on clay against Federer. If they meet in the finals, it is Nadal who will be predicted to win.
But it would be wrong to count out Federer, just as it is always wrong to count out a legend. Federer's win in Madrid proves that he can master clay, even clay that may not be the best. 
Federer hasn't been dominant in the early goings of the French Open, but blamed that in part to the unpredictability of the draw [via ESPN]:
When you're the favorite, you end up thinking you are going to win, but you don't exactly know how you're going to win. I have played guys I've almost never heard about and I don't know their patterns, and it's made things difficult for me.
But just as Madrid wasn't a walk in the park, Paris won't be a stroll down the Champs Elysées either. It will be a challenge.
But Federer is ready for it. Madrid showed as much. In his own quiet, confident way, Federer is ready.
Many have Nadal winning. It is understandable, as he lords over clay with a dominance that players can only dream of.
It won't be easy. A matchup against either Nadal or Djokovic will be difficult and beyond taxing. 
But it's Federer's time. 
He won at Madrid. Now the French Open is the next logical stop on this amazing journey of his. Beating the clay legend Nadal will ensure his place on the Mount Rushmore of tennis. It will lead him to the mountaintop, once and for all.