French Open 2012 TV Schedule: Previewing Tuesday's Quarterfinals Matchups
June 5, 2012

Mike Hewitt/Getty Images
The guy everyone wants to talk about isn't playing on Tuesday, so while Rafael Nadal awaits his own quarterfinals matchup, it leaves tennis fans to ponder the fates of Roger Federer and Novak Djokovic as they take to the clay on Tuesday.
There seemed to be some cause for concern with regards to both Federer and Djokovic during Sunday's fourth round, when they both went down early but managed to right their respective ships in order to advance to Tuesday's quarterfinals. Now, they stand one win away from a rematch of last year's semis.
Here's a look at what Federer and Djokovic will be up against on Tuesday—and whom they'll have to beat to face each other.
You can find the entire French Open television schedule here.

No. 5 Jo-Wilfried Tsonga vs. No. 1 Novak Djokovic
Time: Tuesday, June 5, 10 a.m. ET
TV: The Tennis Channel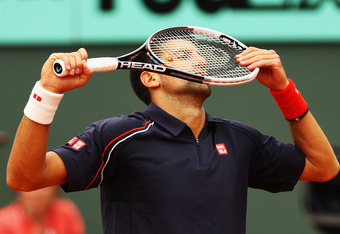 Clive Brunskill/Getty Images
Sunday's match was not an easy one for No. 1. It took Djokovic over four hours to dispose of Andreas Seppi after shockingly dropping the first two sets. He regained his composure, however, in time for a 4-6, 6-7 (5), 6-3, 7-5, 6-3 win over the Italian for the right to take on fifth-seeded Tsonga on Tuesday.
Though Djokovic has now reached 12 consecutive Grand Slam quarterfinals, he's well aware that this one won't end happily if he continues to play the way he did on Sunday. After beating Seppi, he told the National Post's Stephanie Myles: 
Well, it's one of those days where you don't feel—nothing is working, you know, really. My serve was. But aside that, I could not get into the rhythm. I was fighting, and I think because of the fight I won the match. 
If Djokovic can take down Tsonga on Tuesday and make a run all the way to the end of the tournament, he'll be the first man to win four consecutive Grand Slams in 43 years.
But there's no time to look ahead, because Djokovic will certainly have to fight to take down Tsonga, who beat Stanislas Wawrinka 6-4, 7-6 (8-6), 3-6, 3-6, 6-4 in a match that had been suspended the night before due to darkness. Though Tsonga led in the fifth when the match was temporarily called, he had to suffer a long night of worrying before getting back out onto the court.
Tsonga told the Associated Press, "It was a bit of a nightmare until the moment I hit my first ball, because before that, I had a thousand questions in my head. I really wanted to win that match, and it was very difficult."
Tuesday's match might be Tsonga's first foray into the French Open quarterfinals, but he doesn't fear the world No. 1, considering their history against one another: Djokovic and Tsonga have split 10 meetings.
It was Djokovic, however, who had the last laugh in a quarterfinal matchup at the Rome Masters just a few weeks ago.

No. 9 Juan Martin Del Potro vs. No. 3 Roger Federer
When: Tuesday, June 5, 10 a.m. ET
TV: The Tennis Channel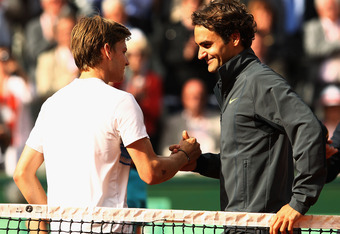 Matthew Stockman/Getty Images
Like Djokovic, Federer got off to a rocky start against David Goffin on Sunday but shook out the kinks in time to escape with a 5-7, 7-5, 6-2, 6-4 win.
Though many may not have expected such a valiant performance from the 21-year-old Goffin—who decorated his bedroom with posters of Federer as a teenager—he put up a fight against his idol, who told The Globe and Mail afterward that he was impressed by his young opponent's fervor.
Now, Federer will have an opportunity to continue his quest for a 17th Grand Slam, but he'll have to go through Del Potro to do it.
Perhaps it was good for Federer to face a little-known opponent with a lot of fight right before the quarterfinals matchup that could be the gateway to a rematch against Djokovic. Perhaps it was just what he needed to get his competitive juices flowing before facing Del Potro, who took down Tomas Berdyc on Monday 7-6 (6), 1-6, 6-3, 7-5, in a matchup that had been suspended on Sunday due to darkness.
Del Potro's track record against Federer doesn't look too good—he's just 2-11 lifetime against the Swiss. At the 2009 French Open, Federer thwarted Del Potro in the semis. On a fortunate note for Del Potro, though, he won his only Grand Slam title against Federer in 2009, at the U.S. Open. 
After his slight scare against Goffin, Federer seems to be in a more relaxed, confident place, and if he maintains that composure, it's hard to believe he'll have much trouble against an opponent he's dominated in the past.